'He's not going to be a champion of democracy': Obama slams GOP candidate for New Jersey governor
When there's 'a guy in the crowd waving a confederate flag, you know this isn't a neighborhood barbecue,' Obama says
Harriet Sinclair
Sunday 24 October 2021 16:40 Comments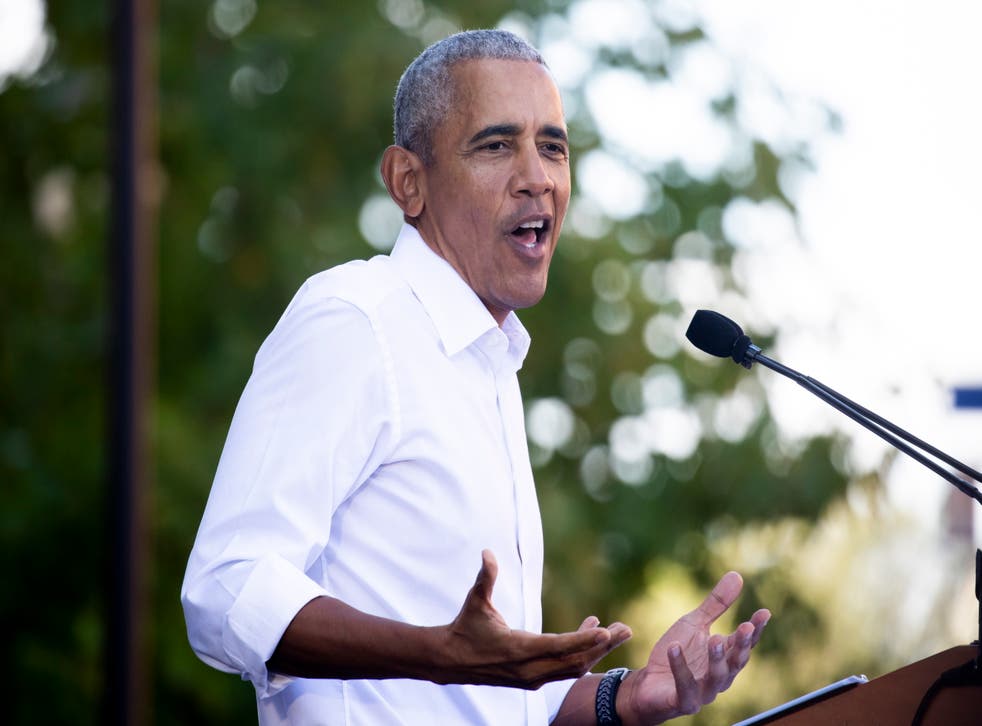 Leer en Español
Former President Barack Obama has hit out at the Republican candidate in the New Jersey gubernatorial race, claiming his presence at the 'Stop the Steal' rally suggests "he's not going to be a champion of democracy".
The Democrat mocked Jack Ciattarelli, who is running against incumbent Democratic Governor Phil Murphy, at a Newark rally on Saturday – specifically taking aim at Mr Ciattarelli's support for Donald Trump's 'Big Lie' that the 2020 election was stolen.
"Apparently Phil's opponent says he didn't know it was a rally to overturn the results of the last election," Mr Obama said of the Stop the Steal rally, which preceded the deadly Capitol riot.
"He didn't know it? Come on. When you're standing in front of a sign that says 'Stop the Steal' and there's a guy in the crowd waving a confederate flag, you know this isn't a neighborhood barbecue. You know it's not a league of women voters rally. Come on. Come on, man. That's not what New Jersey needs," he added, not mentioning Mr Ciattarelli by name.
Reflecting on elections, he said: "Democracy is not supposed to work where if you lose, you just ignore it and pretend it didn't happen. Our democracy is what makes America great."
Stumping for Mr Murphy at the outdoor rally, which was attended by around 700 people, Mr Obama asked the people of New Jersey not to "sit this one out", telling them he blieved they would "do the right thing".
"I believe you're going to show the rest of the country and the world that we're not going to indulge our worst instincts," he said.
"We're gonna move forward with people like Phil leading the way."
The former president also spoke at a rally for Virginia gubernatorial candidate Terry McAuliffe this weekend, when he condemned the GOP's refusal to support voting rights.
Register for free to continue reading
Registration is a free and easy way to support our truly independent journalism
By registering, you will also enjoy limited access to Premium articles, exclusive newsletters, commenting, and virtual events with our leading journalists
Already have an account? sign in
Join our new commenting forum
Join thought-provoking conversations, follow other Independent readers and see their replies