Major League Baseball player kneels during national anthem in defiance of Donald Trump
He was the first MLB player to do so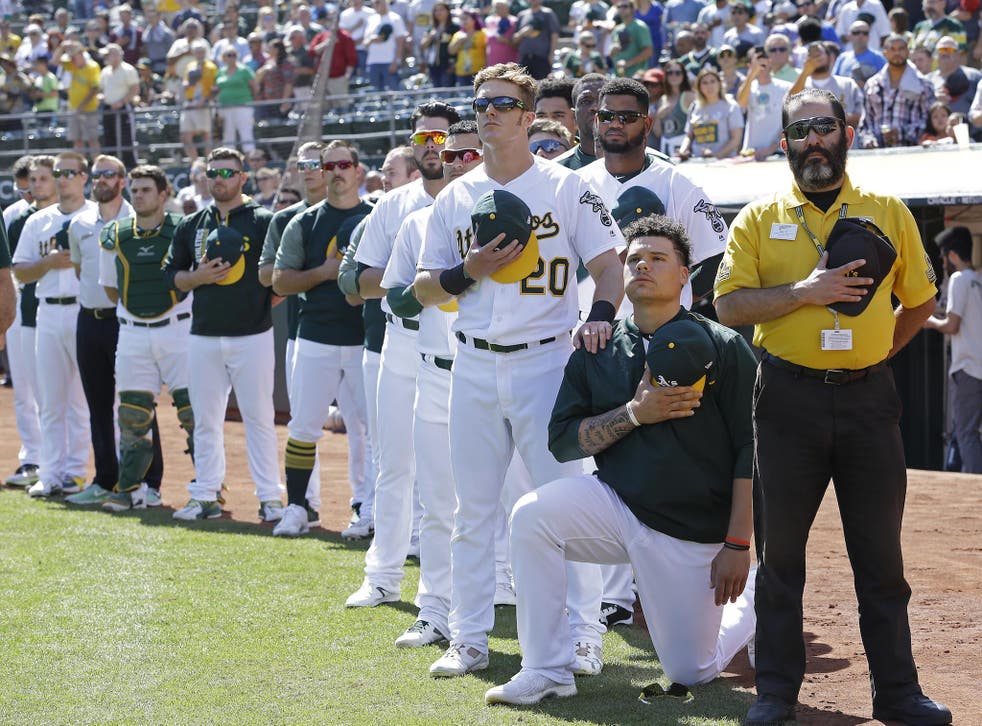 NFL players are not the only athletes to have taken a knee during the national anthem this weekend in defiance of Donald Trump.
Oakland Athletics catcher Bruce Maxwell became the first Major League Baseball player to do so before Saturday night's game against the Texas Rangers.
Mr Maxwell's action thrust the player into the controversy surrounding national anthem protests, which Donald Trump brought to the forefront of US attention again this weekend by suggesting that players who take a knee during the anthem should be fired.
"My decision has been coming for a long time," Mr Maxwell, the son of a US Army veteran, said after the game on Saturday. "I know I was on the fence for a long time because I know no one in baseball has ever done it. I finally got to the point where I thought the inequality of man is being discussed, and it's being practiced from our president."
"The point of my kneeling is not to disrespect our military, it's not to disrespect our Constitution, it's not to disrespect this country," he continued. "My hand over my heart symbolizes the fact that I am and I'll forever be an American citizen, and I'm more than grateful to be here. But my kneeling is what is getting the attention because I'm kneeling for the people that don't have a voice."
Athletics manager Bob Melvin said Mr Maxwell addressed the team and told his teammates of his decision. Players were supportive, Mr Maxwell said.
"My kneeling, the way I did it, was to symbolise that I'm kneeling for a cause, but I'm in no way or form disrespecting my country or my flag," he added.
The controversial orders Donald Trump has already issued

Show all 9
Colin Kaepernick, formerly a quarterback for the San Francisco 49ers, became the first athlete to kneel during America's national anthem last year, doing so to highlight, as he has said, police brutality and racial injustice.
While speaking in Huntsville, Alabama on Friday, Mr Trump employed an expletive to refer to athletes who engage in such conduct.
"Wouldn't you love to see one of these NFL owners, when somebody disrespects our flag, to say, 'Get that son of a b**** off the field right now. Out! He's fired. He's fired!'" Mr Trump said at a rally for Republican senator Luther Strange, who is running in a special election next week to remain in the seat vacated by attorney general Jeff Sessions.
Mr Trump's comments were strongly condemned by several athletes, NBA players and the National Football League's commissioner, Roger Goodell.
NFL players across the US and in London demonstrated during the national anthem on Sunday, with many kneeling or standing and locking arms in a show of solidarity.
Register for free to continue reading
Registration is a free and easy way to support our truly independent journalism
By registering, you will also enjoy limited access to Premium articles, exclusive newsletters, commenting, and virtual events with our leading journalists
Already have an account? sign in
Register for free to continue reading
Registration is a free and easy way to support our truly independent journalism
By registering, you will also enjoy limited access to Premium articles, exclusive newsletters, commenting, and virtual events with our leading journalists
Already have an account? sign in
Join our new commenting forum
Join thought-provoking conversations, follow other Independent readers and see their replies