Ben Carson endorses Donald Trump and says he has a 'cerebral side' the public does not see
The backing could help Mr Trump fight off a challenge from Senator Ted Cruz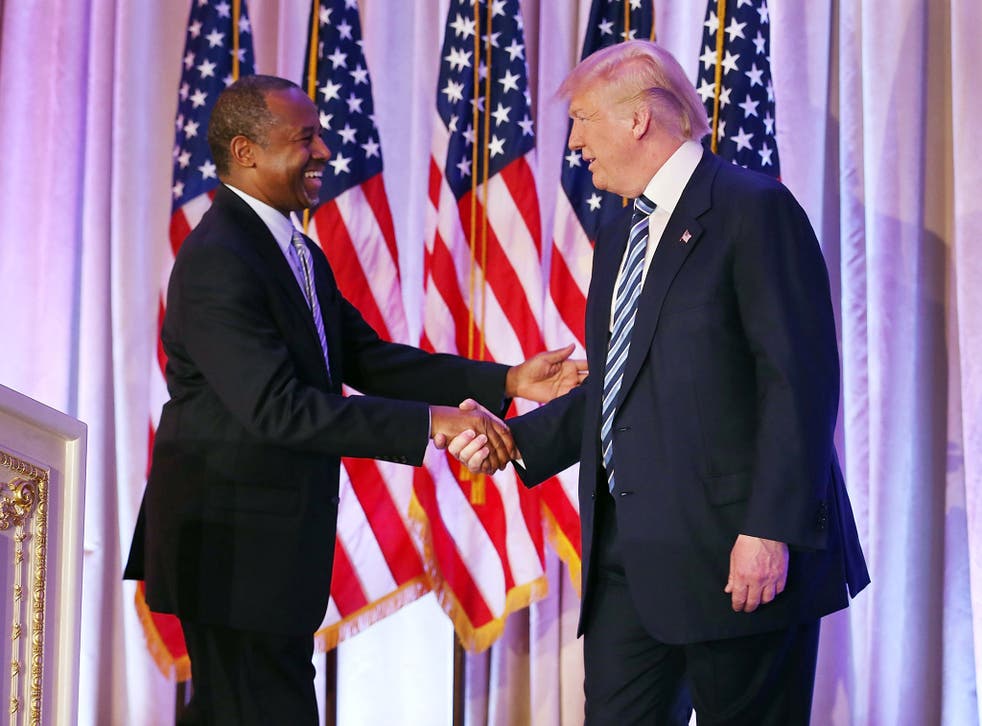 Dr Ben Carson, who dropped his bid for the Republican nomination last month, endorsed Donald Trump at the billionaire's Mar-A-Lago beach club in Palm Beach on Friday, saying the two of them had "buried the hatchet" since trading barbs on the campaign trail.
Presenting the retired neurosurgeon at a press conference in the Gold and White Ballroom at the opulent club, Mr Trump also referenced the past bad blood between them, but insisted: "Its politics, its tough stuff…but I was really impressed with the way he fought back. He did so well."
The endorsement could help Mr Trump ward off the challenge from Senator Ted Cruz, who now stands as his only credible surviving rival as the race for the Republican nod approaches another critical milestone with votes in several very large states next Tuesday, including Florida.
Mr Carson, who had led in the polls last autumn before seeing his support slip away, said that while some might be surprised by his decision, he said that there is a "cerebral" side to Mr Trump that people don't see.
"I have come to know Donald trump over the last few years, he is actually a very intelligent man who cares deeply about America," he said. There are two different Donald Trumps. The one you see on the stage and the one who is very cerebral who sits there and considers things very carefully….and that's the Donald trump you are going to start seeing more and more of."
Register for free to continue reading
Registration is a free and easy way to support our truly independent journalism
By registering, you will also enjoy limited access to Premium articles, exclusive newsletters, commenting, and virtual events with our leading journalists
Already have an account? sign in
Register for free to continue reading
Registration is a free and easy way to support our truly independent journalism
By registering, you will also enjoy limited access to Premium articles, exclusive newsletters, commenting, and virtual events with our leading journalists
Already have an account? sign in
Join our new commenting forum
Join thought-provoking conversations, follow other Independent readers and see their replies