Bernie Sanders declares victory and says Americans rejected 'same old establishment politics'
The Vermont senator is now looking to South Carolina and Nevada
Andrew Buncombe
Manchester
Wednesday 10 February 2016 04:41 Comments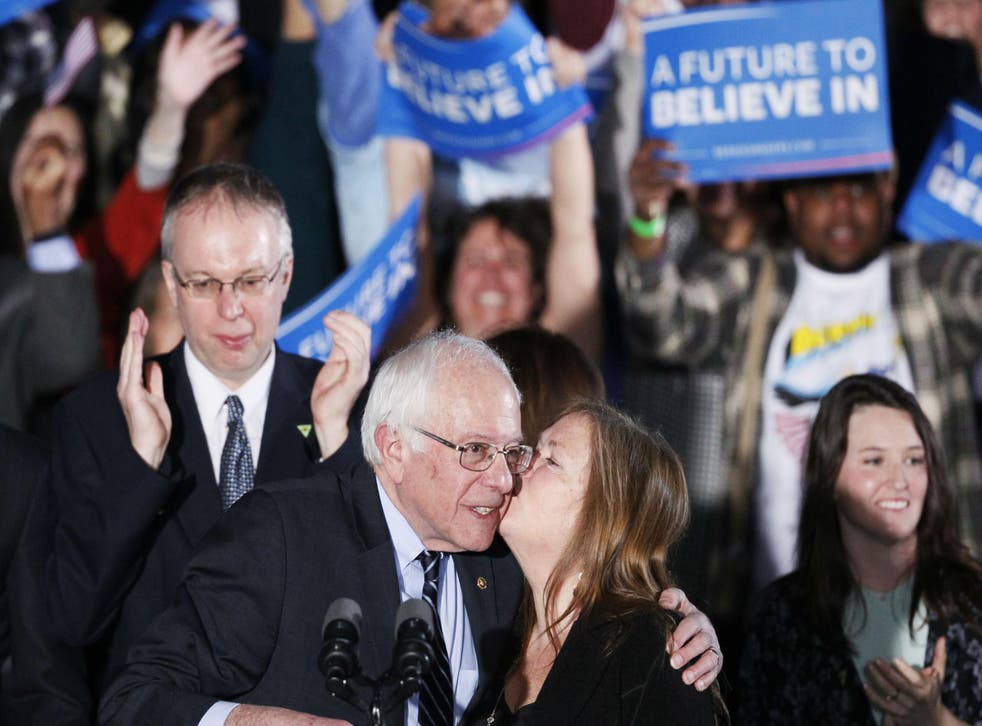 Just two months ago, Bernie Sanders was running a full 31 points behind Hillary Clinton in the national polls.
On Wednesday morning, the Vermont senator is due to have breakfast in Harlem with the Rev Al Sharpton, having secured a huge victory over Ms Clinton in New Hampshire and now looking ahead to the polls in South Carolina with a surge of energy and excitement.
As the 74-year-old "democratic socialist" eats with the activist at Sylvia's soul food restaurant - the same place where the preacher ate with Barack Obama in 2008 - and discusses his campaign for a state with a large African American population, Mr Sanders would be forgiven if he took a moment to savour his victory.
"Nine months ago when we began our campaign in New Hampshire, we had no campaign organisation, we had no money and we were taking on the most powerful political organisation in the United State of America," Mr Sanders said at a victory rally.
"Tonight we have won because of a what has been a record-breaking turnout."
The polls had always projected the former mayor of Burlington was going to win in New Hampshire and after he pushed Ms Clinton to within less than half a percentage point in Iowa, it was always likely his campaign was heading for more success. In a state that permits out of state students to vote, it seemed certan he would have the upper hand.
Indeed, it was younger voters and those who normally pay little interest to politics who have been at the bedrock of Mr Sanders support. While he he has attracted votes and backing from progressives and liberals, he has also tapped into an anger and frustration with ordinary.
Many expressed the similar anger and dissatisfaction with Washington politics as those people attending the rallies of Donald Trump, the other big winner on Tuesday night.
On issues such as economic inequality, money in politics, climate change and gender equality, Mr Sanders struck a chord with a range of people. His scale of support among younger voters was many times that of Ms Clinton.
He also spoke about making higher education more affordable, of creating a single-payer healthcare system and of preventing dangerous speculation by bankers. He repeatedly hammered home a message that America should belong to the majority of people and not the "top one per cent of the top one per cent".
The excitement and energy created by such idealism was summed up by a 17-year-old student from New York who came to New Hampshire to see Mr Sanders speak, and who had sneaked into an event of Ms Clinton to ask a question of the former secretary of state.
Jack Lovell got to his feet and asked Ms Clinton why people should trust her. The student reckoned her subsequent answer was solid, and he said that he would rather support her than any of the Republican candidates.
But he added: "When I listen to Mr Sanders, the hairs stick up on the back of my neck."
Mr Sanders claimed on Tuesday night at his rally in the city of Concord that his victory had sent a message that had reverberated across the country. "Tonight we serve notice to the establishment that the American people will no longer accept a corrupt campaign finance system and will no longer accept a rigged economy," he said.
"It's just too late for the same old, same old establishment politics, the same old establishment economy. The people want real change."
Register for free to continue reading
Registration is a free and easy way to support our truly independent journalism
By registering, you will also enjoy limited access to Premium articles, exclusive newsletters, commenting, and virtual events with our leading journalists
Already have an account? sign in
Join our new commenting forum
Join thought-provoking conversations, follow other Independent readers and see their replies