Bernie Sanders slams 'extremist' effort to recall Gavin Newsom
'Right-wing Republicans in CA are trying to recall @GavinNewsom for the crime of telling people to wear masks and for listening to scientists during Covid,' Sanders tweeted.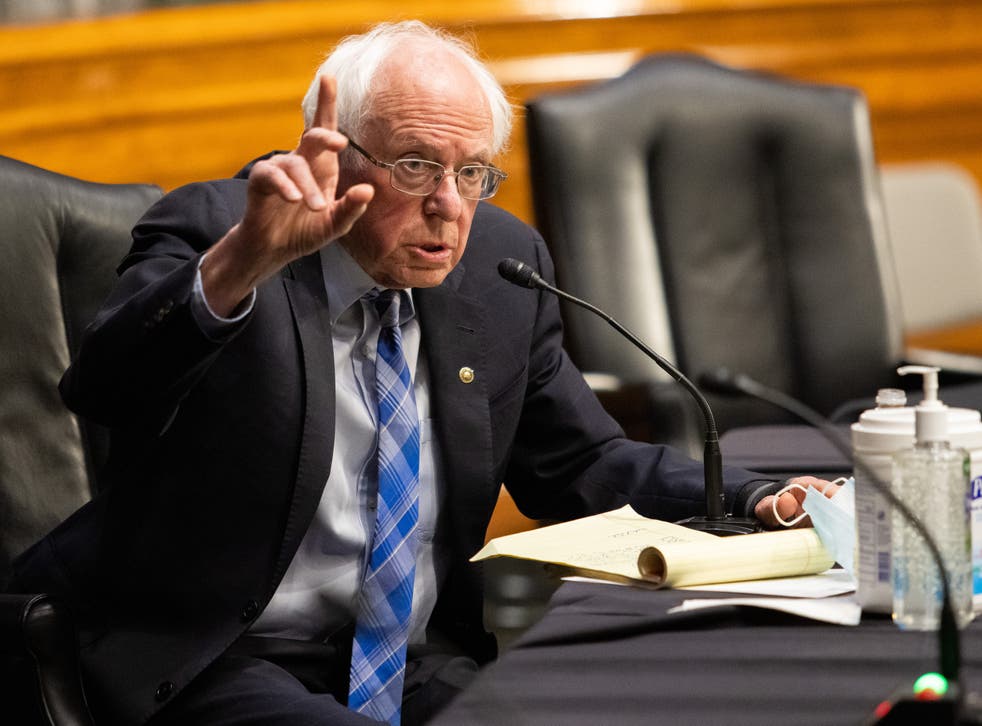 Leer en Español
Senator Bernie Sanders fiercely defended California governor Gavin Newsom on Monday, just as an effort to recall him appeared to cross a crucial threshold.
"Right-wing Republicans in CA are trying to recall @GavinNewsom for the crime of telling people to wear masks and for listening to scientists during Covid," Sanders tweeted. "Extremist Republicans have done enough to undermine democracy already. We must all unite to oppose the recall in California."
Leaders of the movement working to remove Newsom announced Sunday that their petition has garnered 1.95 million signatures. If at least 1.5 million of those signatures are valid, the recall could go ahead.
The California Secretary of State's office announced last month that the signatures collected until that point had a validity rate of 83 per cent. If that rate holds for the not yet verified signatures, then the threshold for a recall vote will be crossed, The Sacramento Bee reported.
Senator Sanders could be a powerful ally for Gavin to have in his corner if the recall election moves forward. The Vermont senator has been the de facto leader of the Democratic Party's left wing since the 2016 election, and has over 15 million followers on Twitter.
In a liberal state like California, Sanders' support could prove invaluable-- not only by motivating progressive voters to support Newsom, but by sending a signal to more left-wing Democratic candidates not to run against him.
Newsom has been criticised for his handling of the pandemic and ignoring public health guidelines as he attended a birthday party in Napa. Other issues include increases in crime and homelessness.
Those who are against the measure say it's a ploy by Republicans to challenge Newsom in a Special Election when turnout is usually lower which tends to boost conservative candidates and causes.
Those supporting the movement argue that it includes more than just Republicans and that a lot of those who voted for Newsom are now disappointed with how he leads the state.
Glenda Roybal toldThe Sacramento Bee that she had been volunteering for the effort for six months. She said she was "tired of schools not being in session," and that she was "tired of small businesses closing down, restaurants closing down".
She added: "It's like being on a rollercoaster at Magic Mountain, when you're at the top and you're just ready to go down that roller coaster. That's the feeling you get, knowing that we're so close to getting rid of someone that has destroyed this beautiful, beautiful state."
Organisers were focused on getting across the finish line well ahead of the 17 March deadline as an overflow of signatures is required to avoid ending up below the threshold after the verification process. Experts say that 1.8 to 2 million signatures are usually needed to end up on the ballot, according to KABC-TV.
Officials have until 29 April to verify the signatures once they are turned in.
If enough signatures are verified, the lieutenant governor has to set a date for a recall vote between 60 and 80 days from the date of certification, according to The New York Times.
When Newsom was pressed on the possibility of a recall vote, he called it a "distraction".
Speaking to ABC 7 Eyewitness News Thursday, he said: "The Golden State stimulus to 6 million Californians getting $600 stimulus checks, not waiting for the federal government. That's where my energy is. That's where my focus is. All the rest is a distraction from the real work at hand."
Join our new commenting forum
Join thought-provoking conversations, follow other Independent readers and see their replies