Bernie Sanders offered Green Party presidential spot by Jill Stein
The Green Party very much aligns with much of the Vermont senator's platform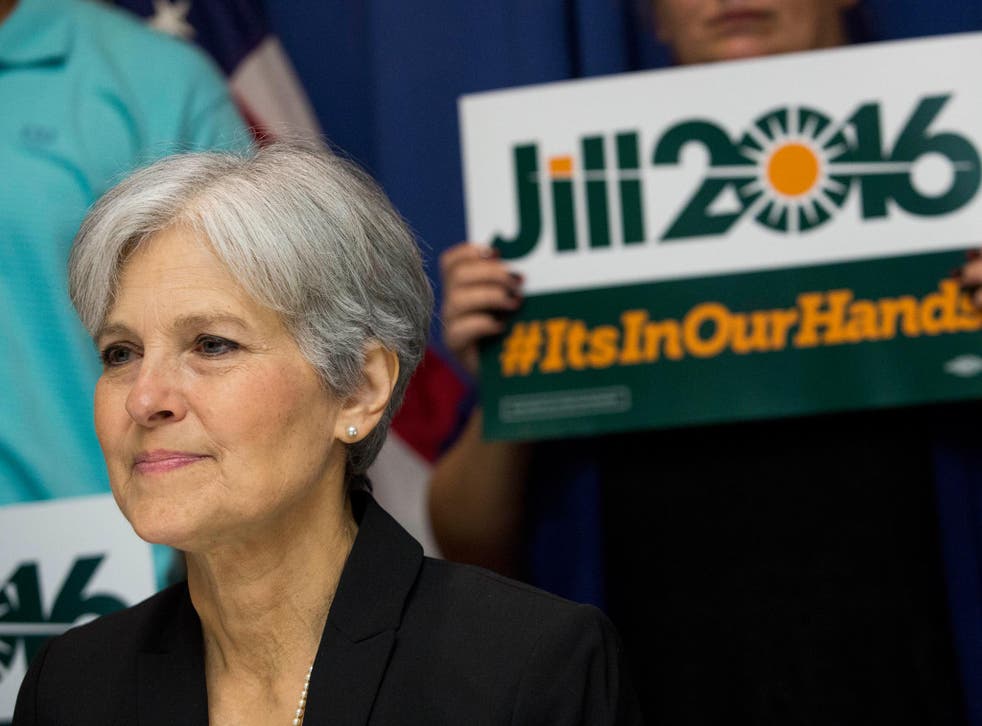 Bernie Sanders may have another chance at becoming a presidential nominee, but there's a catch: He would have to join the Green Party.
Dr Jill Stein, the likely nominee for the progressive third party, told The Guardian that she is willing to offer the Vermont senator her slot on the ticket if he wanted to continue his "revolution".
"I've invited Bernie to sit down explore collaboration – everything is on the table," Dr Stein, a former Massachusetts physician and environmental-health advocate, said. "If he saw that you can't have a revolutionary campaign in a counter-revolutionary party, he'd be welcomed to the Green party. He could lead the ticket and build a political movement."
Dr Stein added that an "overwhelming" number of Sanders supporters have been flocking over to Green party events since Hillary Clinton clinched the Democratic nomination in June.
In pictures: US Elections 2016

Show all 15
"If he continues to declare his full faith in the Democratic party, it will leave many of his supporters very disappointed," she said. "That political movement is going to go on – it isn't going to bury itself in the graveyard alongside Hillary Clinton."
The Green Party was established in 1984 and has been included on every presidential ticket since 1996, when consumer advocate Ralph Nader was its candidate.
"To be effective, a Green political organization must originate from a broad base of support, from natural allies concerned with ecological politics and social justice, peace and nonviolence, local and regional self-management, and grassroots democracy," the committee's original mission states on the party's website.
Many of their political platforms are consistent with Mr Sanders', particularly when it comes to campaign finance reform, universal healthcare, relieving student debt, and supporting a living wage.
Mr Sanders has not responded to Dr Stein's olive branch at the time of this writing.
The millions of young voters who support Mr Sanders would certainly give the Green party the boost it needs in order to be included in televised debates alongside the Republicans and Democrats. As it stands, the Green party would need at least 15 per cent in polling to do so. Dr Stein currently has 4 per cent according to the latest Reuters/Ipsos poll.
Bernie Sanders says he'll vote for Hillary Clinton
But the unpredictability of the 2016 elections so far leaves Dr Stein feeling confident.
"I'm not holding my breath but I'm not ruling it out that we can bring out 43 million young people into this election," she said. "It's been a wild election; every rule in the playbook has been tossed out. Unfortunately, that has mainly been used to lift up hateful demagogues like Donald Trump, but it can also be done in a way that actually answers people's needs."
On the presumptive Democratic nominee, Dr Stein is not so sure young voters will flock to Hillary Clinton, especially if they still back Sen Sanders.
"[Clinton] is the fracking queen," she said. "We would be fools to expect Hillary to deal with the climate crisis – the day of reckoning will come closer with her as president. As scary as Trump talks, Hillary has a scary record for warmongering and the neoliberalism.
"It's a mistake to think the lesser of two evils will fix things. A lot of people are in the target hairs of a neoliberalist nightmare. Wars are bankrupting us morally and financially."
Dr Stein's website boasts that she earned a record number of votes for any female presidential candidate in the general election, at 470,000 – a record Ms Clinton is certain to break come November.
But a Clinton presidency will not be the answer to all of the problems Americans face, she believes.
"At least when Republicans are elected, people fight," Dr Stein said. "When Democrats are elected, people are lulled into complacency and fall asleep."
Join our new commenting forum
Join thought-provoking conversations, follow other Independent readers and see their replies