Trump official Betsy DeVos says being pro-choice is akin to supporting slavery
Education secretary's speech reportedly praises those who 'heroically work to make abortion unconstitutional'
Zoe Tidman
Friday 24 January 2020 13:11 Comments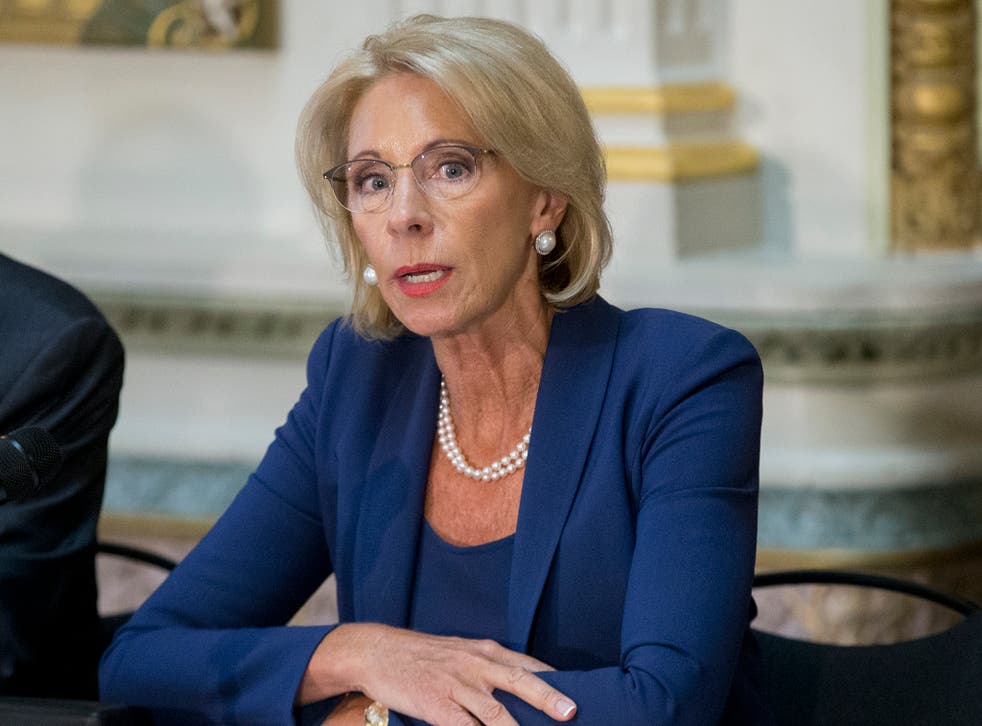 A top Trump official has compared people who support abortion to those who argued in favour of keeping slavery in the US, according to local media.
Betsy DeVos, the US education secretary, reportedly told a Christian university that opponents to the anti-abortion and anti-slavery movements both ignored the "moral" side to the debate.
She said Abraham Lincoln — the US president who fought to end to slavery — "too contented with the pro-choice arguments of his day", according to the Colorado Times Recorder.
"They suggested that a state's choice to be a slave or to be free had no moral question in it," she reportedly told Colorado Christian University. "President Lincoln reminded those pro-choicers that is a vast portion of the American people that do not look upon that matter as being this very little thing.
"They look upon it as a vast moral evil."
Celebrations as abortion is decriminalised in Northern Ireland

Show all 11
The Trump administration has repeatedly pushed to curb abortion rights in the US, ordering tax-payer funded family planning clinics to stop referring women for abortions earlier this week and promoting anti-abortion figures to important roles, including on the Supreme Court.
Ms DeVos, who is known for her religious conservatism, reportedly told the Christian university: "There are many in the pro-life movement who heroically work to make abortion unconstitutional.
"Tonight, let's talk about making it unthinkable."
The education secretary tweeted after the event: "We had a robust discussion about this administration's commitment to safeguarding the religious liberty and First Amendment rights of all students."
Ms DeVos has a history of opposing LGBT+ and abortion rights, and once told an interviewer that she wanted to "help advance God's kingdom" through US schooling.
Mike Pence, the religious US vice-president, has also defended his administration's anti-abortion stance in the past during a speech to a Christian university, saying they stood "without apology for the sanctity of human life".
Organisers of anti-abortion rally, March for Life, recently announced that Mr Trump is set to become the first ever US president to attend.
Over the past few years, US states have been proposing stricter abortion laws, with Tennessee's governor announcing this week that he plans to ban women from aborting foetuses once a heartbeat can be detected.
Similar legislation has been passed in other states, such as Mississippi and Georgia, only to be struck down in courts.
However, Americans have been warned that an increasingly conservative Supreme Court could threaten women's constitutional right to abortion.
Research has shown that most US citizens believe abortion should be legal.
Seventy-nine per cent of those polled said that women — along with their doctors — should decide whether they should continue with a pregnancy, rather than politicians.
Register for free to continue reading
Registration is a free and easy way to support our truly independent journalism
By registering, you will also enjoy limited access to Premium articles, exclusive newsletters, commenting, and virtual events with our leading journalists
Already have an account? sign in
Join our new commenting forum
Join thought-provoking conversations, follow other Independent readers and see their replies