Betsy DeVos 'to meet with men's rights groups and accused rapists' to discuss campus rape
The Education Secretary will reportedly meet with at least two men who claim to have been falsely accused of sexual assault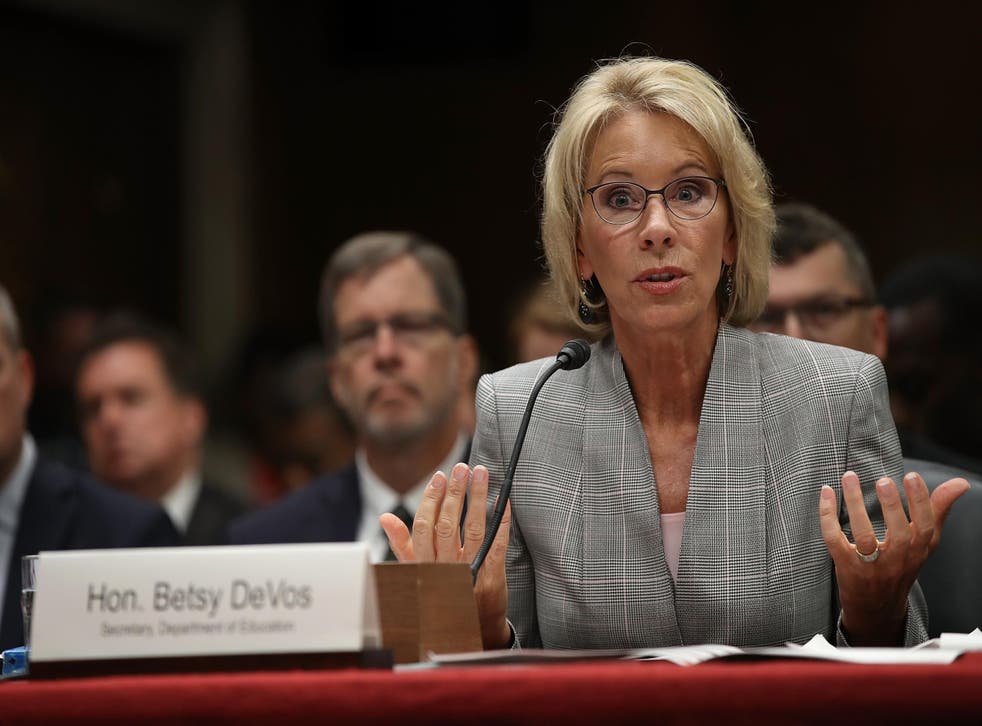 Education Secretary Betsy DeVos will meet with men's rights groups and accused rapists as part of her consultations on campus sexual assault, reports have claimed.
Along with representatives for sexual assault survivors, Ms DeVos has reportedly scheduled meetings with several groups that advocate for the rights of accused rapists. One group, Stop Abusive and Violent Environments (SAVE), will bring along two men who say they were falsely accused of sexual assault, a SAVE spokesperson told the Daily Beast.
The representatives will include retired Navy serviceman Joseph Roberts, who alleges he was falsely accused of sexual assault while in college. Mr Roberts, who was reportedly suspended for several weeks before graduating, has said he felt the "course of [his] life" was "derailed" by the accusations. He has previously joined activists lobbying on behalf of SAVE on Capitol Hill.
A second man, Jonathan Andrews, claims he was falsely accused in retaliation for reporting an alleged assault by a member of his fraternity.
SAVE's executive director Chris Perry will also be present, according to a SAVE spokesperson. Mr Perry told the Daily Beast that his organisation had been sending materials to the Department of Education ever since the Trump administration took over.
US sexual assault statistics

Show all 8
According to their website, SAVE believes that "effective and just solutions" to sexual assault require "consideration of the legitimate needs of all parties, including complainants and the accused".
In a 2013 paper, the organisation argued that domestic violence laws are "threatening to rework fundamental notions of a civil and just society," and suggested that the Violence Against Women Act may be the "most unconstitutional law in the United States".
The Department of Education has also reached out to representatives from the National Coalition for Men (NCFM) and Families Advocating for Campus Equality (FACE), according to Politico. Both groups are engaged in lobbying for the rights of accused rapists.
NCFM president Harry Crouch says the goal of his group is to dismantle the "men's violence industry". He has previously suggested that, in cases of domestic violence, "often the woman initiates violence herself".
State chapters of the NCFM have previously been accused of publishing photos of female accusers on a page titled "fase victims".
Reports of the meetings drew concern from some women's rights advocates, who feared the groups would advance what they see as a false narrative about victims.
"There is a difference between due process advocates and 'men's rights' groups that are often rape denialists that promote the sexist rape myth that most women lie," Laura Dunn, founder of SurvJustice, told The Independent.
She added: "While it is appropriate to discuss and improve due process protections on campus, this should not come at the expense of survivors' rights nor be couched in a mentality that victims are lying about their experiences."
The meetings come after years of activism by groups like SurvJustice, End Rape on Campus (EROC), and Know Your IX – as well as senators like Claire McCaskill and Kirsten Gillibrand – to raise awareness of sexual assault on college campuses. According to some studies, as many as one in five women will be sexually assaulted while in college.
Research puts the rate of false reporting at less than 10 per cent.
Under the Obama administration, the DOE opened investigations into hundreds of colleges and universities for allegedly mishandling allegations of sexual assault. The Department also issued the Dear Colleague Letter, which entrenched certain Title IX protections for those reporting their assualts.
Ms DeVos, in her Senate confirmation hearing, refused to say whether she would uphold the protections laid out in the Dear Colleague Letter. In the months following, she has overseen the rollback of some Obama-era policies on how to investigate allegations of sexual assault and other civil rights violations.
In her confirmation hearing, Ms DeVos said: "I look forward to understanding the past actions and current situation better, and to ensuring that the intent of the law is actually carried out in a way that recognises both the victim ... as well as those who are accused."
The DOE has also reached out to representatives from Know Your IX, EROC, SurvJustice, National Women's Law Center, GLSEN, Girls, Inc and the National Center for Transgender Equality for meetings, according to Politico.
Register for free to continue reading
Registration is a free and easy way to support our truly independent journalism
By registering, you will also enjoy limited access to Premium articles, exclusive newsletters, commenting, and virtual events with our leading journalists
Already have an account? sign in
Register for free to continue reading
Registration is a free and easy way to support our truly independent journalism
By registering, you will also enjoy limited access to Premium articles, exclusive newsletters, commenting, and virtual events with our leading journalists
Already have an account? sign in
Join our new commenting forum
Join thought-provoking conversations, follow other Independent readers and see their replies