Biden proposes 'transformational' plan for universal preschool, funding for childcare and sick leave
American Families Plan would spend billions to combat poverty and address long-standing disparities in health and education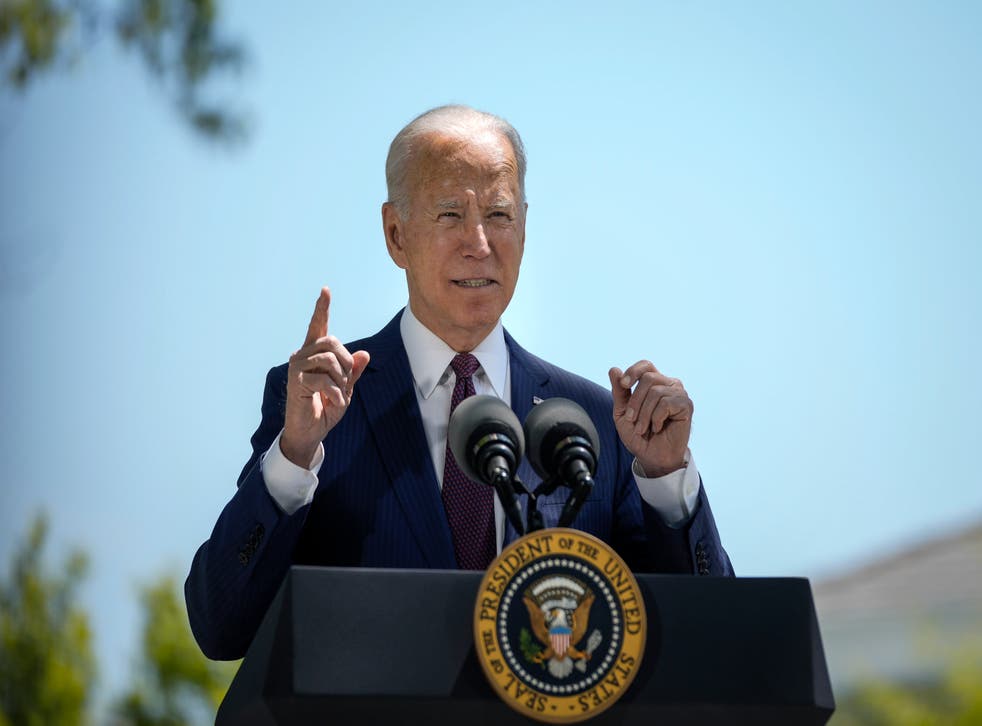 Leer en Español
Joe Biden's American Families Plan proposes historic investments in childcare, education and direct financial support to families with children – what the administration calls a "once in a generation" boost with one of the largest investments in federal safety net programmes in decades.
His plan would provide universal preschool for millions of three- and four-year-old children, provide for two years of tuition-free community college enrolment, and build funding for childcare and up to 12 weeks of federal paid family and medical leave, among other proposals.
The $1.8 trillion 10-year plan would also extend the child tax credit for an additional five years and establish a range of investments for childcare providers and teachers.
It's part of the administration's sweeping, multi-trillion dollar domestic agenda to combat poverty and remedy long-standing disparities in healthcare and education while boosting the nation's economy and repairing its infrastructure.
The plan offers "transformational investments" so "all children and young people are able to learn and grow and gain the skills they need," senior administration officials told reporters during a briefing by phone on Tuesday evening.
Mr Biden's latest proposal arrives before his first address to a joint session of Congress on Wednesday night to mark his first 100 days in office and lay out his agenda in the days ahead.
It also follows the March passage of the $1.9 trillion American Rescue Plan to combat the economic fallout from the coronavirus pandemic, as the White House and members of Congress begin debating the contours of his $2.2 trillion infrastructure-focused American Jobs Pan.
To fund his American Families Plan, the president proposes levying taxes on the wealthiest Americans that administration officials argue have avoided paying their "fair share" for far too long, as wealth among the nation's richest households outpaces the rest of the country.
American taxpayers who earn $1m from profits from stock sales and other investments would pay a capital gains tax rate that is more aligned with the ordinary income tax rate in an effort to level the playing field among taxpayers and ensure the US is "rewarding work in our tax code and not just wealth," officials said.
The rate change would impact .3 per cent of taxpayers. The administration is committed to not raising taxes for those earning $400,000 or less.
"The conceptual framework for equalising [rates] is neither new nor novel," said administration officials, who pointed to Republican former president Ronald Reagan's tax reforms that increased the capital gains rate to match the income rate.
Provisions outlined in the plan would be fully paid within 15 years under the funding structure, officials said.
The administration also wants to increase funding for the Internal Revenue Service for tax compliance for the wealthiest households in an effort to recoup $400bn in unpaid taxes.
Officials stressed that audit rates for Americans earning less than $400,000 a year will not increase. The scrutiny will fall on large companies and estates that officials believe have under-reported their earnings.
Administration officials said the audit rate for Americans earning more than $1m a year from 2011 to 2018 fell by 80 per cent.
"Taxpayers are more likely to be audited if they live in the Mississippi Delta than if you live on Park Avenue," officials said.
Spending increases and tax hikes will face fierce opposition from congressional Republicans, as the administration navigates its agenda through the slimmest of Democratic majorities in Congress.
And Democrats want the president to think even bigger.
A growing number of House Democrats have urged the White House to include a Medicare expansion in his infrastructure plans, and to lower the age eligibility for enrolment in the federal health programme for older Americans.
Progressive Caucus chair Pramila Jayapal and Senator Bernie Sanders have also proposed the College for All Act, which would grant tuition-free community college for all students, and allow students from families earning under $125,000 to enrol in public colleges and universities "tuition-free and debt-free".
As part of the American Rescue Plan, the president expanded a federal tax credit for families with children, which Democrats have pushed to make permanent.
The American Rescue Plan extends the eligibility for the credits – now raised to $3,000 per child for families with children ages 6 to 17 and $3,600 for younger children – and made it available in monthly installments. The expansion expires at the end of the year.
Under the American Families Plan, Mr Biden would extend that credit through 2025.
US Rep Richard Neal, who chairs the tax-centric House Ways and Means Committee, is pushing a bill that would make those changes permanent.
His Building an Economy for Families Act would also offer universal paid family and sick leave and guarantee access to childcare.
"Our economy is premised on the idea that some workers are worthy of 'perks', like paid leave or affordable child care that works for their schedules, while the majority are forced to fend for themselves," the congressman said in a statement. "For our economy to fully recover from this pandemic, we must finally acknowledge that workers have families, and caregiving responsibilities are real."
Senator Elizabeth Warren and US Rep Mondaire Jones have also proposed the Universal Child Care and Early Learning Act, a $700bn plan to establish a network of childcare centres across the US in partnership with state and local governments and school districts.
The proposal aims to "fix our broken child care system and ensure that women and families are not left behind in our recovery," she said in a statement. "Expanding quality childcare would create jobs, increase productivity, and have lifelong benefits for children's development and growth."
Join our new commenting forum
Join thought-provoking conversations, follow other Independent readers and see their replies