Biden condemns 'stain' of gun violence in wake of Indiana mass shooting
President orders flags at half staff as White House renews urgent call to Congress on critical gun reform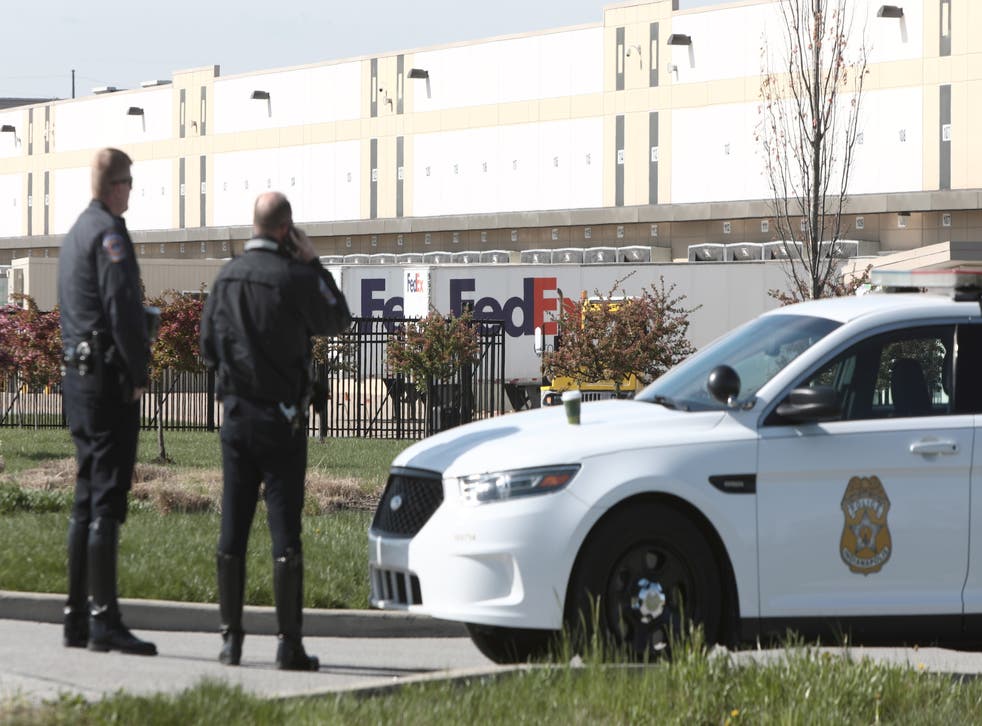 Leer en Español
President Joe Biden has echoed his demands to Congress to pass gun-control legislation in the wake of another mass shooting and the deaths of at least eight people at a FedEx facility in Indiana on Thursday night.
"Last night and into the morning in Indianapolis, yet again families had to wait to hear word about the fate of their loved ones," he said. "What a cruel wait and fate that has become too normal and happens every day somewhere in our nation."
In a statement on Friday, the president condemned the "epidemic" of gun violence in the US following the killings, just one week after his administration issued a series of executive actions with the Justice Department to curb the proliferation of certain firearms.
"But we should not accept it," he said. "We must act."
He added: "Too many Americans are dying every single day from gun violence. It stains our character and pierces the very soul of our nation."
The shooting in Indiana is among nearly 150 mass shootings in 2021, according to the Gun Violence Archive.
Eight people were killed and several others were wounded during Thursday's shooting. Police on Friday morning did not announce a suspect, who police believe fatally shot himself at the scene.
"Yet again we have families in our country who are grieving because of the loss of their family members" over gun violence, Vice President Kamala Harris said at the White House on Friday. "There is no question that this violence must end and we are thinking of the families that lost their loved ones."
The president has issued a proclamation ordering US flags to be flown at half-staff to honour victims of the shooting through 20 April.
Indianapolis Metropolitan Police officers discovered a "chaotic and active crime scene" when they arrived at the FedEx facility on Thursday night, Deputy Chief Craig McCartt told reporters on Friday.
The suspected shooter was found with a self-inflicted gunshot wound and dead upon officers' arrival, according to officials.
Mr McCartt said police believe the gunman fired at random in the parking lot before entering the building and firing at people inside.
Roughly 12 hours from the shooting, crime lab technicians were continuing to gather evidence. Officials have not publicly speculated on a motive.
The president's first executive actions targeting gun violence followed the mass killings of 10 people at a supermarket in Boulder, Colorado, less than a week after eight people were killed during a shooting spree at three Atlanta-area spas.
A spree of shootings throughout 2021 have prompted officials and communities across the US to once again reckon with the nation's overwhelming rates of gun violence and the politically volatile subject of gun control.
The shootings followed the deaths of least 43,436 Americans who died from gun violence, including more than 24,000 suicide deaths, in 2020, according to the Gun Violence Archive.
Roughly 11,000 Americans have died from gun violence this year.
One action orders the Justice Department to issue a rule within 30 days to stop the proliferation of so-called "ghost guns" created with online-ordered kits that can bypass firearm regulations.
The Justice Department also will issue a rule to align pistol-stabilising braces with the National Firearms Act, which requires potential owners to pay additional fees and submit identifying information to federal authorities. The agency also will develop model "red flag" legislation for states.
Mr Biden has also urged Congress to pass a ban on assault weapons and high-capacity magazines, and argued that gun manufacturers should not be immune from legal liability.
Last month, the Democratically controlled House of Representatives passed two gun-control measures that have stalled under Republican leadership in recent years.
The pair of bills could face steep opposition in evenly divided Senate, where Republicans have dismissed gun legislation as overly restrictive or infringing on Second Amendment protections.
One measure, the Bipartisan Background Checks Act, would require background checks on nearly all gun sales, including transactions involving unlicensed or private sellers. That measure received nominal bipartisan support from eight Republicans in the House.
Another measure would close a so-called "Charleston loophole" by increasing a background check review period from three to 10 days. Two Republicans supported its passage.
White House press secretary told reporters on Friday that advocates for gun reform, impatient with White House efforts, "should pressure Republicans in the Senate, that all of you should pressure Republicans in the Senate and ask them why they are opposing universal background checks," she said, after a reporter had suggested the president was "passing the buck" by laying the blame on congressional Republicans.
Join our new commenting forum
Join thought-provoking conversations, follow other Independent readers and see their replies