ICE deports hundreds of immigrants including El Paso massacre survivor after judge blocks Biden freeze
Federal agency defies administration as new DHS secretary inherits widely condemned actions
Alex Woodward
New York
Tuesday 02 February 2021 22:24 Comments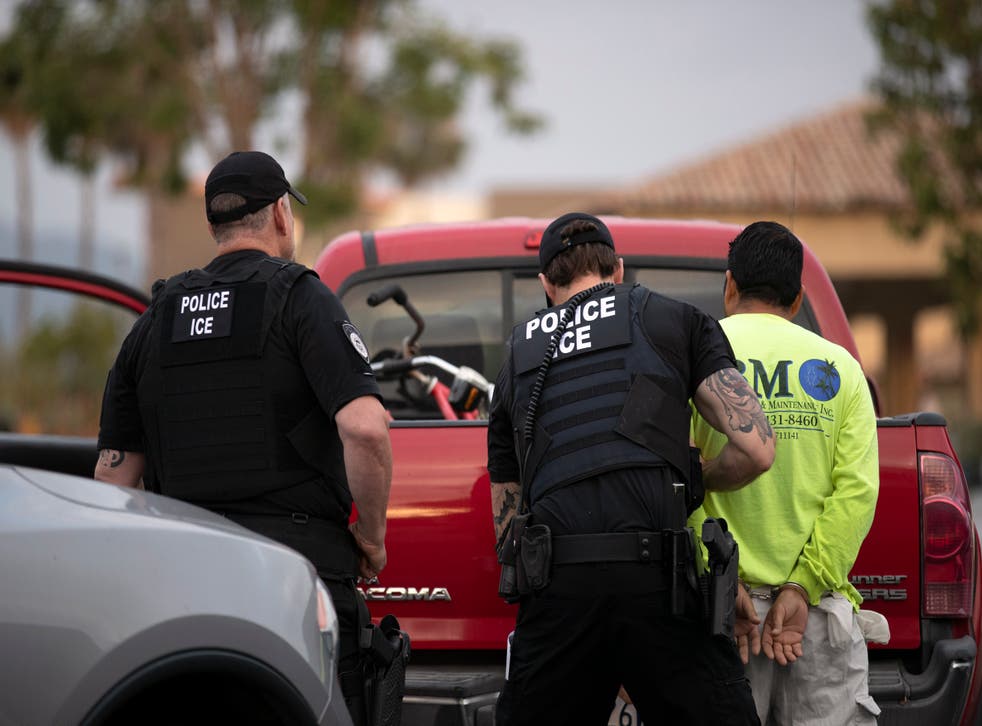 Leer en Español
US Immigration and Customs Enforcement has deported hundreds of people from the US despite efforts from President Joe Biden to halt removals while the administration rescinds core elements of Donald Trump's anti-immigration agenda.
On 26 January, Texas attorney general and Trump ally Ken Paxton successfully sued to block the president's 100-day moratorium on deportations; Trump-appointed federal judge Drew Tipton granted the attorney general a 14-day temporary restraining order.
Within the last week, ICE deported nearly 300 people from the US to Guatemala and Honduras, and immigration advocacy groups have warned that ICE could remove dozens of other people from the country before the order's expiration, including 60 Cameroonian asylum seekers.
The moves defy the new administration's orders as well as newly imposed Department of Homeland Security policies to limit deportations to people suspected of terrorism, security threats and undocumented people who entered the country before 1 November.
Read more: Follow live updates on the Biden administration
Three days after the federal court order, ICE agents deported a witness who survived a mass shooting in El Paso, Texas after she was arrested by El Paso Police Department officers during a traffic stop for a broken tail light. The woman was booked into El Paso County jail and turned over to ICE custody.
She was scheduled to testify during the murder trial for a man accused of targeting immigrants and fatally shooting 23 people at a Walmart in 2019.
The 27-year-old woman was sent to Mexico, where she has not lived since she was 11 years old.
Attorney Anna Hey, deputy director of El Paso's Diocesan Migrant & Refugee Services, said the federal agency's decision to send the woman to Juarez "amounts to a re-victimization of this young lady, who only came forward to help build the case against the shooter in the racist attack."
A whistle-blower complaint filed on Monday accuses the former president's acting Homeland Security chief of obstructing the new administration's immigration agenda by ceding ICE authority to a pro-Trump union.
The complaint alleges Trump-appointed acting secretary Ken Cuccinelli of "gross mismanagement" and "gross waste of government funds and abuse of authority" over agreements he signed with the ICE union on 19 January, the day before President Biden was sworn in.
On Tuesday, US House Rep Mondaire Jones of New York said that New York resident Paul Pierrilus was deported to Haiti, where he has never been. He was born in St Martin to Haitian parents and immigrated to the US as a child, but neither Haiti nor the French government automatically grant citizenship to children outside their borders, putting his legal status in limbo despite living in the US for more than 30 years.
Immigration advocates estimate ICE performed more than 1,000 similar deportation flights last year.
Congressman Jones has called ICE a "rogue agency" under a new administration that has condemned his predecessor's chaotic immigration agenda.
"With the help of right-wing operatives on the federal bench, ICE is choosing to ignore [Biden]'s deportation moratorium," he said on Twitter. "ICE must be brought to heel. My community is tired of seeing our family members, our friends and our neighbors ripped from their homes."
Mr Biden's DHS secretary Alejandro Nicholas Mayorkas will inherit the agency and its law enforcement arms as the president introduces several new executive orders targeting immigration reform.
On Tuesday, President Biden announced three additional executive orders targeting immigration policy, including the creation of a task force the begin the process of reuniting hundreds of families separated at the southern border under the Trump administration's "zero tolerance" policy of prosecuting migrants for "illegal entry".
President Biden's orders also call for the review of Trump-era polices for asylum seekers and public benefits for migrants with legal status. Migrant Protection Protocols, also known as "Remain in Mexico" policy, has prevented thousands of asylum seekers from remaining in the US while their legal cases are pending.
Immigrant advocates and international human rights groups have urged the president to rescind the widely condemned anti-immigration agenda under the Trump administration but also recognise the harm caused by the government, give impacted families protected legal status, and end the government's adversarial approach to immigration.
Register for free to continue reading
Registration is a free and easy way to support our truly independent journalism
By registering, you will also enjoy limited access to Premium articles, exclusive newsletters, commenting, and virtual events with our leading journalists
Already have an account? sign in
Join our new commenting forum
Join thought-provoking conversations, follow other Independent readers and see their replies