Biden administration issues rare mental health advisory for young people as depression skyrockets
'It would be a tragedy if we beat back one public health crisis only to allow another to grow in its place,' says US Surgeon General Vivek Murthy
Nathan Place
New York
Tuesday 07 December 2021 17:27 Comments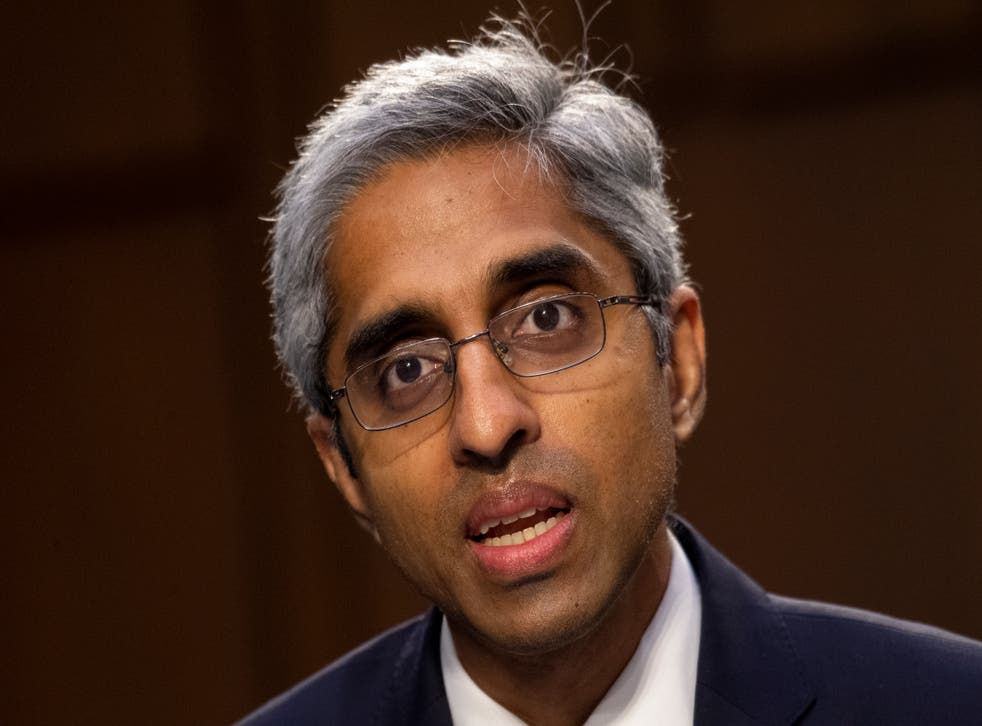 In an unusual step, US Surgeon General Vivek Murthy has issued a public health advisory on mental health issues among young Americans – a problem that he says has worsened during the pandemic.
"Recent national surveys of young people have shown alarming increases in the prevalence of certain mental health challenges," Mr Murthy wrote in his introduction to the advisory. "It would be a tragedy if we beat back one public health crisis only to allow another to grow in its place."
Even before Covid came to the United States, depression and anxiety among young people was on the rise. From 2009 to 2019, the share of high school students reporting "sadness or hopelessness" went up by 40 per cent, according to research cited in the advisory. From 2007 to 2018, the report said, suicide rates among Americans aged 10 to 24 rose by 57 per cent.
Since the pandemic began, the surgeon general said, things have gotten even worse.
"The pandemic era's unfathomable number of deaths, pervasive sense of fear, economic instability, and forced physical distancing from loved ones, friends, and communities have exacerbated the unprecedented stresses young people already faced," Mr Murthy said.
According to the report, symptoms of depression and anxiety among young people have doubled during the pandemic. In early 2021, emergency room visits for suicide attempts rose by 4 per cent for adolescent boys – and a shocking 51 per cent per cent for girls.
But the advisory is not all bleak. The document outlines a number of things that parents, schools, and other community members can do to help.
"Mental health challenges in children, adolescents, and young adults are real, and they are widespread," Mr Murthy wrote. "But most importantly, they are treatable, and often preventable."
The advisory especially emphasises the importance of building in-person relationships – exactly the kind of interactions that have often been shut off by pandemic precautions.
And the document has advice for everyone – not just teachers and parents, but journalists and social media companies.
"Prioritize user health and wellbeing at all stages of product development," the advisory instructs the tech giants. "Senior technology executives should acknowledge that their products can harm some young people and take material and measurable steps to prevent and mitigate these harms, even at the expense of engagement, scale, and profit."
Earlier this year, internal research from Facebook emerged that Instagram causes or worsens negative feelings in many teenage girls. Mr Murthy's advisory urges the company to do something about that.
Some experts say a health advisory is not likely to change a giant corporation's behavior, but it's a step in the right direction.
"I really do believe that this advisory infuses hope and if nothing else, carries hope forward that things can be better," Robin Gurwitch, a psychology professor at Duke University, told the Los Angeles Times. The important thing, she says, is that "we can begin to shed some light on the issues and truly move forward in a productive way."
Register for free to continue reading
Registration is a free and easy way to support our truly independent journalism
By registering, you will also enjoy limited access to Premium articles, exclusive newsletters, commenting, and virtual events with our leading journalists
Already have an account? sign in
Join our new commenting forum
Join thought-provoking conversations, follow other Independent readers and see their replies