How Trump supporters got images of Bill Clinton to show when you Google 'rapist'
Campaigners appear to have managed to influence Google image search results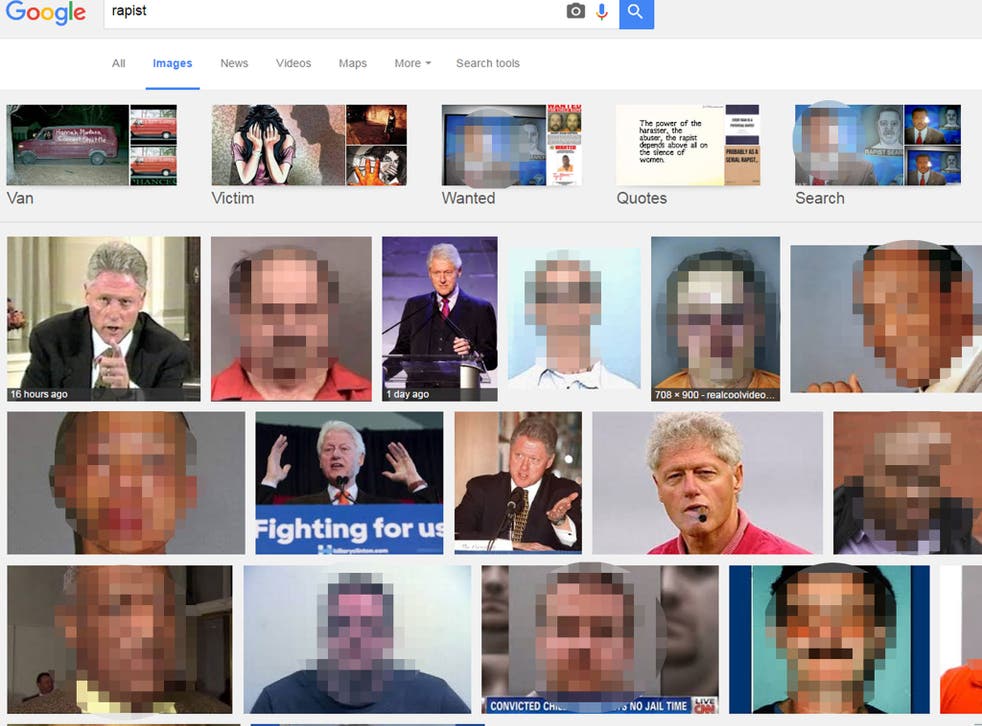 Donald Trump's supporters appear to have successfully campaigned to make images of former US president Bill Clinton appear at the top of Google results when searching for the word "rapist".
The idea for the stunt appears to originate from the reddit forum "Donald J Trump For President", and though active for some months it seems to have gained new traction in the wake of the release of tapes on Friday showing Mr Trump's own sexually aggressive comments from 11 years ago.
It also comes as Breitbart News released a new interview with Juanita Broaddrick, a woman who has accused Mr Clinton of raping her in a hotel room in 1978, when he was then the Arkansas attorney general.
On Sunday, Mr Trump retweeted Ms Broaddrick twice as she compared the billionaire saying "bad things" with her claim that "BC [Bill Clinton] raped me" and "HRC [Hillary Clinton] threatened me after".
And on Saturday night, at least one Trump supporter interrupted a speech Mr Clinton was giving in Milwaukee on climate change, shouting "Bill Clinton is a rapist".
On the reddit forum for Trump backers, the effort to impact Google search results appears to have begun when a user posted an image of Mr Clinton with the caption: "Rapist. When people search 'rapist' we want this image to be the first thing they see."
Users started posting the word "rapist" repeated over and over under the image, and over the course of Sunday, updated the forum with progress reports including "only five images away from #1 - let's finish this", before it was finally announced that "WE DID IT! Bill Clinton is #1 Google image result for 'RAPIST'."
Mr Clinton himself has suggested that the sudden flurry of allegations is a direct result of the embarrassing audio tapes released by the Washington Post this week, in which Mr Trump could be heard boasting of his attempts to force himself on women sexually.
Faced with one heckler in Milwaukee, he encouraged supporters "don't worry about it", adding: "You gotta feel sorry for them, they had a bad day yesterday, so they're trying to make it up."
In the new Breitbart interview, Ms Broaddrick repeated the claim she made in 1999, when Mr Clinton was in his second term as president, that he had sexually assaulted her on the fringes of a political campaign event.
Donald Trump's most controversial quotes

Show all 14
Then, Mr Clinton said it a statement that "any allegation he assaulted Broaddrick is absolutely false". He has long consistently denied the allegations, while Hillary Clinton has declined to address them.
Google is yet to respond to a request for comment from The Independent.
Register for free to continue reading
Registration is a free and easy way to support our truly independent journalism
By registering, you will also enjoy limited access to Premium articles, exclusive newsletters, commenting, and virtual events with our leading journalists
Already have an account? sign in
Register for free to continue reading
Registration is a free and easy way to support our truly independent journalism
By registering, you will also enjoy limited access to Premium articles, exclusive newsletters, commenting, and virtual events with our leading journalists
Already have an account? sign in
Join our new commenting forum
Join thought-provoking conversations, follow other Independent readers and see their replies