Black Lives Matter protesters at Donald Trump Washington DC rally invited on stage
'If we really want America great, we do it together'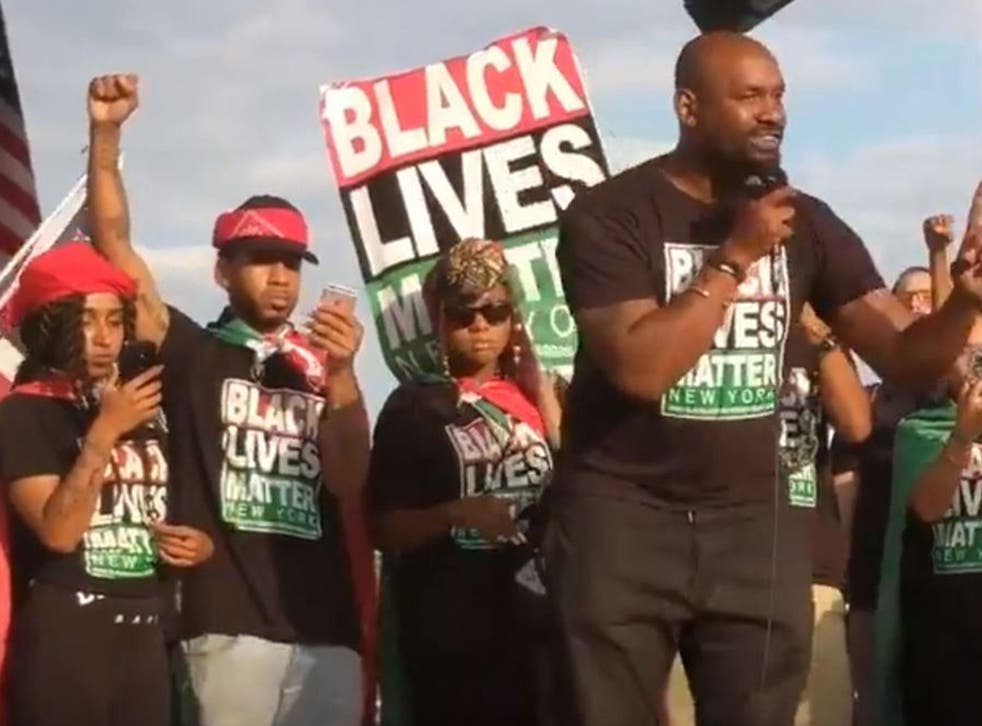 Black Lives Matter activists protesting the right-wing "Mother of All Rallies" in Washington DC were unexpectedly invited to speak on stage.
Footage of the speech and the crowd's reaction has since been widely shared on social media.
The BLM protesters were initially marching close to the rally, with their chants of "black lives matter" met with boos and counter-chants of: "USA, USA, if you don't like it get out."
One of the organisers at the pro-Donald Trump rally told the crowd: "Don't even give them the spotlight," adding: "They don't exist."
The group were later invited on stage by Henry Davis, a black Trump supporter who was performing at the rally.
"I want Black Lives Matter to see a black patriot," Mr Davis said, but he tried to kick the group off the stage after warning them to be quiet.
Pro-Trump rally brings a thousand fans to D.C.
However, Tommy Gunn, the organiser of the rally, handed his microphone over to the group's leader, telling them: "So you guys know that the 'Mother of All Rallies' was to end the political violence.
"It's about freedom of speech. It's about celebration. So what we're going to do is something you're not used to, and we're going to give you two minutes of our platform to put your message out.
"Whether they disagree or agree with your message is irrelevant. It's the fact that you have the right to have the message."
He added: "It's your right to say what you believe. And it's their right to let you know what they think about what you're saying."
Hank Newsome, the president of BLM New York, then addressed the crowd.
The biggest names involved in the Trump-Russia investigation

Show all 17
"I am an American," he said. "And the beauty of America is that when you see something broke in your country, you can mobilise to fix it.
"So you ask why there's a Black Lives Matter. Because you can watch a black man die and be choked to death on television and nothing happens. We need to address that."
His speech was met with a mixed reaction of both cheers and boos. "Hey, no, shut up. That was a criminal," one woman shouted.
Mr Newsome went on to say he was not "anti-cop," eliciting a mixed reaction from the crowd.
"We are anti-bad cop," he continued. "We say if a cop is bad, he needs to get fired like a bad plumber, a bad lawyer, like a bad f***ing politician!"
Responding to a shout of "all lives matter," Mr Newsome said: "You are so right, all lives matter, right? But when a black life is lost, we get no justice. That's why we say black lives matter."
Bringing his speech to an end, he said: "If we really want America great, we do it together."
Register for free to continue reading
Registration is a free and easy way to support our truly independent journalism
By registering, you will also enjoy limited access to Premium articles, exclusive newsletters, commenting, and virtual events with our leading journalists
Already have an account? sign in
Register for free to continue reading
Registration is a free and easy way to support our truly independent journalism
By registering, you will also enjoy limited access to Premium articles, exclusive newsletters, commenting, and virtual events with our leading journalists
Already have an account? sign in
Join our new commenting forum
Join thought-provoking conversations, follow other Independent readers and see their replies