Bob Dole: Former presidential candidate announces he has stage four cancer
Mr Dole represented Kansas from 1969 to 1996, before a White House run challenging incumbent president Bill Clinton
Oliver O'Connell
New York
Thursday 18 February 2021 16:21 Comments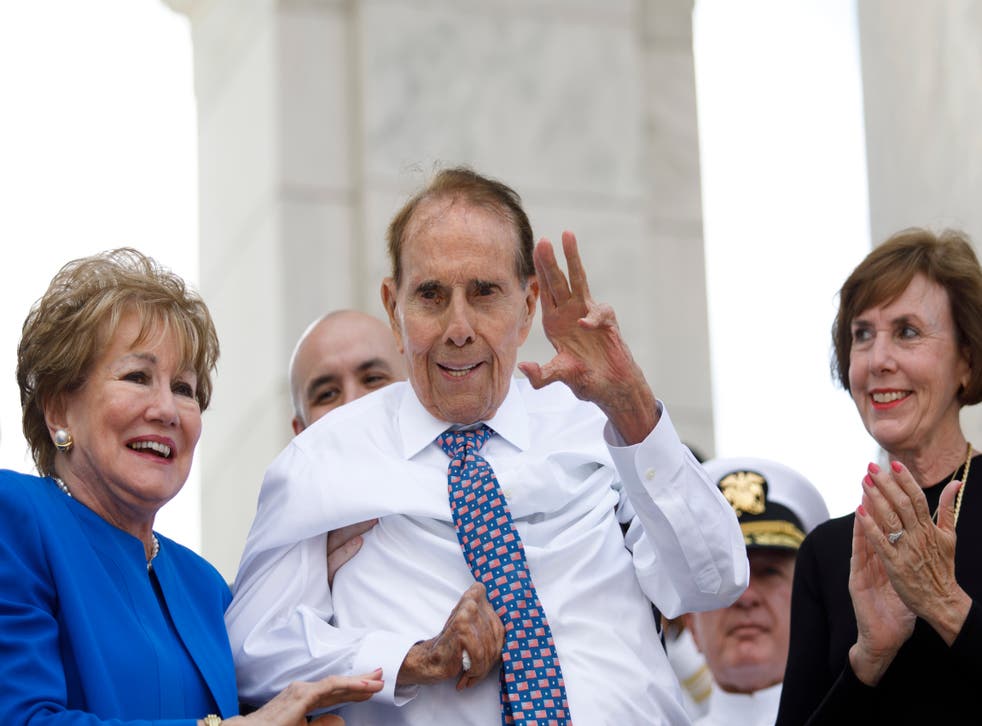 Former Republican presidential candidate Bob Dole has announced that he has stage four lung cancer.
In a statement released on Thursday, the 97-year-old former senator for Kansas said he would begin treatment on Monday.
"While I certainly have some hurdles ahead, I also know that I join millions of Americans who face significant health challenges of their own," he said.
Mr Dole represented Kansas from 1969 to 1996, before a White House run challenging incumbent president Bill Clinton.
In his 27 years in the Senate he spent three years as majority leader from 1985 to 1987, and 1995 to 1996, and led Republicans as minority leader in the intervening years.
Mr Dole's turn at the top of his party's presidential ticket in 1996 was preceded by being selected as Gerald Ford's running mate in 1976 after Nelson Rockefeller withdrew.
He also briefly sought the Republican nomination in 1980 but dropped out early on in the race. In 1988 he ran again in the primaries but was defeated by then-vice president George HW Bush.
Though he retired from public office after the 1996 election, he remained in public life.
His wife, Elizabeth Dole, became a senator for North Carolina from 2003 to 2009. She had previously served in both the Reagan and Bush cabinets.
In the 2016 election, Mr Dole initially supported Jeb Bush before later being the only former Republican nominee to endorse Donald Trump.
In 2018 Senator Dole was awarded the Congressional Gold Medal.
Register for free to continue reading
Registration is a free and easy way to support our truly independent journalism
By registering, you will also enjoy limited access to Premium articles, exclusive newsletters, commenting, and virtual events with our leading journalists
Already have an account? sign in
Join our new commenting forum
Join thought-provoking conversations, follow other Independent readers and see their replies