Immigrant family separations: The reality of US-Mexico border crisis
Jeremy B. White
San Francisco
Wednesday 20 June 2018 08:32 Comments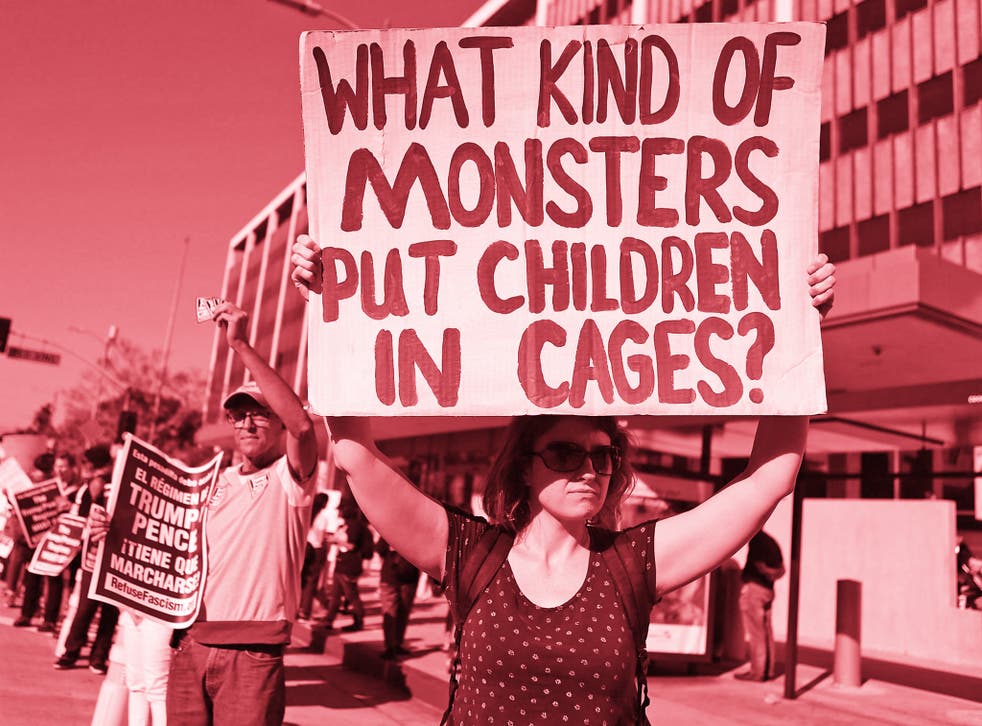 Protestors demonstrate against the separation of migrant children from their families in front of the Federal Building in Los Angeles, California
(Mario Tama/Getty Images)
Immigration has always been a defining issue for Donald Trump, but the recent surge in migrant children who have been separated from their families after crossing America's southern border has spurred a growing crisis.
The issue has dominated the political arena in recent days. The rhetoric has gotten heated, with detractors invoking some of history's gravest human rights abuses as they accuse the administration of unconscionable cruelty.
What is happening at the border?

In April, attorney general Jeff Sessions announced that the administration would begin pursuing a "zero-tolerance" policy towards adults who illegally cross the border.

"If you are smuggling a child, then we will prosecute you and that child will be separated from you as required by law," Mr Sessions said in announcing the new policy. "If you don't like that, then don't smuggle children over our border."

Thanks to a 1997 court settlement, legal precedent dictates that children must be detained in the least restrictive setting possible while cases are processed. A subsequent ruling found that rule applies to both unaccompanied minors - those who cross alone - and those who cross with their parents.

Under those guidelines, children who cross the border fall under the custody of the Department of Health and Human Services. The Trump administration's zero tolerance policy, in mandating prosecutions and putting parents into criminal proceedings, splits families.

"I don't want children taken away from parents, and when you prosecute the parents for coming in illegally - which should happen - you have to take the children away", Mr Trump said during a speech this week.

Federal data shows that nearly 2,000 immigrant minors were separated from their families at the border over a six-week period spanning mid-April and May. New numbers released on this detailed 2,342 children being separated from their families from early May through to early June. Some of those dates cross over.

What has the Trump administration said about it?

As the criticism mounts, spurred on by images and audio of children placed into shelters away from their parent, the Trump administration has vigorously pushed back on the motion they are to blame.

The president has repeatedly sought to blame Democrats, claiming - falsely - that a law they championed is at fault. Homeland Security secretary Kirstjen Nielsen said over the weekend that "We do not have a policy of separating families at the border. Period", and she again sought to deflect blame during a combative press conference this week.

She faulted the 1997 court decision and a Bush-era human trafficking law that barred swiftly returning unaccompanied minor children to their home country, unless they came from Mexico or Canada, and blasted Congress for not fixing "loopholes".

"Congress and the courts created this problem, and Congress alone can fix it", Ms Nielsen said.

What are the critics saying?

"Inhumane". "Cruel". "Government-sanctioned child abuse".

Few of the Trump administration's policy choices have generated a comparable amount of outrage. Elected officials of both parties, human rights advocates and child welfare experts have excoriated Mr Trump and his cabinet for what they describe as a stain on America's global reputation.

The United Nations' high commissioner for human rights, Zeid Ra'ad al-Hussein called for an immediate end to the separation of families, saying that "inflicting such abuse on children is unconscionable". Amnesty International's Americas director called the "spectacularly cruel" practice "nothing short of torture". Colleen Kraft, the president of the American Academy of Pediatricians, warned of "a form of child abuse" after visiting a Texas shelter.

American political discourse has been dominated by the issue in recent days. Democrats have been particularly ferocious in their criticism, with Rep Elijah Cummings of Maryland decrying "child internment camps".

But it has not been restricted to liberals. Former first lady Laura Bush, wife of former Republican president George Bush, wrote an op-ed saying the calling for an end to an "immoral" policy that she said "breaks my heart". Two Republican governors ended National Guard deployments to the border. Among the words used by Republicans in Congress: "ugly and inhumane" (Representative Fred Upton), "totally unacceptable" (Representative Mario Diaz-Balart), and "horrible" (Representative Mia Love).

Could the Trump administration reverse the policy?

While there are rules governing how the Trump administration can treat immigrant children, the new development of large numbers of families being shattered at the border is firmly within the administration's control.

It is true that the law and court precedent dictate how the federal government must treat children who cross the border. Altering those legal requirements would indeed require an act of Congress.

But it is also true that the current situation flows directly from the Trump administration's shift towards a more stringent response to illegal border crossings. Congress and the courts may have created restrictions on how immigrant kids can be treated, but the Trump administration created the zero tolerance policy.

"It is a judgment on the part of the administration how to implement that court decision. And this implementation of the court decision that says children need to be separated from their parents because their parent is being prosecuted - that has never happened before", former top immigration official Doris Meissner told NPR.

Administration officials have also been fairly transparent about seeking to deter illegal crossings with a harsher policy. Asked directly by Laura Ingraham of Fox News if "trying to deter people from bringing children, or minors" across the border was "part of what the separation is about", Mr Sessions responded in the affirmative.

"Yes, hopefully people will get the message", he said.

What happens next?

There is tremendous political pressure to do something. Given the Trump administration's longstanding focus on fortified immigrant enforcement - the president has continued to blast illegal immigration, warning of migrants who "infest" the country - it seems unlikely the administration will reverse course on its zero tolerance policy.

Senate Democrats have signed onto a straightforward bill to halt the family separations, but that has a slim chance of winning approval in the Republican-controlled Congress.

A compromise immigration bill touted by Republican leadership would undo the legal protections enshrined by the 1997 ruling. But that legislation could also face an uphill fight, and it does not mandate an end to the tougher prosecutorial policy embraced by the administration.

Adding to the uncertainty, Mr Trump said he wanted "make changes" to the legislation. He said last week that he would not support the bill, which left administration officials scrambling to clarify to reporters that the president misunderstood the question and would indeed back the legislation.

Seeking to break through the impasse, Senate Republicans announced they were backing a bill to allow immigrant families to remain together while their cases are processed. But top Democratic Senator Chuck Schumer of New York swiftly rebuffed that plan, saying it would be preferable for Mr Trump to act.
Register for free to continue reading
Registration is a free and easy way to support our truly independent journalism
By registering, you will also enjoy limited access to Premium articles, exclusive newsletters, commenting, and virtual events with our leading journalists
Already have an account? sign in
Join our new commenting forum
Join thought-provoking conversations, follow other Independent readers and see their replies