Bowe Bergdahl verdict: Soldier who deserted post in Afghanistan to receive no jail time
The judge ordered that he would be dishonourably discharged from the military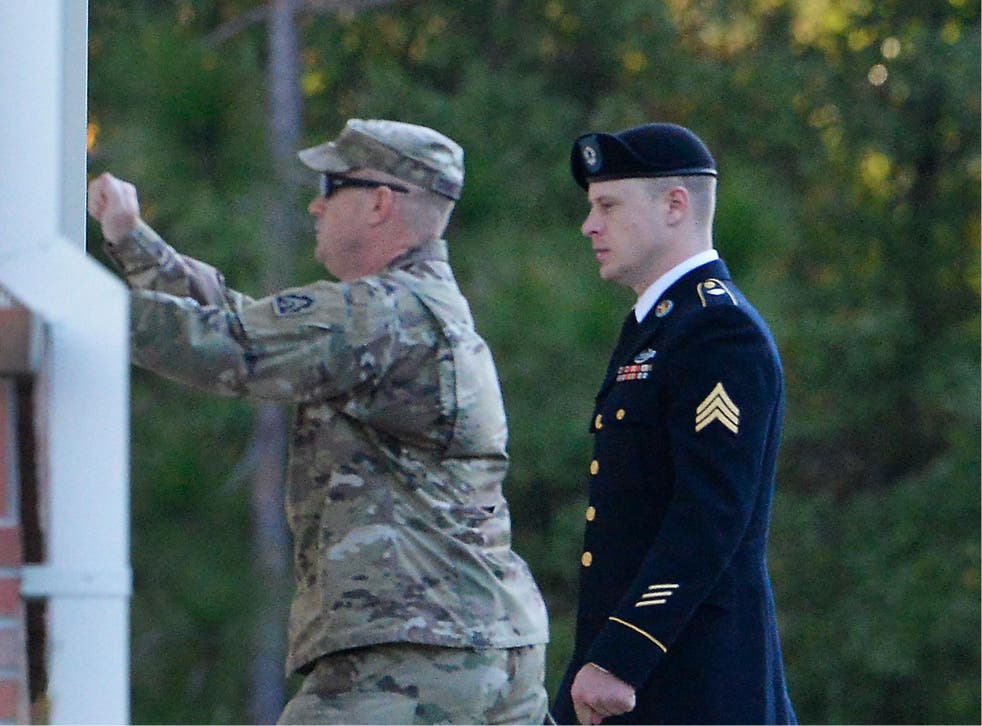 US Army Sergeant Bowe Bergdahl won't serve time in prison for endangering his comrades by walking off his Afghanistan post, a military judge has ruled.
Sgt Bergdahl was held captive by the Taliban for five years after he left his Afghan post in 2009, sparking a massive manhunt in the region. He pleaded guilty last month to charges of desertion and misbehaviors before the enemy.
Although he did not receive any further jail time, he has been dishonourably discharged from the military. Sgt Bergdahl's lawyers had pushed for that punishment, while the US military had asked for a 14-year sentence. He had originally faced the potential for life in prison.
Sgt Bergdahl was captured by the Taliban in 2009, and endured brutal captivity for five years before President Barack Obama struck a deal to release the captured soldier in exchange for Taliban prisoners. Immediately after he was captured, the US military conducted a massive search operation that resulted in the deaths of six American soldiers.
That search, and, later, the contentious deal struck by the Obama administration to secure Sgt Bergdahl's release, made the 31-year-old a contentious figure among Washington politicians, and the military community.
President Donald Trump has been one of those politicians, having called Sgt Bergdahl a "no-good traitor who should have been executed" last year during his campaign to become president. Mr Trump tweeted just this week that he wanted the military court to give Sgt Bergdahl the death penalty for his actions. Sgt Bergdahl's lawyers had argued that the President's statements made it impossible for their client to receive a fair trial.
World news in pictures

Show all 50
The judge had said that he was not influenced by the President's comments.
The White House said Friday that it did not have a comment on the sentence, and referred to a previous statement several weeks ago. In that statement, Mr Trump said that he expects everyone in the military justice system "to exercise their independent professional judgement, consistent with applicable laws and regulations."
Mr Trump later tweeted that the judge's decision was a "disgrace".
"The decision on Sergeant Bergdahl is a complete and total disgrace to our Country and to our Military," Mr Trump tweeted while on board Air Force One.
Sgt Bergdahl's lawyers had asked for leniency during the hearings, saying that their clients had been undiagnosed with mental illness when he abandoned his post.
"Hypothetically, he probably should not have been in the Army," Capt Nina Banks, one of Sgt Bergdahl's military defence attorneys, said in her closing arguments.
Sgt Bergdahl had suffered from numerous mental illnesses, including schizotypal personality disorder, and post traumatic stress disorder, according to forensic psychiatrist Dr Chales Morgan, who testified for the defence this week.
Dr Morgan testified that a troubled upbringing had led to some of those mental illnesses. She said that Sgt Bergdahl's tense and sometimes scary childhood household had contributed to her client's social anxiety and cognitive defects, a condition established before he joined the US military.
Defence lawyers also argued that Sgt Bergdahl's cooperation with officials after being returned to the US warranted a lenient sentence.
Government prosecutors argued that the former Army man had known what he was doing when he deserted his post, and that he knew what the risks were. Soldiers were brought in to testify about Sgt Bergdahl's desertion, and told horrifying stories of the conditions that they were forced to endure while looking for their captured comrade.
That included Capt John Billings, who served as Sgt Bergdahl's platoon leader while in Afghanistan. He said that he and his platoon searched for Sgt Bergdahl for 19 days. During that time they had gone without food and water at points.
Another soldier called to testify became emotional while describing a situation during the search in which he and his dog came under fire. Retired Navy SEAL Chief PEtty Officer James Hatch said that he was shot in the leg, and that his K-9 partner was killed during the attack.
"I thought I was dead," Chief Hatch said of his injury.
Sgt Bergdahl apologized earlier this week to the service members who searched for him, noting that his actions brought intense suffering to those soldiers.
"My words can't take away what people have been through," he said. "I am admitting I made a horrible mistake."
Sgt Bergdahl was originally charged with desertion and misbehaviour before the enemy in March 2015.
He said that he was tortured by the Taliban during his capture, including having been beaten, chained to a bed for months, and being locked in a cage.
While it is not certain what Sgt Bergdahl may do now, he has already been offered a position at an animal sanctuary, and military officials who design survival training say they are interested in bringing him in for lectures on how to survive captivity.
Join our new commenting forum
Join thought-provoking conversations, follow other Independent readers and see their replies