California launches new climate change conference to help fulfill Paris Agreement targets
The US is withdrawing from the deal, but states and cities vow to continue fighting global warming
Mythili Sampathkumar
New York
Thursday 06 July 2017 23:17 Comments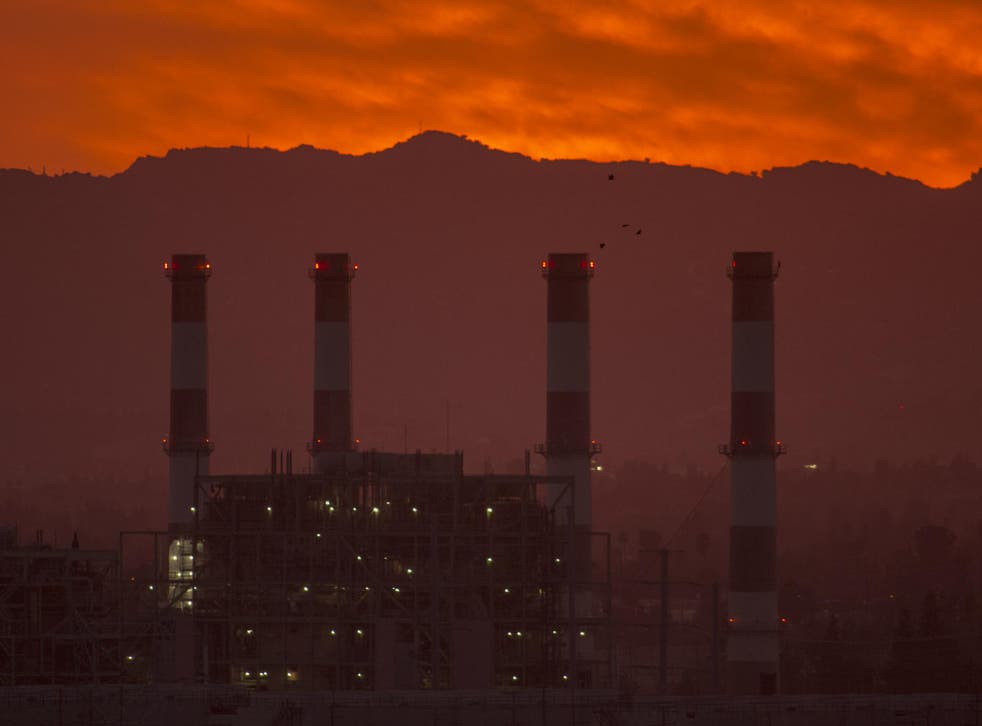 California will host its own climate change conference on the Paris Agreement in 2018.
Governor Jerry Brown is looking to position the state as a leader in combating global warming on the heels of Donald Trump withdrawing the US from the global accord signed by nearly 200 countries.
The targets for carbon emissions reductions for each country and provisions to help poorer countries adapt to an already-changed planet were negotiated for two decades before the December 2015 signing.
President Barack Obama made it official in 2016, bypassing Congress to avoid a rejection of the deal by members who do not believe in the science behind climate change.
The summit set for 2018 in San Francisco will mark the first time a state is hosting a climate gathering aimed at upholding the goals of the Paris deal.
Mr Brown will announce the Global Climate Action summit on 6 July in a video message to the Global Citizen Festival in Hamburg, Germany where Mr Trump is meeting world leaders at the G20 summit.
Every other G20 country is part of the accord and China and India have become leaders in the solar power field.
German Chancellor Angela Merkel has also put climate change on the agenda of the meeting, despite her clashes with Mr Trump on the topic.
She predicted some " difficult conversations" during the summit.
The Trump administration's decision to roll back environmental regulations in the US through proposed federal budget cuts to the Environmental Protection Agency and measures like opening up land for XL Keystone pipeline have helped to make Mr Brown a name for Americans in disagreement with the President on the issue of carbon emissions and renewable energy.
He travelled to China earlier this year to discuss climate policy and will serve as a special envoy to states and regions at the UN's November climate conference in Germany.
"He doesn't speak for the rest of America," Mr Brown is expected to say in the video about the President, according to early remarks released by his office.
"We in California and in states all across America believe it's time to act."
In fact, UN Secretary General Antonio Guterres has said the US may still meet the targets despite Mr Trump, Energy Secretary Rick Perry, and EPA chief Scott Pruitt who do not think regulating human behaviour and the coal industry will help the environment.
10 photographs to show to anyone who doesn't believe in climate change

Show all 10
Mr Guterres' optimism is likely due to the nearly a thousand mayors, state governors, and CEOs who have signed their own pact to keep fighting climate change.
Twenty Fortune 500 companies, including Apple, eBay, Gap Inc., Google, Intel, Microsoft, Nike, and several universities are among the signatories. A separate mayoral pledge was signed by over 200 cities to build a clean energy economy.
Lou Leonard, World Wildlife Fund's Senior Vice President of Climate Change and Energy, told The Independent previously that these sub-national alliances are important because decisions about emissions-heavy sectors like transportation, ports, international shipping hubs, urban planning, and land use are all made at the local government level.
Mr Brown's climate conference will feature representatives of sub-national governments, businesses, investors, musicians, and others to highlight action to fight global warming and to "spur deeper commitment" from national governments.
A full list of attendees hasn't been released and it is unclear at this time if any foreign presidents or prime ministers plan to attend.
Building alliances to fight climate change has been a key piece of Mr Brown's time in office.
Former UN climate chief Christiana Figueres told The New York Times that the conference was "evidence of the fact that the US economy continues to de-carbonise" independent of federal policies.
Part of the issue is that only national targets have been used in the Paris Agreement.
To aid with efforts like California's, the cities, and companies former New York City Mayor and UN envoy on cities and climate change Michael Bloomberg launched an effort with local governments and non-state actors "to formally quantify the combined - and overlapping - emissions reduction pledges, which will be known as "America's Pledge," and submit the report to the UN," Reuters reported.
Register for free to continue reading
Registration is a free and easy way to support our truly independent journalism
By registering, you will also enjoy limited access to Premium articles, exclusive newsletters, commenting, and virtual events with our leading journalists
Already have an account? sign in
Join our new commenting forum
Join thought-provoking conversations, follow other Independent readers and see their replies