Capital Gazette takes swipe at Trump: 'We won't forget being called an enemy of the people'
US president has persistently used the phrase to refer to the press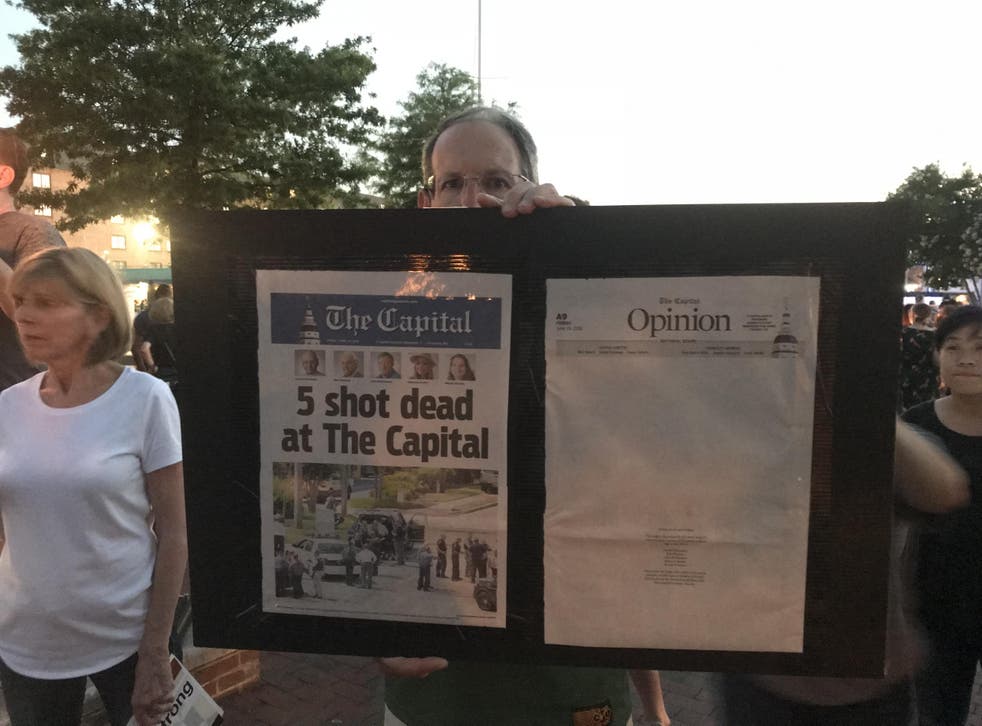 Staff at a Maryland newspaper where a gunman shot five in their newsroom dead have hit out at Donald Trump.
A lone gunman opened fire on the offices of Capital Gazette newspaper in Annapolis last week - killing four reporters and one supporting staff member.
The paper's staff released a letter on Sunday which thanked those who extended support in the wake of the mass shooting but also took a veiled swipe at Mr Trump.
"We won't forget being called an enemy of the people. No, we won't forget that. Because exposing evil, shining light on wrongs and fighting injustice is what we do," they wrote.
Mr Trump, who has become famed for launching barbed attacks on the media whom he brands "fake news", has persistently used the phrase "enemy of the people" to refer to the press.
However, the president did perform a U-turn on his usual condemnation of the press after the Maryland shooting – saying journalists should be able to work without fear of facing violent attack.
The comment raised eyebrows among many in the media given his regular attacks on the press.
Maryland shooting: Capital Gazette newspaper staff targeted

Show all 10
"Journalists, like all Americans, should be free from the fear of being violently attacked while doing their jobs," Mr Trump said at a White House event marking the six-month anniversary of his $1.5 trillion tax cuts.
"To the families of the victims, there are no words to express our sorrow for your loss. Horrible, horrible event. Horrible thing happened."
CNN's chief White House correspondent Jim Acosta shouted at Mr Trump from the back of the room during the event.
Mr Acosta – who has knocked heads with the Trump administration in the past – yelled: "Mr President, will you stop calling the press the enemy of the people?"
Mr Trump had earlier been filmed walking silently past reporters requesting comment or words of condolences at the White House.
Jarrod Ramos has been charged with five counts of murder in the wake of the shooting spree. The 38-year-old appeared in court on Friday morning where he was refused bail.
He reportedly had a long-standing grudge with the Capital Gazette and unsuccessfully tried to sue the newspaper for defamation in 2012 after it reported on a case in which he pleaded guilty to harassing a woman.
The Annapolis shooting - which was the deadliest attack of its kind targeting journalists in American history - began with a shotgun blast that shattered the glass entrance to the open newsroom. Journalists were forced to crawl under desks, describing agonising minutes of fear as they listened to the murder suspect's footsteps and the repeated blasts.
Join our new commenting forum
Join thought-provoking conversations, follow other Independent readers and see their replies