Immigrant caravan turned back by US officials at Mexican border faces a tough asylum fight
Winning asylum likely a long shot for Central American immigrants
Jeremy B. White
San Francisco
Monday 30 April 2018 19:47 Comments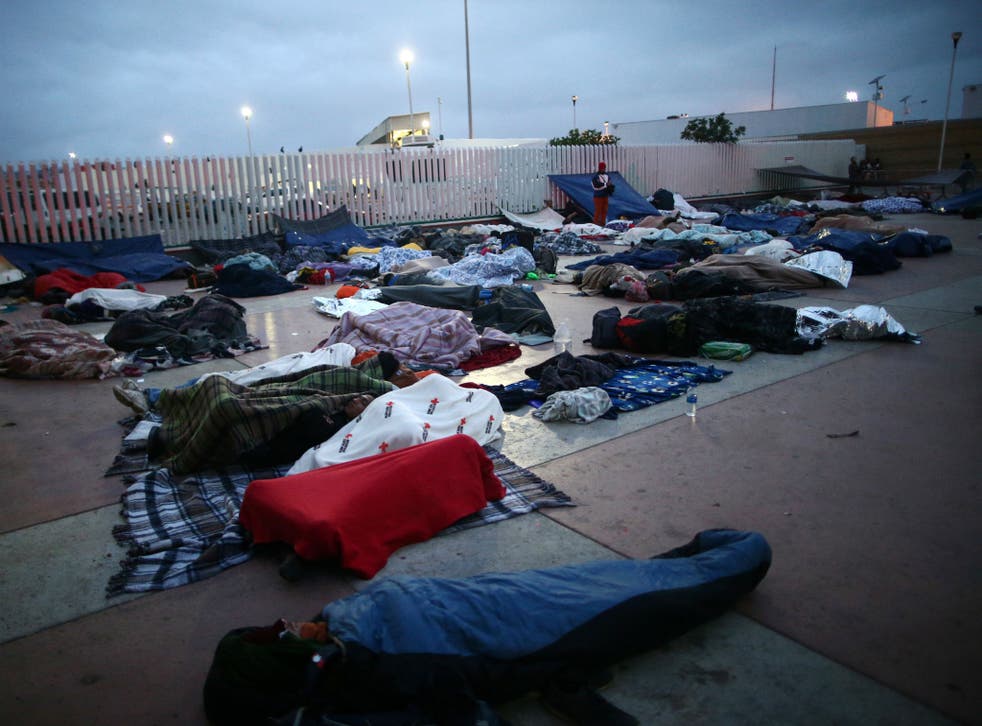 For the scores of immigrants who arrived at the US border in a caravan denounced by Donald Trump, an arduous journey north has shifted into an odyssey through America's asylum system.
More than 100 Central American immigrants arrived at the San Ysidro border crossing to seek safe haven from violence in their home countries, organisers said, pointing to post-election chaos in Honduras in particular.
But in a sign of the uphill struggle ahead, most were prevented from applying for asylum as officials said the border station had already reached capacity. Many spent the night sleeping on the ground.
A US Customs and Border Patrol official did not respond to a request to confirm how many of the asylum-seekers had been processed or lay out a timeline.
Mr Trump has long railed against the asylum process as an overly lenient conduit for illegal immigration. The president picked up that theme again in a speech over the weekend, calling America's system "the dumbest immigration laws anywhere on earth".
"They know once they get here they can walk right into our country," Mr Trump said. "If they can get anywhere near, if they touch our ground, it's 'welcome to the United States'."
Protestors rally at JFK Airport against Muslim immigration ban

Show all 20
But some immigration law experts argue protections for asylum-seekers have already eroded under the Trump administration, and activists who back the caravan accused the federal government of neglecting its duties in not swiftly processing the newly arrived batch of immigrants.
"Stop rejecting asylum-seekers who try to present themselves at the port of entry", organiser and immigration attorney Nicole Ramos said in a speech. "You know what you're doing, you know you turn people away. You complain they are breaking the law by entering illegally – you are breaking the law".
Migrant 'caravan' gathers at the US-Mexico border
Echoing that criticism, Rep Zoe Lofgren told CNN that people with a legitimate argument for asylum "have a right to present their case".
"That's not a violation of immigration law. That's a part of immigration law", said Ms Lofgren, a Democrat representing California.
Immigrants who claim asylum at ports of entry are typically detained until an interview in which they must prove they have a "credible fear" of persecution in their home countries. Those who meet that standard win the right to make a formal asylum application to an immigration judge.
"It's still a majority of [Central American] immigrants who are passing this initial screening test", said Niels Frenzen, director of the immigration law clinic at the University of Southern California, but once they end up before a judge, the vast majority are denied.
Officials in the Trump administration have warned that immigrants are exploiting the asylum system. Department of Homeland Security secretary Kirstjen Nielsen prefaced the caravan's arrival by vowing to prosecute immigrants who make false claims and warning that "smugglers, traffickers, and criminals understand our legal loopholes better than Congress". Attorney General Jeff Sessions called the caravan "a deliberate attempt to undermine our laws and overwhelm our system".
Against that backdrop, immigration attorneys say they have noticed a marked difference in how often immigrants in asylum proceedings are detained. A lawsuit filed earlier this year accused the Trump administration of indefinitely detaining asylum-seekers who had credible cases and posed no flight risk.
The fates of caravan members in the coming weeks could depend in part on their age and family status.
Unaccompanied minors who cross the border are detained in separate facilities administered by the Office of Refugee Resettlement and enjoy more leniency in being released to family members. Mothers with children could end up at family detention centres in Texas and Pennsylvania, while older family members or men "could end up anywhere", Mr Frenzen said.
And there's a greater chance that people are detained, according to Mr Frenzen. He said that administration threats to prosecute parents who facilitate children's journeys north have had a "definite chilling effect", paralleling a larger crackdown.
"Under Obama, if you had a cousin or a family friend or some plan as to where you'd be able to live after the credible fear interview…most people would be released after the credible fear finding and be able to continued their hearings out of custody", he said. "There's been a drastic change to that".
Register for free to continue reading
Registration is a free and easy way to support our truly independent journalism
By registering, you will also enjoy limited access to Premium articles, exclusive newsletters, commenting, and virtual events with our leading journalists
Already have an account? sign in
Join our new commenting forum
Join thought-provoking conversations, follow other Independent readers and see their replies