As cities rush to remove Confederate symbols after Charlottesville activists in Hollywood, Florida fear violence
The city council had indicated the votes were there to change a number of street signs, but have dragged their heels for years
Clark Mindock
New York
Monday 21 August 2017 16:38 Comments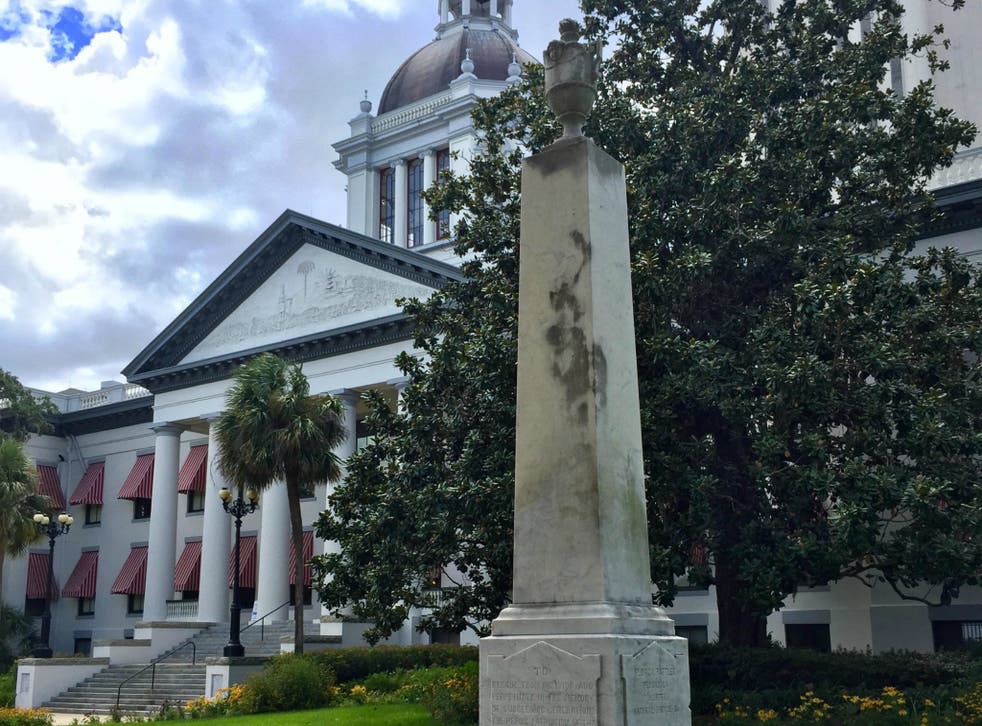 In a small city in south Florida, a relatively quiet effort to simply remove street signs bearing Confederate names has felt the reverberations caused by the bloody events in Charlottesville last weekend – and it has activists worried.
Just fifty miles south of the President Donald Trump's Mar-a-Lago resort, activists and community leaders in Hollywood, Florida say that they're finally on the brink of victory in their years-long effort to rename three streets that bear the names of Confederate generals – just as many other communities across the country are considering their own Confederate monuments. But, in the wake of events last week, some fear that the upcoming city council vote on the issue may attract the type of violence and vitriol that led to the death of a woman and many more injured in Charlottesville.
Activists say a previous protest over renaming the signs attracted a lot of faces they now are seeing pop up in pictures from the Virginia white supremacy rally. And they're not sure they'll be so lucky as to avoid violence a second time.
"We definitely feel there is the potential for violence. We feel we were lucky with the first [protest that] nobody got hurt," Wendy King, an activist there working to convince the city council to approve the sign change, told The Independent. "It only takes one person to drive a car into a crowd, or someone to get upset and start shooting."
So, instead, activists are hoping that the city council – which appears to have enough support to approve the measure to rename the streets – will scrap their plans to hold a public vote later this month. Like many cities that have similarly taken advantage of at least some level of secrecy to remove Confederate symbols, they hope that the city council will simply cast their votes early so that protesters can't organise a potentially deadly demonstration.
Violence on the streets of Charlottesville

Show all 9
Going ahead with the planned date for the city council vote gives white supremacists – who may feel emboldened by Mr Trump's recent statements that seemed to roll back his condemnation for the actions of white supremacists in Virginia – time to plan. And, any future protests may include more violence than protesters yelling racial epithets at minorities, Ms King, a white woman, said.
The signs in Hollywood – named in the 1920s after Confederate General Robert E Lee, Ku Klux Klan founder Nathan Bedford Forrest, and Confederate General John Bell Hood – are just three of over 1,500 Confederate symbols on public grounds in the US, honouring leaders of the army that fought against the emancipation of America's slaves. Those symbols include giant statues like the one that attracted demonstrators in Charlottesville, as well as public schools, US military bases, and a sculpture carved into the side of a mountain in Georgia that is larger than Mount Everest.
Since the attack in Charlottesville, a renewed interest in removing Confederate symbols has swept the nation. Officials in Baltimore moved quickly and took down their monuments under the cover of darkness, while the city council in Lexington, Kentucky, voted unanimously to remove their statue. Even in Brooklyn, liberal bastion from the Union, a church removed a plaque honouring the Confederacy.
Hollywood itself, from the outside, may seem like an unlikely host for such a debate. Founded over half a century after the US Civil War ended, and located a far shot from the heart of the old Confederacy, the community has little if any inherent claim to that history other than than it's existence within a country that failed to completely mend the ugly wounds created during that war.
Donald Trump blames both sides for Charlottesville violence
And yet, renaming three signs that activists argue are a celebration of the Civil War, and an insult to the predominantly black communities they cut through, has proven contentious. Even though a fund has been created to pay the costs associated with changing all of the Confederate signs that run through the community, some city council members have been resistant for reasons ranging from real perceived opposition to simple apathy.
Benjamin Israel, who leads an African American commission there, has lived in Hollywood for 40 years, and realised that something needed to be done about the signs 10 years ago. For eight years, he would test the waters by bringing up such efforts in conversation, but it wasn't until two years ago that a fire was put underneath the cause. Even since then, though, the push to rename the signs has been caught up in a two year bureaucratic trudge.
"How is it they can so warmly embrace people of those attitudes? People who believe in slavery? People who believe that people of my complexion we are beneath they par? That we are beneath the level of humans?" Mr Israel told The Independent, describing his frustrations with the slow movement of the city council.
"I wanted to know how they could adjoin themselves to people of that nature who they know was out to destroy the United States of America as it existed," he said.
Even with the potentially good news that the city council has enough votes to rename the streets, Mr Israel said he's sceptical that anything will change. He says he thinks the movement has an ally in the local mayor, but that he has a deep distrust for politicians in general – and years of speaking up at meetings to disinterested faces on a city council that has never included a black person in its ranks hasn't helped.
"Their attitudes – they circle their waggons around the racists," Mr Israel said.
Register for free to continue reading
Registration is a free and easy way to support our truly independent journalism
By registering, you will also enjoy limited access to Premium articles, exclusive newsletters, commenting, and virtual events with our leading journalists
Already have an account? sign in
Join our new commenting forum
Join thought-provoking conversations, follow other Independent readers and see their replies