Chelsea Clinton rubbishes Trump's claim she would have sat in for her mother at G20 amid Ivanka row
The President has claimed the move was 'very standard'
Andrew Buncombe
New York
Monday 10 July 2017 16:33 Comments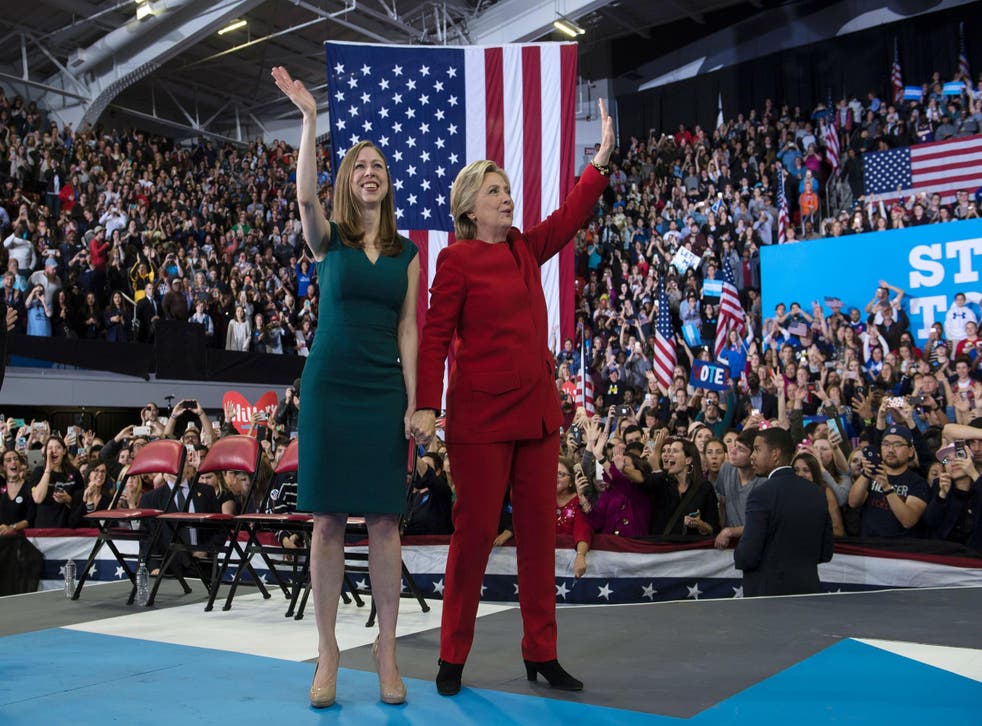 Chelsea Clinton has dismissed Donald Trump's defence of his controversial decision to have his daughter sit in for him at G20 meeting by suggesting Hillary Clinton might have done the same.
The President triggered fresh outcry after images emerged of Ivanka Trump sitting at a G20 meeting in Hamburg. The photograph - tweeted and then deleted by Russian official Svetlana Lukash - showed Mr Trump's eldest daughter seated beside British Prime Minister Theresa May and Chinese President Xi Jinping.
Mr Trump has said there was nothing wrong with his daughter briefly replaching him, and cited a comment by German Chancellor Angela Merkel who said it was not an issue because "it's very well known that she works at the White House".
On Monday morning, Mr Trump tweeted: "If Chelsea Clinton were asked to hold the seat for her mother, as her mother gave our country away, the Fake News would say CHELSEA FOR PRES!"
Ms Clinton, 37, who was a regular presence during her mother's presidential campaign last year, quickly responded to Mr Trump's comments.
"Good morning Mr. President. It would never have occurred to my mother or my father to ask me," she wrote on Twitter. "Were you giving our country away? Hoping not."
Ivanka Trump plays significant role standing in for Donald Trump at G20
The meeting that Mr Trump's daughter briefly sat in for him, was a closed-door session on African development.
Her presence there sparked incredulity and anger, with many people commenting on social media that Mr Trump was behaving like a dictator.
World news in pictures

Show all 50
Thomas Bernes, a fellow at Ontario's Centre for International Governance and a former IMF official, told The Independent the decision by Mr Trump suggested to other world leaders a lack of seriousness and commitment.
"[The countries] will not be looking to the US for leadership - they will be looking to Trudeau, Macron and Merkel," he said.
Mr Trump claimed the arrangement was "very standard". Nikki Haley, the US Ambassador to the United Nations, also defended Ms Trump, saying the President's daughter had previously sat in on meetings with her and Mr Trump, especially those relating to women and business, Reuters said.
Lawrence Summers, a former World Bank official and economic adviser under former Democratic president Barack Obama, said was rare for government heads to leave during major summits.

He said if they did so, that foreign ministers or other very senior government officials would usually step it.
"There is no precedent for a head of government's adult child taking a seat," he wrote in the Washington Post. "There is no precedent for good reason. It was insulting to the others present and sent a signal of disempowerment regarding senior government officials."
Register for free to continue reading
Registration is a free and easy way to support our truly independent journalism
By registering, you will also enjoy limited access to Premium articles, exclusive newsletters, commenting, and virtual events with our leading journalists
Already have an account? sign in
Join our new commenting forum
Join thought-provoking conversations, follow other Independent readers and see their replies