Cher denounces Trump for having 'no sympathy, no empathy, no humanity'
Cher has become one of Hillary Clinton's most passionate celebrity supporters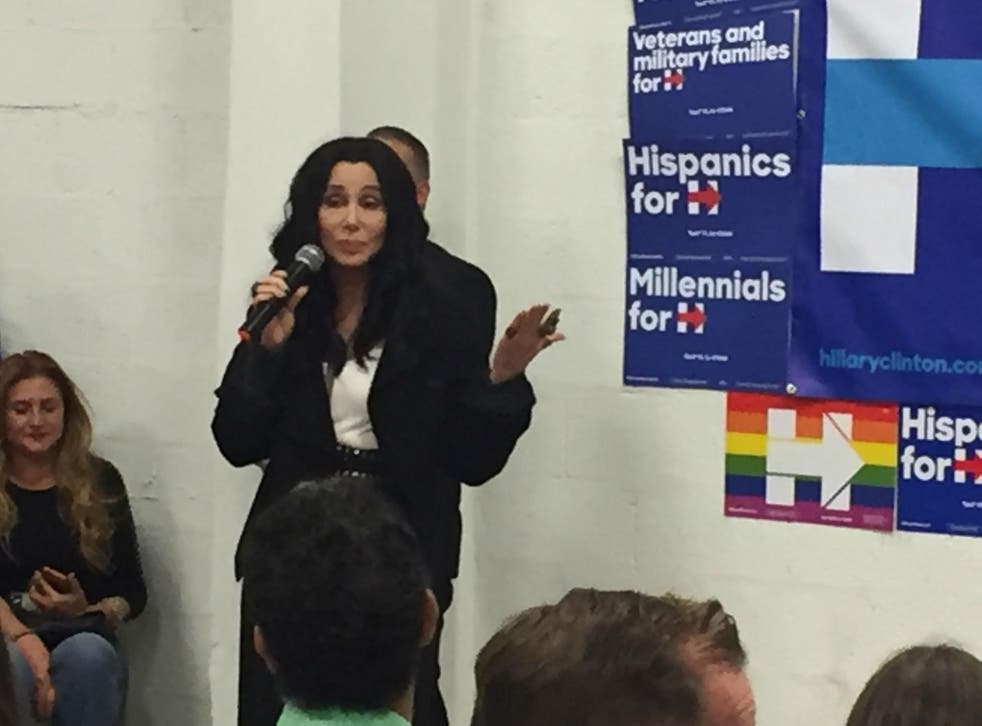 Cher the actress and singer, told volunteers and staff members of the Hillary Clinton campaign in Miami late on Monday that Donald Trump has "no sympathy, no empathy, no humanity" and that he can't be allowed to win the presidency of the United States on Tuesday.
Brought in as a diva-distraction for the scores of canvassers and phone-bank callers who on Tuesday will find out whether their labours of the last weeks will deliver south Florida and perhaps the state as a whole - and even the White House - to Ms Clinton, the veteran performer was by turns humourous about how she came to know Ms Clinton and grave about her opponent.
Cher, who has made several outings in recent weeks to campaign alongside Ms Clinton on the trail - she joked about struggling to follow Ms Clinton onto the stage at the Greek Theatre in Detroit one recent night because, "I don't follow" - had her most serious moments talking about Trump. She she could not face America if he is elected. "We cannot let that happen."
The Republican nominee had proved himself so good at lying on the trail "he should get an Oscar" for it, Cher, who is herself an Academy Award winner, quipped, only half jokingly.
She rehearsed stories about him variously cutting the water supply from the home of a 92-year-old woman in Scotland as he developed his golf course there and allegedly altering his father's will to stop benefits going to the descendants of his elder brother, Fred, who had already died after suffering from alcoholism - an action that result in a lawsuit against him.
"Trump went and changed his will so his brother's widow would never inherit…he knew he would be taking the money away from them and he did it anyway. How does someone do that, how can we vote for someone who doesn't care about this family?"
"You would think that someone who had grown up with everything and they still don't care about people," could not get elected, she said, standing against a backdrop of Clinton-Kaine banners and signs.
She also admitted that she had had no particular love for their candidate, Ms Clinton, until she was asked to join her on the trail while running to be the US Senator from New York in 2000.
"Would I like to?" she said of the moment she was approached by Ms Clinton's people and said that she thought at the time, "No, not really". But she said it was when she later talked to her that she realised that the former first lady was far more than the image she had had of her.
"I thought who is this person, she is sharing, she's is so lovely? We started talking and I realised she was just very caring and that she had so many ideas about what to do. I finally had the nerve to ask, 'Why are you like this now, why am I finding this out about this about you now?' I understood her for the first time."
The answer she got, she said, was that Ms Clinton had felt so damaged by the vicious reaction from Republicans when she tried and failed to navigate universal health care through Congress for her husband, Bill Clinton, in his first term that she felt shy about wearing her convictions and political hopes on her sleeve, "in case she got kicked" again.
The meeting ended, she recounted, with Ms Clinton telling her she was exhausted and asking if she knew of a good spa. "I said, babe, I am a diva, of course I know a spa."
"I know she is a good person," she said of Ms Clinton, "and she will unite us." Then she went on: "You know when Trump talks about making America great again, I believe he is talking about making America white again. To me the browning of America is a great thing. It is something we should so excited about and be proud for. We all bring different things to this country."
She confessed to being perplexed by his level of support. "I know that they are suffering and for some reason they think that this guy is their saviour, is their Messiah and he sees them and he cares about them…I don't think he cares, he cares about being out there and getting applause."
Register for free to continue reading
Registration is a free and easy way to support our truly independent journalism
By registering, you will also enjoy limited access to Premium articles, exclusive newsletters, commenting, and virtual events with our leading journalists
Already have an account? sign in
Register for free to continue reading
Registration is a free and easy way to support our truly independent journalism
By registering, you will also enjoy limited access to Premium articles, exclusive newsletters, commenting, and virtual events with our leading journalists
Already have an account? sign in
Join our new commenting forum
Join thought-provoking conversations, follow other Independent readers and see their replies