Chicago Trump protests: Bernie Sanders denies orchestrating demonstrations
Donald Trump had accused Sanders and Clinton supporters of inciting violence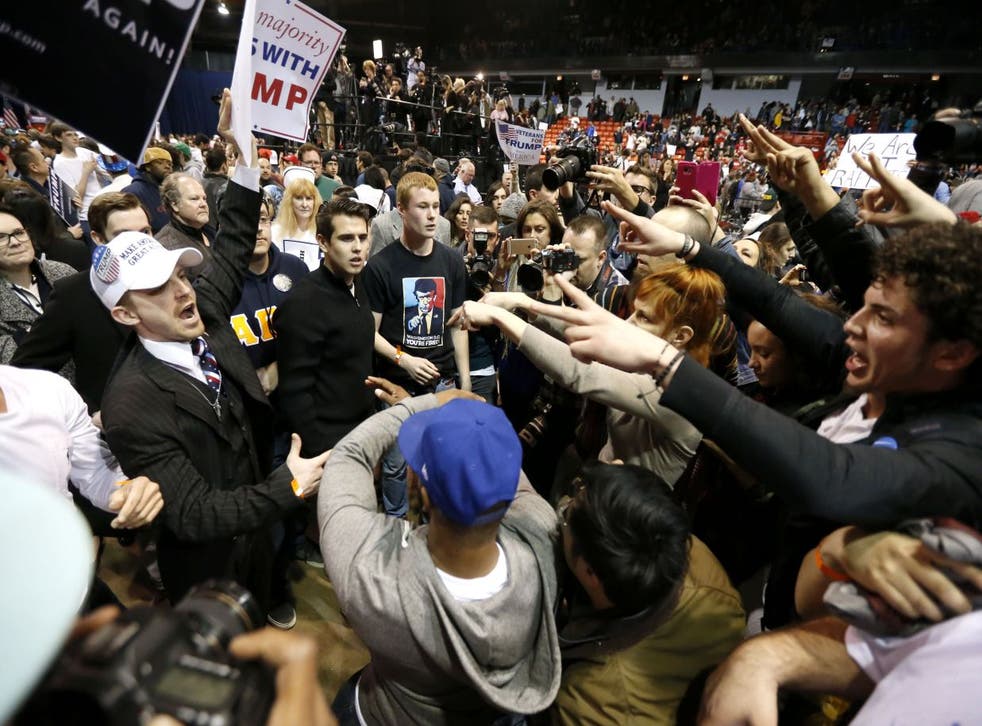 The Bernie Sanders campaign has released a statement on the disorder which took place at Friday's Trump rally in Chicago.
In it, Mr Sanders denies the accusation of Republican frontrunner Donald Trump that his supporters organised the protests.
Mr Sanders also said that the Trump campaign was guilty of "provoking violence."
The full statement reads: "As is the case virtually every day, Donald Trump is showing the American people that he is a pathological liar. Obviously, while I appreciate that we had supporters at Trump's rally in Chicago, our campaign did not organize the protests."
"What caused the protests at Trump's rally is a candidate that has promoted hatred and division against Latinos, Muslims, women, and people with disabilities, and his birther attacks against the legitimacy of President Obama."
"What caused the violence at Trump's rally is a campaign whose words and actions have encouraged it on the part of his supporters. He recently said of a protester, 'I want to punch him in the face.'"
"Another time Trump yearned for the old days when the protester would have been punched and 'carried out on a stretcher.' Then just a few days ago a female reporter apparently was assaulted by his campaign manager."
In pictures: US Elections 2016

Show all 15
"When that is what the Trump campaign is doing, we should not be surprised that there is a response."
"What Donald Trump must do now is stop provoking violence and make it clear to his supporters that people who attend his rallies or protest should not be assaulted, should not be punched, should not be kicked."
"In America people have a right to attend a political rally without fear of physical harm."
A statement by the Trump campaign citing "security concerns" was also released: "Commander George Devereux of the CPD was informed of everything before it happened. Likewise, Secret Service and private security firms were consulted and totally involved."
However, the Chicago Police Department has since denied that they were consulted before the event was called off.
The statement continues: "We have received great credit from everyone for cancelling this event."
"Nobody was injured and crowds disbanded quickly and peacefully. It has been termed 'really good management and leadership under great pressure!'"
The Trump statement apparently ignores two police officers who were hurt trying to control the crowds, one of whom was hit by a bottle.
The statement concludes: "It would have been easier for Mr Trump to have spoken, but he decided, in the interest of everyone's safety, to postpone the event."
Join our new commenting forum
Join thought-provoking conversations, follow other Independent readers and see their replies