China's state media blasts Donald Trump for 'emotional venting' on Twitter about North Korea
'Emotional venting cannot become a guiding policy for solving the nuclear issue on the peninsula', the news agency said
Alexandra Wilts
Washington DC
Tuesday 01 August 2017 15:45 Comments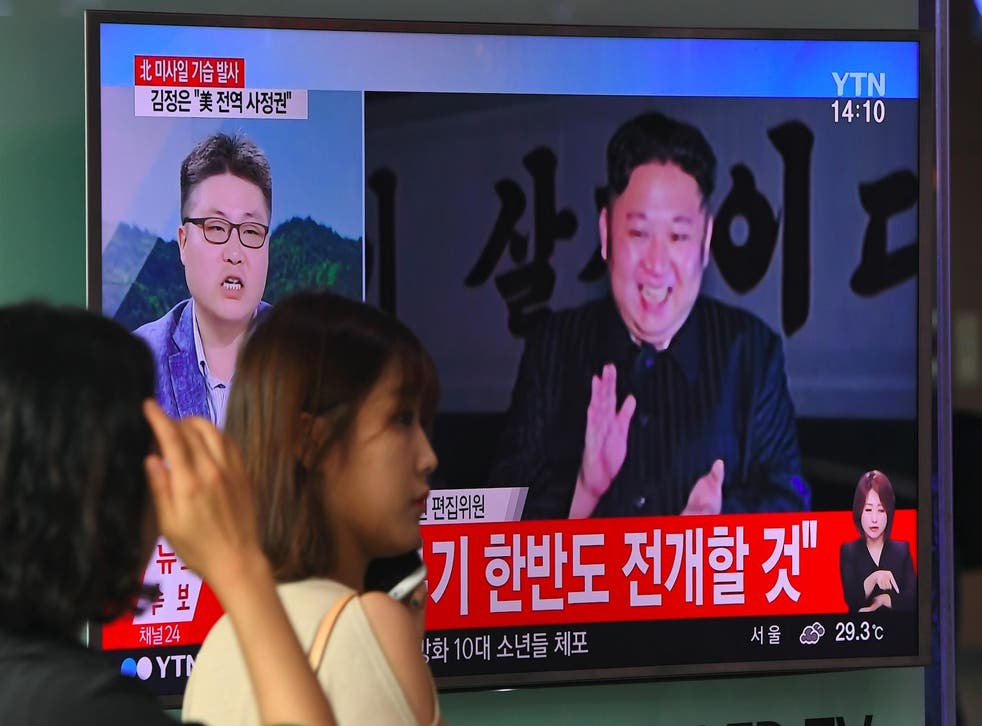 China's state news agency has blasted Donald Trump for his "emotional venting" on social media after the President complained on Twitter that China is not helping the US rein in North Korea's nuclear weapons programme.
"Trump is quite a personality, and he likes to tweet," said Xinhua, China's official news agency, in an editorial displayed on Chinese news websites. "But emotional venting cannot become a guiding policy for solving the nuclear issue on the peninsula," it said, referring to the divided Korean Peninsula.
"I am very disappointed in China," Mr Trump declared on Twitter on Sunday, after North Korea tested an intercontinental ballistic missile in defiance of United Nations sanctions.
"Our foolish past leaders have allowed them to make hundreds of billions of dollars a year in trade, yet they do NOTHING for us with North Korea, just talk," Mr Trump wrote. "We will no longer allow this to continue. China could easily solve this problem!"
Xinhua wrote in its 1,000 Chinese-character editorial that Mr Trump "is clearly finding the wrong target" for his outrage.
"What the peninsula needs is immediately stamping out the fire, not adding kindling or, even worse, pouring oil on the flames," Xinhua said, according to The New York Times. The tensions could, it added, "evolve into a localized conflict, or even the outbreak of war, with unthinkable repercussions."
Donald Trump's international Presidential trips

Show all 22
China wants both balanced trade with the United States and lasting peace on the Korean peninsula, Xinhua said. China's large surplus with the US was $347bn in 2016.
"However, to realize these goals, Beijing needs a more cooperative partner in the White House, not one who piles blame on China for the United States' failures."
Chinese diplomats and the state news media have asserted that the US and its allies should not depend so much on China to ease tensions created by North Korea's growing nuclear weapons programme and missile capabilities. On Friday, North Korea tested a ballistic missile that experts have said could have the range to reach the West Coast.
In a statement after the launch, US Secretary of State Rex Tillerson said that "China and Russia bear unique and special responsibility" for North Korea's "growing threat to regional and global stability.
Russia said on Monday that the US and other countries were trying to shift responsibility for the situation to Russia and China, "almost blaming Moscow and Beijing for indulging the missile and nuclear ambitions of the DPRK (North Korea)."
China's Foreign Ministry, in a statement sent to Reuters responding to Trump's tweets on Sunday, said the North Korean nuclear issue did not arise because of China and that everyone needed to work together to seek a resolution.
China's ambassador to the UN said on Monday it is primarily up to the US and North Korea, not China, to reduce tensions and work toward resuming talks to end Pyongyang's nuclear weapon and missile programmes.
The US and North Korea "hold the primary responsibility to keep things moving, to start moving in the right direction," Ambassador Liu Jieyi said at a news conference to mark the end of China's July term in the rotating presidency of the UN Security Council.
Register for free to continue reading
Registration is a free and easy way to support our truly independent journalism
By registering, you will also enjoy limited access to Premium articles, exclusive newsletters, commenting, and virtual events with our leading journalists
Already have an account? sign in
Join our new commenting forum
Join thought-provoking conversations, follow other Independent readers and see their replies