Chris Christie considering 2024 presidential run against old friend Donald Trump
The pair are old friends, but have had an occasionally strained relationship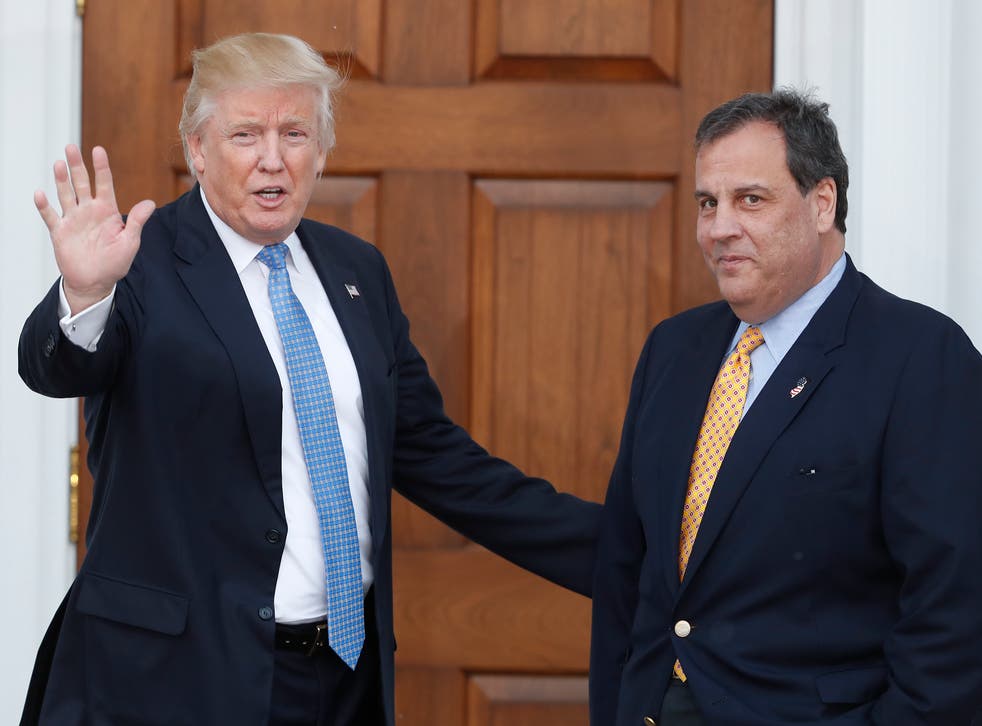 Former New Jersey governor Chris Christie said on Monday he's considering a 2024 presidential run that could put him at odds with his old friend and past presidential rival Donald Trump, who has also expressed interest in running again.
Speaking with radio host Hugh Hewitt on Monday, Mr Christie was asked if he'd run against Mr Trump in 2024.
"I would not rule it out, Hugh," Mr Christie said.
It would be a reprisal of their 2016 contest for the Republican nomination. Mr Christie dropped out of that race and endorsed Mr Trump. Since then, the two have remained close, but Mr Christie was passed over multiple times for top jobs in the White House he'd been hoping to secure, and has on occasion criticised the Trump administration.
Before Mr Trump took office, he reportedly asked Mr Christie to be his vice president, according to the former New Jersey governor's recent book. Eventually, however, Mr Trump went with Mike Pence instead.
For a time Mr Christie chaired the president's transition process, only to be sidelined by Mike Pence once again. Mr Christie then returned the favour, reportedly snubbing White House offers to be head of the Labor or Homeland Security departments, as well as various diplomatic postings.  
Still, the two remained close, with Mr Christie chairing a bipartisan presidential committee on the opioid crisis and helping the president prepare for debates with Joe Biden.
Though they've known each other for nearly two decades and share a fellow tough guy, East Coast political style, Mr Christie hasn't been afraid to criticise his colleague. He has said the president surrounded himself with "awful people" as part of a "rolling s*** show" hiring process, and that choosing people like Michael Flynn, the president's disgraced former national security adviser, was a mistake. He also called the Muslim travel ban "ridiculous", and labelled the Trump administration's child separation policies as "simply the wrong thing to do".
He's also chastised the president for his refusal to concede the presidential election. 
The contest could begin soon. Mr Trump is reportedly considering kicking off a 2024 bid the day of Joe Biden's inauguration this coming January. If the two meet again on the campaign trail, they'll both have to face a record tainted with scandal, between coronavirus deaths, the Mueller probe, and Bridgegate, a New Jersey scandal in which close associates of Mr Christie partially shut down traffic on the George Washington Bridge, the world's busiest, to punish one of the governor's political opponents. Mr Christie denies any knowledge or involvement in the scheme.
Register for free to continue reading
Registration is a free and easy way to support our truly independent journalism
By registering, you will also enjoy limited access to Premium articles, exclusive newsletters, commenting, and virtual events with our leading journalists
Already have an account? sign in
Register for free to continue reading
Registration is a free and easy way to support our truly independent journalism
By registering, you will also enjoy limited access to Premium articles, exclusive newsletters, commenting, and virtual events with our leading journalists
Already have an account? sign in
Join our new commenting forum
Join thought-provoking conversations, follow other Independent readers and see their replies