Chris Collins: First congressman to back Trump for president indicted for insider trading
Republican's son also indicted on similar charges
Emily Shugerman
New York
Wednesday 08 August 2018 19:26 Comments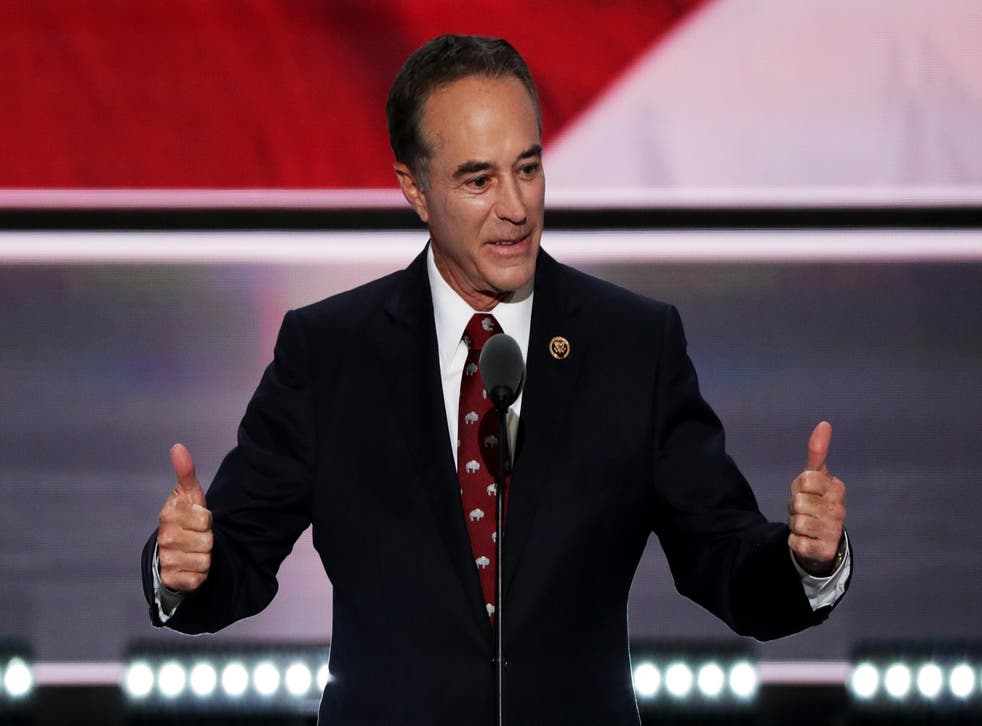 Representative Chris Collins, the first member of Congress to support Donald Trump for president, has been indicted on charges of insider trading.
Mr Collins, a three-term Republican from New York, was arrested by the FBI on Wednesday morning and indicted on multiple counts of securities fraud, as well as charges related to wire fraud and making false statements.
The congressman's son, Cameron, was also charged, along with Stephen Zarsky, the father of his fiancee. The charges were announced in a grand jury indictment unsealed on Wednesday.
Attorneys for Mr Collins said they would mount a "vigorous" court defence in order to "clear his good name".
"It is notable that even the government does not allege that Congressman Collins traded a single share of Innate Therapeutics stock," Jonathan Barr and Jonathan New of BakerHostetler said in a statement. "We are confident he will be completely vindicated and exonerated."
Donald Trump's least presidential moments so far...

Show all 30
The charges stem from Mr Collin's service on the board of directors for Innate Immunotherapeutics, an Australian biotechnology company in which he held a nearly 17 per cent stake. Mr Collins is charged with passing internal information about the company to his son, who allegedly used it to make "timely trades" and tip off others – including Mr Zarsky.
A grand jury indictment alleges the men avoided more than $768,000 in losses by trading on nonpublic information about the company's failed drug trial. Stock in the company dropped 92 per cent after the failed trial was announced, according to CBS.
Mr Collins was reportedly arrested without incident on Wednesday, and was expected to appear in a Manhattan court that afternoon. The case is being prosecuted by the office of the US attorney for the Southern District of New York.
Trump would fight special counsel subpoena to testify on Russia in court, says president's lawyer
The congressman's connection to the Australian biotechnology company have been under investigation by the Office of Congressional Ethics since last year. According to the indictment, Mr Collins passed information to his son, rather than making the trades himself, to avoid arousing suspicion from the congressional oversight body.
When the investigation was first announced, Mr Collins dismissed it as a "partisan witch hunt".
"They can't beat me at the ballot box, so they're trying to beat me with political accusations that are absurd on their face," he said in September.
The congressman was one of the president's most vocal supporters on the campaign trail, and spoke at the Republican National Convention where Mr Trump was selected as the party's nominee. After the 2016 election, Mr Collins served as a kind of liaison for Mr Trump with his fellow legislators, according to the New York Times.
Mr Collins is up for re-election in the November midterms. He was widely expected to win the race, according to the local Niagara Gazette, after far out-fundraising his Democratic opponent.
Register for free to continue reading
Registration is a free and easy way to support our truly independent journalism
By registering, you will also enjoy limited access to Premium articles, exclusive newsletters, commenting, and virtual events with our leading journalists
Already have an account? sign in
Join our new commenting forum
Join thought-provoking conversations, follow other Independent readers and see their replies