Vermont primary: Christine Hallquist becomes first transgender candidate to win governor nomination for major party
The 62-year-old former CEO is part of a wider wave of LGBTQ candidates seeking higher office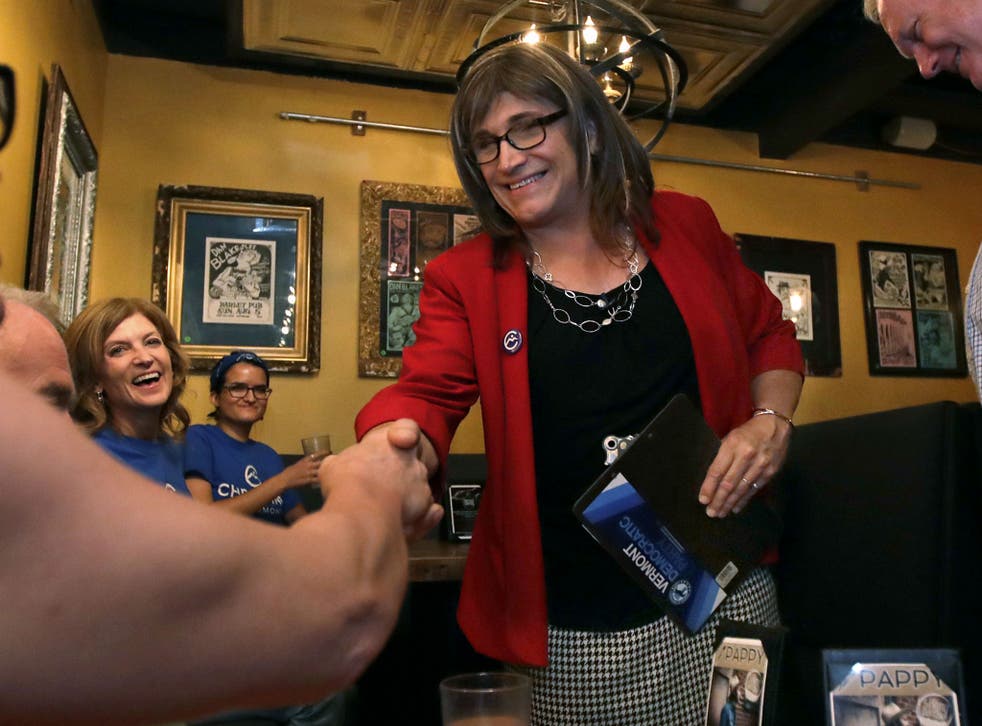 Christine Hallquist has become the first transgender candidate to win a major political party's nomination for governor.
A former utility executive and engineer from Vermont, Ms Hallquist defeated three other Democrats in Tuesday's Vermont primary.
The 62-year-old former CEO is part of a wave of LGBTQ candidates seeking higher office across the US.
Ms Hallquist spent 12 years as the chief Executive of Vermont Electric Cooperative and made her transition from male to female while running the company.
"I think Vermont is a beacon of hope for the rest of the country," Ms Hallquist said speaking to Reuters after her victory. "This is what I call expanding our moral compass and that is what I think it represents."
Alexandria Ocasio-Cortez, a popular Democratic Socialist running for Congress in New York, took to twitter after the results to show her support for Ms Hallquist, calling it an "incredible and groundbreaking victory".
Bernie Sanders, who easily won his own Democratic Senate primary on Tuesday night, offered his congratulations and called on Ms Hallquist to "keep making history" by getting elected in November.
Ms Hallquist will face a tough fight against Republican incumbent Phil Scott, who remains more popular with Democrats then members of his own party in the liberal state.
However Ms Hallquist is not the only representative of the LGBTQ wave hitting US politics. Before Vermont's election, four transgender candidates had won primaries in 2018, although all for house and senate seats in state legislatures.
Alexandra Chandler, a former naval intelligence analyst, is running for Congress in Massachusetts. "I'm running for Congress to be a voice for trans kids out there", Ms Chandler said in a recent promotional video.
30 best pictures from New York Pride

Show all 30
Seventeen have lost primary or general elections and 21 have yet to face voters. For example, transgender lawyer Kim Coco Iwamoto unsuccessfully ran to be Democrats' nominee for Hawaii lieutenant governor.
Ms Hallquist is being supported by The Victory Fund, a political action committee that backs LGBTQ candidates across the country. The committed labelled her a "game changer."
Shortly after the results of the Vermont primary were announced, Ms Hallquist took to Twitter to share her messages for the state.
Among promoting her campaign causes, such as increasing the minimum wage and improving local healthcare, she said: "I will not cower in the face of headwinds from Washington.
"I want to remind everyone, running for Governor is not the greatest challenge I have faced. Tear it up sister!"
Join our new commenting forum
Join thought-provoking conversations, follow other Independent readers and see their replies