CNN accused of blackmailing Reddit user behind Trump's wrestling meme
'Any assertion that the network coerced or blackmailed [the user] is false,' says CNN
Emily Shugerman
New York
Wednesday 05 July 2017 22:21 Comments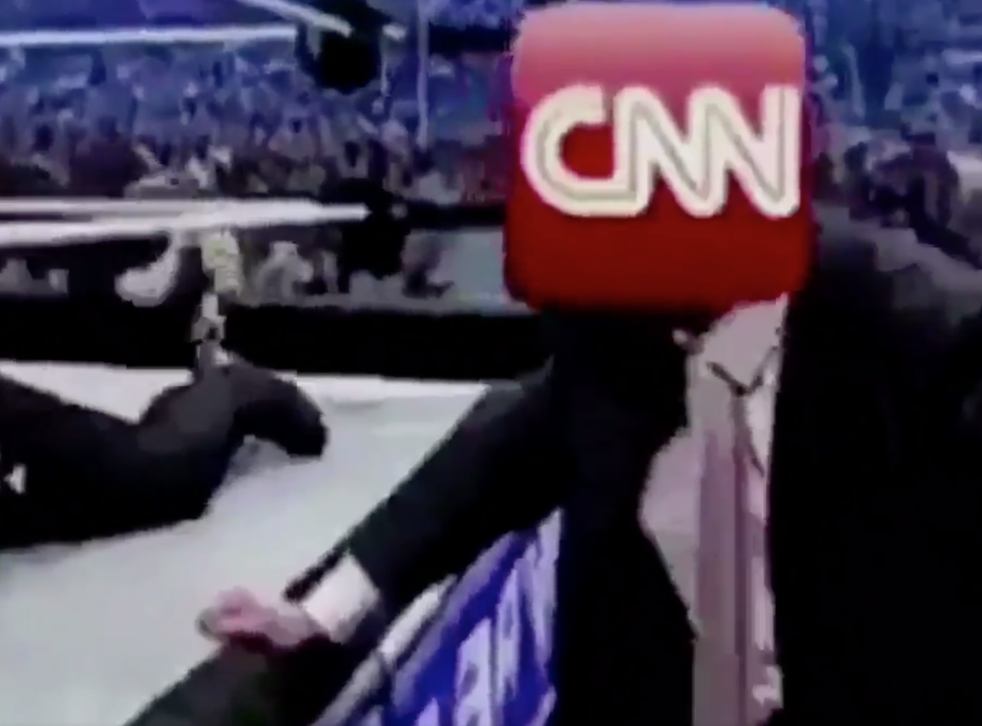 One of America's most popular news networks has been accused of blackmail after tracking down the creator of the controversial meme tweeted by President Donald Trump.
Mr Trump recently tweeted an edited clip from his 2007 "WrestleMania" appearance, in which he tackles World Wrestling Entertainment chairman Vince McMahon to the ground. In the edited clip, Mr McMahon's head is replaced with a CNN logo – a reference to the President's ongoing feud with the network.
The tweet sparked immediate outcry, with many accusing the President of inciting violence against journalists. It is also Mr Trump's most-shared tweet of all time.
In response, reporters from CNN tracked down the alleged source of the gif: a Reddit user with the screen name "HanA**holeSolo," who posted a similar gif on the Reddit forum "r/The_Donald."
Citing an apology from the user, however, CNN said it would not publish his identity.
"CNN is not publishing "HanA**holeSolo's" name because he is a private citizen who has issued an extensive statement of apology, showed his remorse by saying he has taken down all his offending posts, and because he said he is not going to repeat this ugly behavior on social media again," CNN reporter Andrew Kaczynski wrote.
He added: "CNN reserves the right to publish his identity should any of that change."
The article quickly attracted criticism from both the left and right.
"How brave of CNN, a multi-billion dollar corporation, to go after a private citizen," tweeted far-right journalist Mike Cernovich.
Others claimed the networked had blackmailed the Reddit user by stipulating the terms under which they would withhold his identity. Mr Trump's son, Donald Trump Jr, entered the fray with the hashtag "CNNBlackMail".
"So I guess they weren't effective threatening the admin so they go after & bully a 15 y/o?" tweeted Mr Trump's son Donald Teump Jr. "Seems in line w their 'standards'."
CNN maintains that the Reddit user is an adult, not a 15-year-old.
Senator Ted Cruz, a former competitor of Mr Trump, called the article "troubling". He suggested the network may have committed "theft by extortion" if they had threatened to release the user's true identity.
CNN, however, maintains that they did not threaten or coerce the user in any way. In fact, they say HanA**holeSolo deleted his account and posted his apology before ever speaking with Mr Kaczynski.
"Any assertion that the network coerced or blackmailed him is false," CNN said in a statement. "...CNN never made any deal, of any kind, with the user."
Mr Kaczynski has also spoken out in defence his actions, tweeting that he spoke with HanA**holeSolo shortly after the article was published.
The reporter said the user told him: "I am in total agreement with your statement. I was not threatened in anyway. I hope it does serve others as an inspiration to stop".
CNN uncovered HanA**holeSolo's identity through "bits of biographical data left on his Reddit," Mr Kaczynski said.
Shortly before Mr Kaczynski's article was published, HanA**holeSolo deleted many of his offensive posts and posted an apology on Reddit.
"I am not the person that the media portrays me to be in real life, I was trolling and posting things to get a reaction from the subs on Reddit and never meant any of the hateful things I said in those posts," he wrote. The post has since been deleted by the r/The_Donald moderators.
Adding to the drama, however, is the question of how this video wound up in Mr Trump's hands in the first place. As many Twitter users have noted, the video tweeted by Mr Trump differs in both length and aspect ratio from the Reddit gif. It also has sound, which HanA**holeSolo's does not.
According to BuzzFeed News, the Reddit user's gif was likely cropped and edited by a third party before making its way to Mr Trump.
Mr Trump has yet to comment on the tweet.
Register for free to continue reading
Registration is a free and easy way to support our truly independent journalism
By registering, you will also enjoy limited access to Premium articles, exclusive newsletters, commenting, and virtual events with our leading journalists
Already have an account? sign in
Join our new commenting forum
Join thought-provoking conversations, follow other Independent readers and see their replies