Comey fired: Republican Senate leader rules out special prosecutor for Russia investigation
The Senate majority leader condemns 'partisan' calls for an independent investigation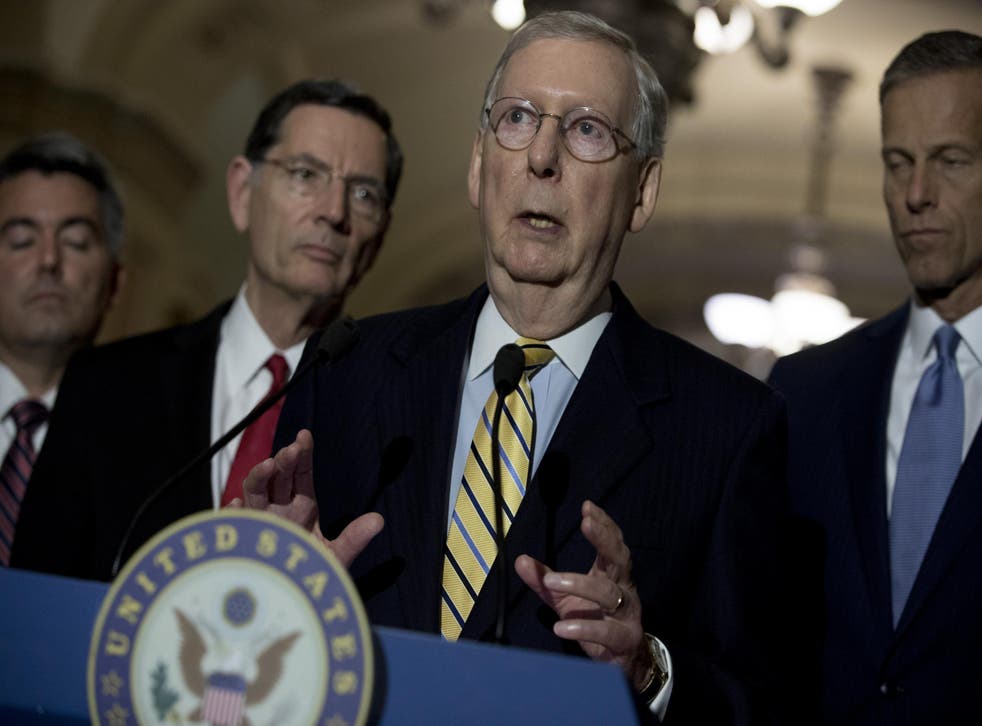 Senate Majority Leader Mitch McConnell has ruled out installing a special prosecutor or committee to look into Russian election hacking and possible links between the Trump campaign and Moscow, saying any new investigation would "impede" current active investigations.
"Today we'll no doubt hear calls for a new investigation which could only serve to impede the current work being done," Mr McConnell said. "...Partisan calls should not delay the considerable work of Chairman Burr and Vice Chairman Warner. Too much is at stake."
Vice President Mike Pence echoed these statements, telling reporters on Capitol Hill he would not support calls for an independent prosecutor.
Democrats, and several Republicans, began calling for an independent prosecutor to investigate Russian meddling the US election after Mr Trump unexpectedly fired FBI Director James Comey. Mr Comey had recently announced that the FBI was investigating possible Trump campaign ties to the country.
Republican Richard Burr, the chairman of the Senate Intelligence Committee, said he was "troubled by the timing and reasoning of Jim Comey's termination." Republican John McCain said the decision bolsters calls for a "special congressional committee" to investigate the Russia issue.
Still, Mr McConnell on Wednesday dismissed the criticism as "partisan." He noted that Democrats had repeatedly criticised Mr Comey in the past, and even calling for his removal. He pointed out that current Senate Democratic leader Charles Schumer had once called Mr Comey's handling of the email investigation "an appalling act, one that he said goes against their tradition of prosecutors at every level of government."
Mr Schumer responded by repeating his calls for a special prosecutor, saying Mr Comey's dismissal "establishes a very troubling pattern."
"If there was ever a time when circumstances warranted a special prosecutor, it is now," Mr Schumer said.
World news in pictures

Show all 50
Mr Schumer suggested a special prosecutor would probe questions about what exactly Mr Comey had uncovered in his investigation, and about the motives of Attorney General Jeff Sessions and Deputy Attorney General Rod Rosenstein in suggesting his firing.
In closing, the Democratic leader cautioned Mr McConnell and his fellow Republicans that "nothing less is at stake than the American people's faith in our criminal justice system and the integrity of the executive branch of our government."
Outside of the FBI, both the House and Senate are conducting probes into Russian meddling. Just before Mr Comey's firing, a grand jury issued subpoenas to associates of former National Security Advisor Michael Flynn for business records. The Senate Intelligence Committee also sent requests to the Treasury Department for information on Mr Trump and his associates.
The White House maintains that Mr Comey's firing was not related to the Russia probe, but due to the director's handling of former Secretary of State Hillary Clinton's use of a private email server.
Join our new commenting forum
Join thought-provoking conversations, follow other Independent readers and see their replies