James Comey says it's 'not up to him' to decide if Trump's 'disturbing behaviour' was obstruction of justice
The former FBI Director said he would leave that determination up to special counsel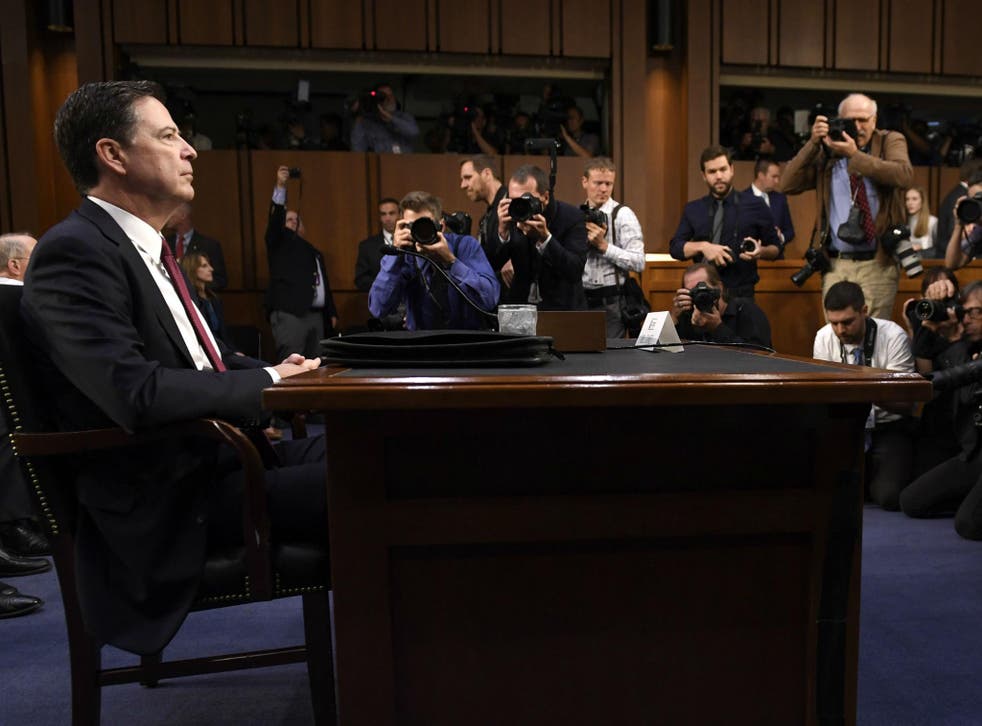 Former FBI Director James Comey said it was not up to him to determine whether Donald Trump's behaviour was obstruction of justice.
"I don't think it's for me to say whether the conversation I had with the president was an effort to obstruct," Mr Comey said during his testimony in front of the Senate Intelligence Committee, but added that Mr Trump's behaviour was "concerning...and disturbing".
Mr Comey, fired on 9 May, detailed in a written statement ahead of his ongoing testimony that Mr Trump said to him during a one-on-one White House dinner: "I need loyalty, I expect loyalty."
The former FBI Director said his "common sense" said that it made him feel as if Mr Trump was "looking for something in exchange for granting my request to stay in the job" of FBI Director.
Mr Comey, a prosecutor himself, said that the determination of obstruction of justice should be left up to the Special Prosecutor Robert Mueller, who was appointed as an independent counsel in the investigation into the alleged ties between Mr Trump's campaign team and Russia and the country's possible interference with the 2016 US election.
The former Director's comment today, however, may mean that Mr Trump's possible obstruction of justice or possible collusion with Russian officials is also under the purview of Mr Mueller's investigation.
Obstruction of justice is an impeachable offence but is a tricky legal issue because it has to do with Mr Trump's actions rather than his intent or how Mr Trump's actions made Mr Comey feel. As a lawyer, Mr Comey is aware of this and likely why he is leaving that determination up to Mr Mueller.
Seth Abramson, an attorney and professor at the University of New Hampshire, gave a breakdown on Twitter of the legal and political definitions on obstruction of justice:
Philip Allen Lacovara, who was counsel to Watergate special prosecutors Archibald Cox and Leon Jaworski, wrote in the Washington Post that Mr Comey's "statement lays out a case against the president that consists of a tidy pattern, beginning with the demand for loyalty, the threat to terminate Comey's job, the repeated requests to turn off the investigation into Flynn and the final infliction of career punishment for failing to succumb to the president's requests, all followed by the president's own concession about his motive."
However, Mr Lacovara said that whether Mr Trump would be indicted on such a crime as a sitting President is an "open question" up to Mr Mueller to answer.
Join our new commenting forum
Join thought-provoking conversations, follow other Independent readers and see their replies