From Alexandria Ocasio-Cortez to Ilhan Omar: How the 116th Congress is making history
The 116th Congress is being sworn in and will begin a first day of business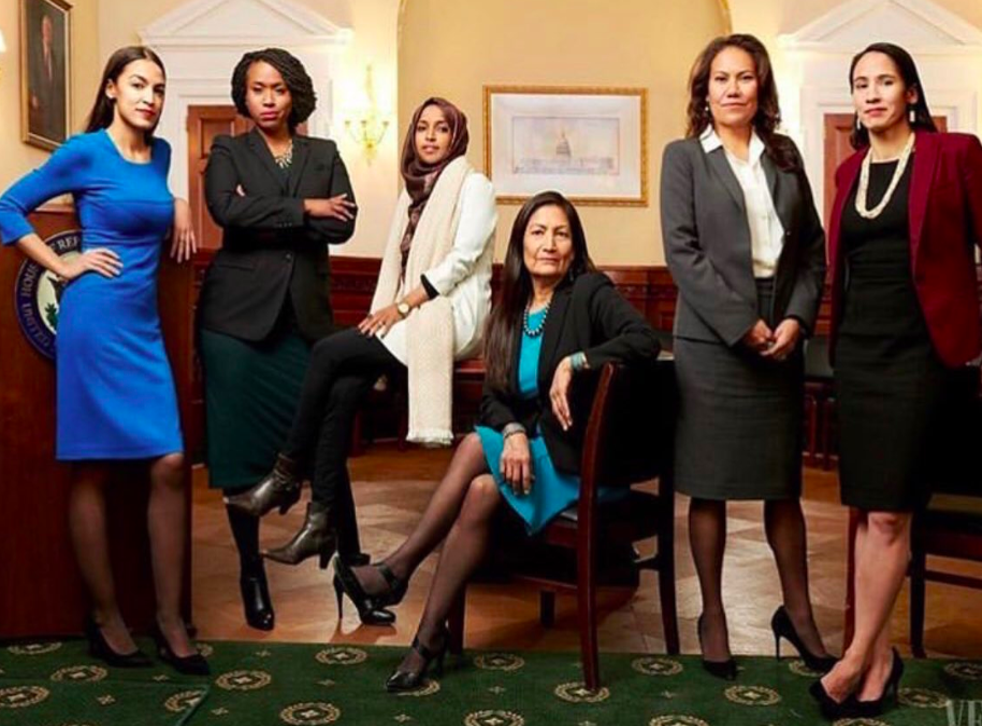 History has been made by the 116th session of Congress as its most diverse class of members yet is sworn in.
In addition to having a record-number of women sitting in Congress, there is also a series of firsts as a number of women of colour embark on their journeys as national legislators.
Among them are the youngest women elected into Congress, the first woman to wear a hijab while serving Congress, the first two Muslim-Americans, the first Native-American, members of the LGBTQ community, and even a former MMA fighter.
Representative-elect Ilhan Omar will be breaking a number of barriers as she is sworn-in to Congress on Thursday. The Minnesota Democrat will be the first Somali-American, one of the first Muslim women, and the first women to wear a hijab as a member of Congress with Democrats in the House of Representatives set to change the rules on headwear.
Ms Omar, who immigrated to the United States as a refugee in 1995, celebrated these milestones in a emotional tweet she posted on Wednesday.
"23 years ago, from a refugee camp in Kenya, my father and I arrived at an airport in Washington DC," she tweeted, attached with a photo of her and her father smiling with suitcases. "Today, we return to that same airport on the eve of my swearing in as the first Somali-American in Congress."
Ms Omar joins Representative-elect Rashida Tlaib in becoming the first Muslim women to serving Congress. Ms Tlaib, who is of Palestinian descent, is also already making headlines..
The Michigan Democrat will be wearing a traditional Palestinian gown and will be sworn-in using former President Thomas Jefferson's copy of the Quran. Last year, Ms Tlaib generated buzz when she announced that she will be leading her own delegation of freshman members of Congress to visit the occupied West Bank.
Both Ms Tlaib and Ms Omar were targets from far-right and Islamophobic groups and have been falsely accused of being associated with the Muslim Brotherhood.
In an interview with the Detroit Free Press, Ms Tlaib, 42, said: "My swearing in on the Quran is about me showing that the American people are made up of diverse backgrounds and we all have love of justice and freedom".
"It's important to me because a lot of Americans have this kind of feeling that Islam is somehow foreign to American history," she said.
"Muslims were there at the beginning... Some of our founding fathers knew more about Islam than some members of Congress now."
Representative-elect Alexandria Ocaiso-Cortez, 29, who has already gained national attention, for her calls to end unpaid internships for congressional interns and her democratic-socialist policies, will be the youngest women ever elected to Congress.
World news in pictures

Show all 50
Throughout her orientation process, the New York Democrat has been using Instagram to take people behind-the-scenes as to what goes on inside the often closed-door meetings in the US Capitol Building. She has also been using her Instagram live stories to discuss politics and take questions while she nibbles on microwavable macaroni and cheese.
The Bronx Native, and former bartender, took the country by surprised when she ousted incumbent Joe Crowley in the primaries for the 14th congressional district. She has been a frequent target for both conservatives, some of which question Ms Ocasio-Cortez's impeccable fashion sense for someone who grew up working-class, and establishment Democrats, who see her as a progressive firebrand.
The new Congress will also be welcoming in the first Native American women into the US Capitol building: Representatives-elect Sharice Davids and Deb Haaland. Ms Davids, a Kansas Democrat, will also be the first openly LGBTQ member serving her state. She was also a former MMA fighter.
Support free-thinking journalism and attend Independent events
Several states will also be seeing history take place in Washington, DC with Representative-elect Ayanna Pressley becoming the first black woman to represent Massachusetts in Congress, and Democrat Jahana Hayes being Connecticut's first black congressional representative. For Texas, Veronica Escobar and Sylvia Garcia will be the state's first Latina representatives, and in Arizona, Senator-elect Kyrsten Sinema will be the Grand Canyon state's first female senator and first openly bisexual senator.
The record number of women elected into Congress were a major factor in Democrats taking back control of the House of Representatives, whereas Republicans lost female representation.
The historic milestones are evolving Congress to be more accurately reflective of the people it represents and its needs. For example, the new Congress will have more women with young children, and the incoming class are becoming more vocal for the US legislative branch to meet the needs of female legislators who are trying to keep afloat with their official duties and child care. It seems to be working: On Tuesday, a new child care facility exclusively for House employees opened.
Join our new commenting forum
Join thought-provoking conversations, follow other Independent readers and see their replies