Corey Lewandowski: Singer Joy Villa files sexual assault complaint against former Trump campaign manager
Trump supporter who wore 'Make America Great Again' dress at Grammys alleges unwanted touching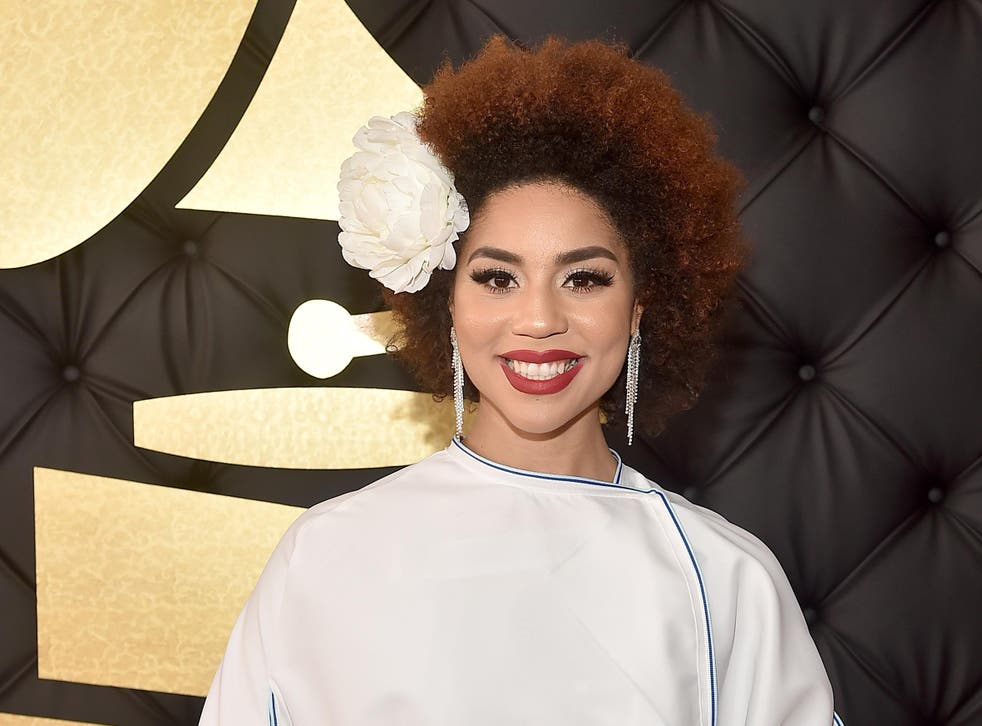 A singer and potential congressional candidate has revealed she has filed a sexual assault complaint against President Donald Trump's former campaign manager for allegedly hitting her twice on her buttocks during a Washington gathering.
Joy Villa, a Trump backer who wore a "Make America Great Again" dress at the Grammys this year, said she plans to meet with detectives in Washington next week about the complaint against Corey Lewandowski.
In a phone interview from Tampa, Florida, the 26-year-old singer-songwriter said she had initially been reluctant to come forward because she was worried about any backlash. But she said she called Washington's Metropolitan Police Department on Christmas Eve after a friend who witnessed the alleged incident in November spoke about it publicly, and other friends urged her to come forward.
"I didn't know him at all," Ms Villa told the Associated Press about Lewandowski. "I only knew him by reputation. He broke my trust."
She said she saw him at a gathering at the Trump International Hotel on the day after Thanksgiving, and said Mr Lewandowski struck her "extremely hard" even after she told him to stop. She said she felt it was "disgusting and shocking and demeaning."
Ms Villa, who is considering running for a Florida congressional seat, said she initially thought it was sexual harassment, but police told her that touching someone on any body part that is sexual in nature constituted sexual assault. She said she was told it was classified as a misdemeanour.
"I was initially fearful to come forward with this," she said, adding that she did not want to bring shame or embarrassment on Lewandowski's family or hers.
"I did nothing wrong," Ms Villa said. "I realised if he's not going to respond or apologise to me, I think it's the right thing to do."
Mr Lewandowski did not respond to an email seeking comment.
The 44-year-old political operative served as Mr Trump's campaign manager from January 2015 to June 2016, when he was forced out and replaced by Paul Manafort, amid reports he had clashed with members of Mr Trump's family, including his daughter, Ivanka, and son-in-law Jared Kushner. Mr Manafort was himself fired a few months later, as controversy grew over his political consultancy work in Ukraine.
Mr Manafort is now one of four figures from the Trump campaign to have been indicted by Robert's Mueller's probe into Russia's alleged meddling in the election. Mr Manafort and his one-time associate Rick Gates have denied multiple charges, including money laundering.
World news in pictures

Show all 50
Ms Villa made news earlier this year when she wore a dress displaying Mr Trump's campaign slogan at the Grammys. She explained her decision to wear the dress in an Instagram post, writing: "You can either stand for what you believe in or fall for what you don't." She added, "agree to disagree".
This is not the first time Mr Lewandowski has faced police charges. In March 2016 he was charged with misdemeanour battery for an altercation involving a female reporter after a news conference in Florida. The charges were later dropped.
Join our new commenting forum
Join thought-provoking conversations, follow other Independent readers and see their replies