'There is never an excuse not to share information': Dr Deborah Birx attacks China over coronavirus during Trump briefing
'When you are the first country to have an outbreak you have a moral obligation to the world,' says top immunologist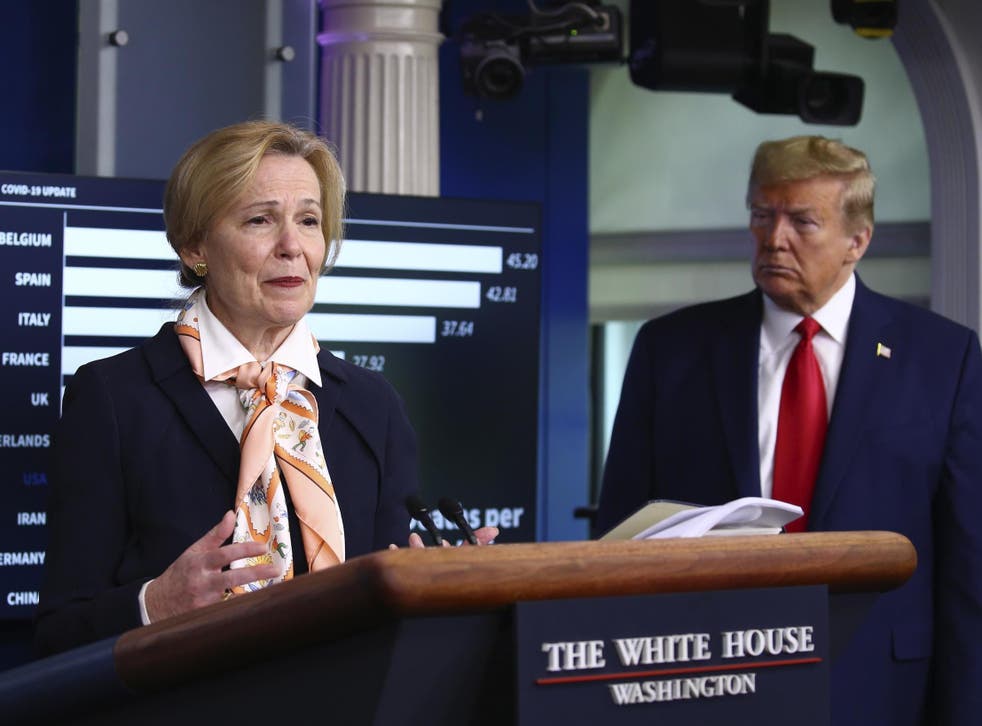 The coordinator of America's coronavirus response has hit out at China for a lack of transparency in the early stages of the pandemic, while calling Beijing's reported mortality rate "unrealistic".
China was the first to be impacted by Covid-19 in November last year, leading to a mass shutdown of daily life and a vast medical response including the building of new hospitals and the drafting in of medical personnel from outside the epicentre of Wuhan, in Hubei province.
However, Dr Deborah Birx, who made her name as an immunologist in the fight against HIV, has said the true horrors of the disease were not explained to the US by China but by countries in Europe like France and Italy, in a forthright intervention that chimed with her boss's rhetoric on how Beijing has handled coronavirus.
She told Saturday's White House press briefing: "They said be very careful, there's an extraordinarily high mortality rate amongst people with pre-existing conditions. And we used their information to bring that to the American people.
"That information came from our European colleagues who were in the midst of their own battle themselves. So there is never an excuse to not share information.
"When you are the first country to have an outbreak you really have a moral obligation to the world to not only talk about it but to provide information that's critical to the rest of the world to really respond to this credibly."
Her comments followed a rambling opening address by Donald Trump, who complained about Democratic state governors he has feuded with and the investigation into Russian election interference while talking up his administration's much-criticised response to the pandemic.
The president previously tried to minimise the threat to Americans by comparing Covid-19 to the flu and suggesting it had already been contained. After apparently accepting its dangers he has sought to put pressure on Beijing with questions about the virus's origins and the government's initial efforts to tackle it. "It could have been stopped in China before it started and the whole world is suffering because of it," he claimed on Saturday.
During Dr Birx's presentation Mr Trump drew attention to a chart displayed behind her which showed coronavirus case mortality rates in a number of countries including China. Pointing at the Chinese figure of 0.33 deaths per 100,000 people, he asked: "Does anyone really believe this number?"
Dr Birx was quick to call the figure "unrealistic", before launching into her criticism of China. Other figures claimed in her presentation included 5.25 deaths per 100,000 people in Germany, 11.24 in the US and 21.97 in the UK. The mortality chart was swiftly pushed out on social media by the Republican National Committee, while Mr Trump's re-election campaign shared a video of Dr Birx's criticism of China.
However, the Trump administration has itself produced false information during the pandemic, notably on access to testing. The president repeatedly claimed that anyone who wanted a test could get one when that was not the case.
Last week officials in China revised the number of deaths within the city of Wuhan – a recalibration that saw the number of fatalities rise by 50 per cent.
Figures for the total number of infections in the city rose to 50,333, with 3,869 deaths. "Medical workers at some facilities might have been preoccupied with saving lives and there existed delayed reporting, underreporting or misreporting, but there has never been any cover-up and we do not allow cover-ups," said a Chinese foreign ministry spokesperson of the change.
Register for free to continue reading
Registration is a free and easy way to support our truly independent journalism
By registering, you will also enjoy limited access to Premium articles, exclusive newsletters, commenting, and virtual events with our leading journalists
Already have an account? sign in
Register for free to continue reading
Registration is a free and easy way to support our truly independent journalism
By registering, you will also enjoy limited access to Premium articles, exclusive newsletters, commenting, and virtual events with our leading journalists
Already have an account? sign in
Join our new commenting forum
Join thought-provoking conversations, follow other Independent readers and see their replies