Coronavirus: Wisconsin supreme court throws out stay-at-home order
Conservative majority says order is 'unlawful, invalid and unenforceable' in ruling that sides with Republicans who sued over quarantine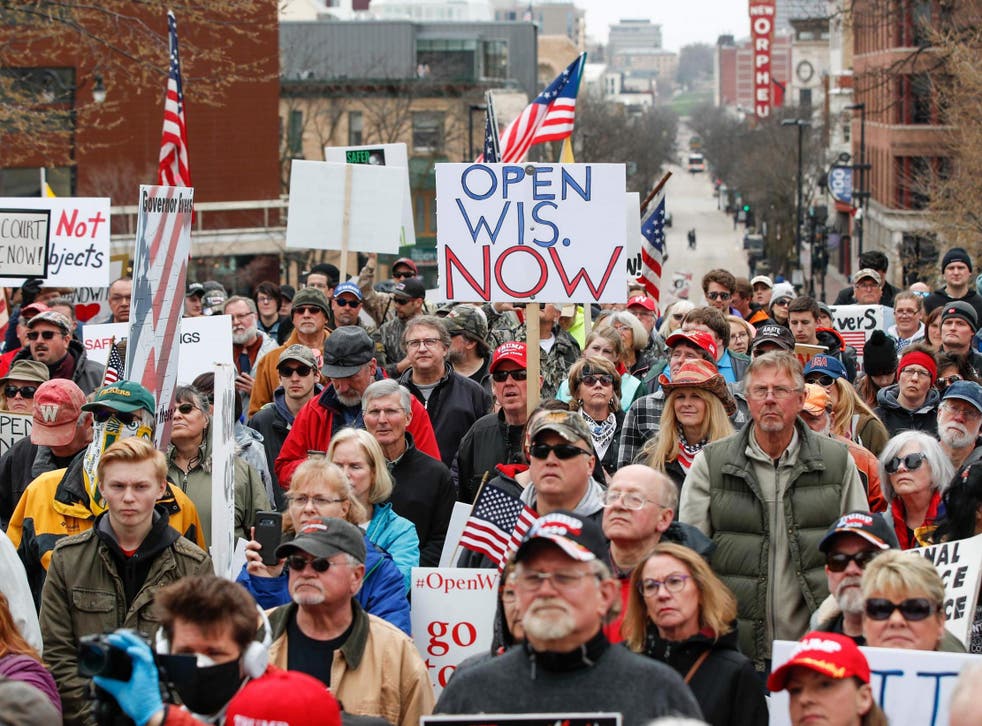 Wisconsin'​s Supreme Court has struck down Governor Tony Evers's stay-at-home order, the first statewide measure in the US to be dismissed by the courts, throwing out his quarantine effort amid a coronavirus outbreak that has infected more than 10,000 people in the state.
The court's conservative majority ultimately sided with the state's Republican lawmakers who have challenged the governor's order as the state begins to ease some restrictions, joining a nationwide "reopening" despite warnings from health officials that ending the "lockdown" without consistent safeguards could lead to a spike in infections.
Wisconsin's Supreme Court has emerged as a partisan flashpoint, following a contentious April election, favourable rulings for the state's Republicans, and the closure of an investigation into former Republican Governor Scott Walker over alleged campaign finance violations.
Governor Evers was among 43 governors to put such an order in place during the outbreak. The state was among a handful without imminent plans to lift those restrictions, joining neighbouring Illinois and Michigan.
Last month, hundreds of people swarmed the state to protest the order and demand the state allow businesses to reopen and residents go back to work. More than 500,000 residents have applied for unemployment insurance benefits following the state's order to close nonessential businesses.
But local polls show that Wisconsin residents largely support the shutdown, reflecting national polls that show a majority of Americans believe quarantine efforts should've been in place much earlier.
A poll from Marquette University Law School showed 69 per cent of Wisconsin voters support Governor Evers's order, though responses fell mostly along partisan lines. Less than half of Republican respondents support the measure.
In the same poll in March, 83 per cent of Republicans supported the closures.
'Live free or die': Anti-lockdown protests sweep US

Show all 15
Despite the mostly favourable polling, the GOP-dominated state legislature sued the governor to end the order. Governor Evers has said he likely would not extend the order past 26 May.
The court's ruling awards Republicans a temporary injunction to block the governor's extension of the order that was set to expire on 20 May.
Governor Evers's initial order went into effect on 25 March and was extended on 24 April.
Republican lawmakers argued that the state's Department of Health Services Secretary Andrea Palm had overstepped her authority by extending the order.
The court declared that the order was "unlawful, invalid and unenforceable" in its ruling.
In a statement, Wisconsin Attorney General Josh Kaul said that "for decades, Wisconsin law has given the state's chief health official the authority" to close schools and public gatherings, among other places "to control outbreaks and epidemics" and to "issue orders ... for the control and suppression of communicable diseases."
Milwaukee Mayor Tom Barrett and county officials said they would consider extending county- and citywide orders if the court ruled against the governor.
Register for free to continue reading
Registration is a free and easy way to support our truly independent journalism
By registering, you will also enjoy limited access to Premium articles, exclusive newsletters, commenting, and virtual events with our leading journalists
Already have an account? sign in
Register for free to continue reading
Registration is a free and easy way to support our truly independent journalism
By registering, you will also enjoy limited access to Premium articles, exclusive newsletters, commenting, and virtual events with our leading journalists
Already have an account? sign in
Join our new commenting forum
Join thought-provoking conversations, follow other Independent readers and see their replies