White House press secretary Jen Psaki tests positive for Covid-19
It is the second time that president's spokesperson has caught the virus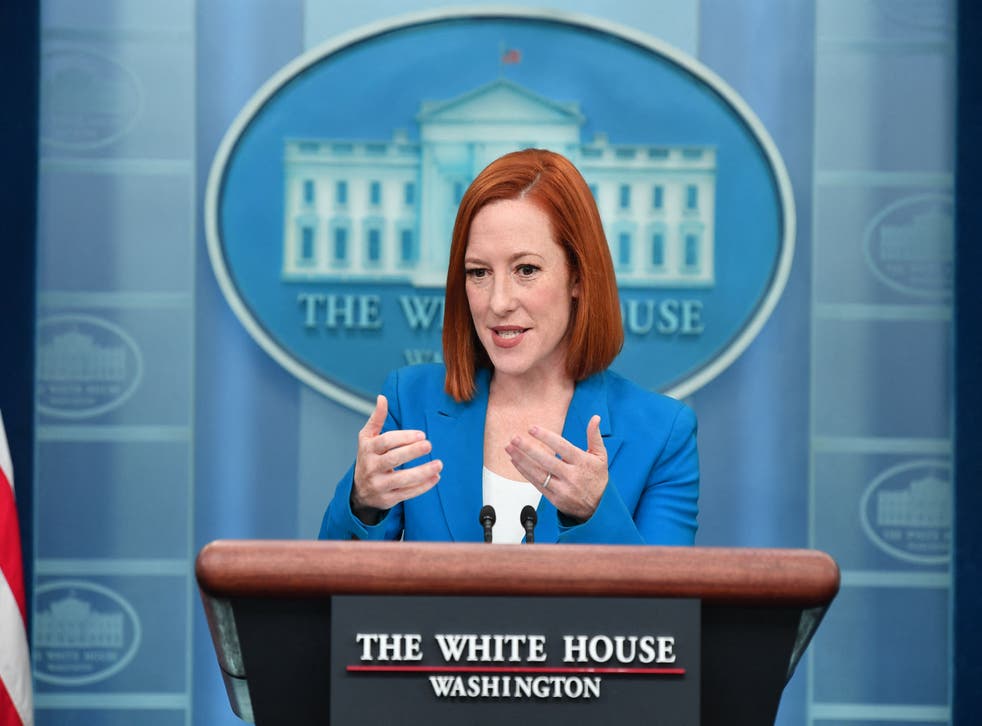 Leer en Español
White House press secretary Jen Psaki says she has tested positive for Covid-19 and will now not travel with Joe Biden to Europe this week.
Ms Psaki said she had been in "two socially-distanced" meetings with the president on Monday, but that he "is not considered a close contact as defined by CDC guidance."
The news came just hours before Mr Biden is due to fly to Europe for diplomatic meetings with allied leaders in Brussels and Warsaw.
Her statement added that Mr Biden had himself tested negative on Tuesday via a PCR test.
Last week second gentleman Doug Emhoff also tested positive for Covid-19, although vice president Kamala Harris has so far also tested negative the White House says.
"Today, in preparation for travel to Europe, I took a PCR test this morning. That test came back positive, which means I will be adhering to CDC guidance and no longer be traveling on the President's trip to Europe," said Ms Psaki.
And she added: "I am sharing the news of my positive test today out of an abundance of transparency."
Ms Psaki also tested positive for Covid-19 last October and missed the president's trip to Rome for the Group of 20 summit and Glasgow for the UN climate summit.
"Thanks to the vaccine, I have only experienced mild symptoms. In alignment with White House Covid-19 protocols, I will work from home and plan to return to work in person at the conclusion of a five-day isolation period and a negative test," she said.
Mr Biden and fellow world leaders are expected to announce another round of measures designed to punish Russia over Vladimir Putin's unprovoked attack on Ukraine in a strong display of Western unity.
The president will attend an "extraordinary NATO summit" in addition to a special session of the European Council and a gathering of the G7.
He will also thank Poland's president for the country's sheltering of Ukrainian refugees who have fled the Russian attack on their country.
Register for free to continue reading
Registration is a free and easy way to support our truly independent journalism
By registering, you will also enjoy limited access to Premium articles, exclusive newsletters, commenting, and virtual events with our leading journalists
Already have an account? sign in
Register for free to continue reading
Registration is a free and easy way to support our truly independent journalism
By registering, you will also enjoy limited access to Premium articles, exclusive newsletters, commenting, and virtual events with our leading journalists
Already have an account? sign in
Join our new commenting forum
Join thought-provoking conversations, follow other Independent readers and see their replies