CPAC 2021: Marco Rubio speech cancelled at last minute
Senator tweeted that unexpected family issue prevented him from attending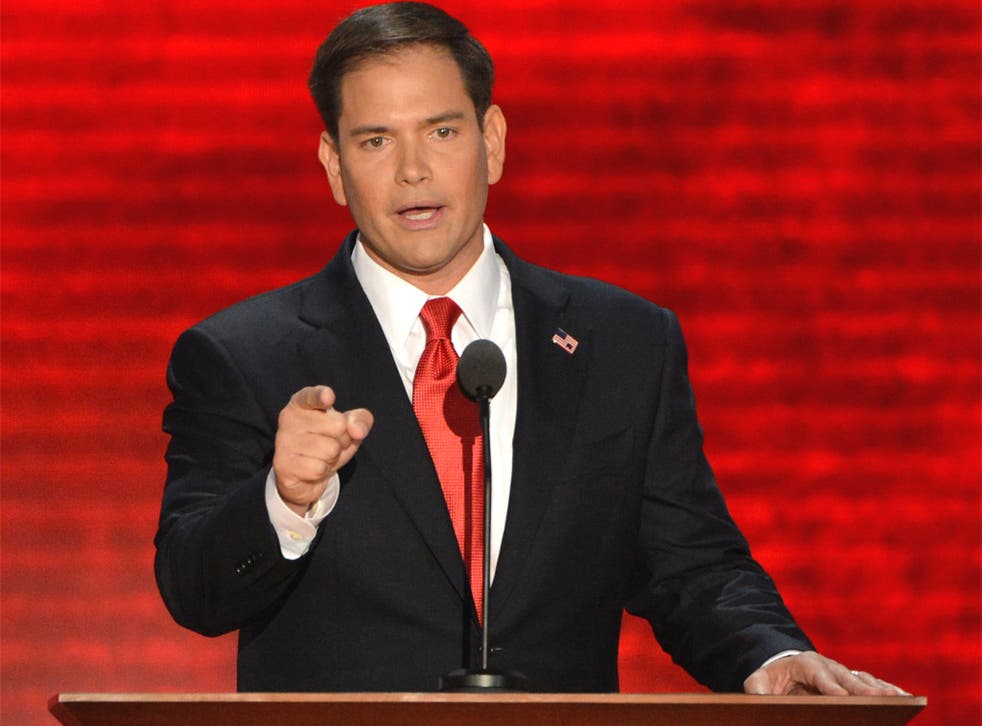 Leer en Español
There was confusion at the Conservative Political Action Conference when Marco Rubio's opening remarks were suddenly removed from the agenda.
The Florida Senator had been scheduled to give the first speech of the day at 8.45am on Saturday, but was taken off the schedule, with no immediate explanation.
Just over twenty minutes after the scheduled start time, Mr Rubio tweeted out that an "unexpected family issue" meant that he was unable to make it to the event.
To fill time, conference organisers played a video package that included segments repeating the big lie about the 2020 election being stolen from Donald Trump, and Korean conservatives discussing blockchain technology voting.
Senator Rubio added in his tweet that he was really looking forward to speaking and had told Matt Schlapp, chairman of the American Conservative Union, that the event should be permanently moved to Florida.
CPAC, which has been running since 1973, is traditionally held in the Washington, DC area, but Covid-19 restrictions saw it move to Orlando this year.
Mr Rubio included a gif of a "Welcome to Florida" sign surrounded by palm trees, that also disconcertingly looked like it was being submerged by the ocean.
The first day of CPAC 2021 featured speech after speech praising Donald Trump, confirming the grip he maintains on the Republican Party.
Prominent moderate conservatives were left off the agenda this year, in favour of Trump acolytes determined to show their fealty by firing up the base ahead of Donald Trump's speech on Sunday afternoon.
Senator Rubio, once a bitter rival of Mr Trump, was brought into the fold during his administration but the events at the US Capitol on 6 January left him furious
He blamed the insurrection by pro-Trump loyalists on people adhering to a conspiracy theory and getting caught up in the moment, describing them as "un-American" and the incident as a "national embarrassment".
Shortly after, Mr Rubio voted to certify the 2021 election, confirming Joe Biden as president.
In the second impeachment trial of Mr Trump, Senator Rubio voted to acquit the former president of the charge of incitement of insurrection, maintaining his anger over the Capitol riot but saying that impeachment of a former official set a dangerous constitutional precedent.
There is speculation of a primary challenge to Mr Rubio for his Florida Senate seat by someone more loyal to Mr Trump, with Congressman Matt Gaetz and even Ivanka Trump being floated as possibilities.
Register for free to continue reading
Registration is a free and easy way to support our truly independent journalism
By registering, you will also enjoy limited access to Premium articles, exclusive newsletters, commenting, and virtual events with our leading journalists
Already have an account? sign in
Register for free to continue reading
Registration is a free and easy way to support our truly independent journalism
By registering, you will also enjoy limited access to Premium articles, exclusive newsletters, commenting, and virtual events with our leading journalists
Already have an account? sign in
Join our new commenting forum
Join thought-provoking conversations, follow other Independent readers and see their replies