Angry Texans tweet Ted Cruz pictures of their winter storm misery
Senator arrived home and admitted the controversial trip was "obviously a mistake"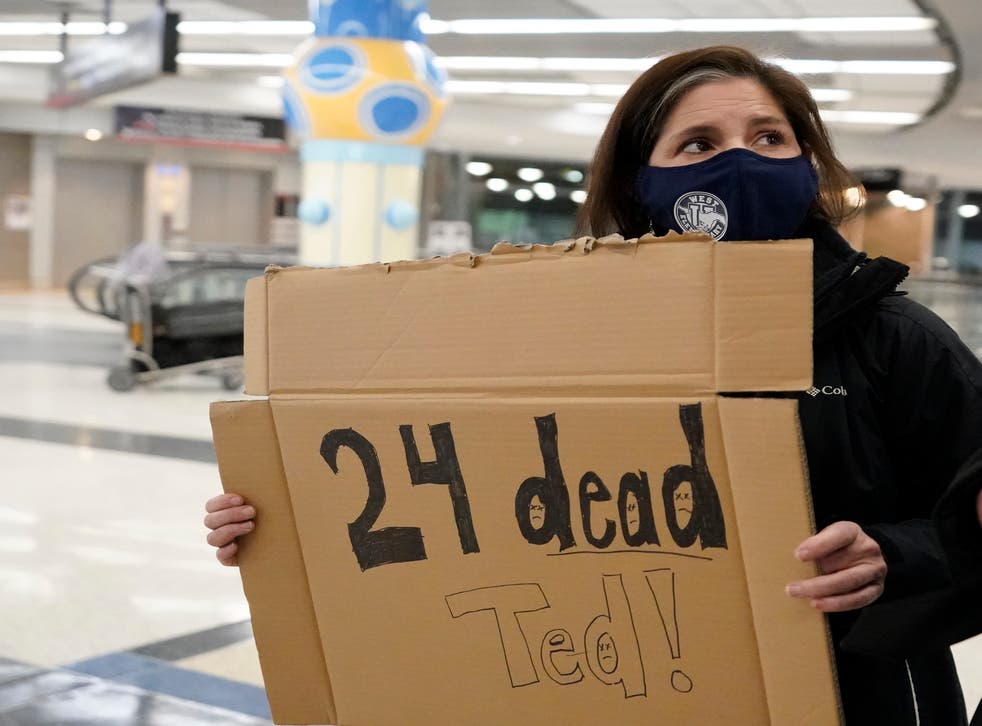 Ted Cruz may have tried to justify his controversial Cancun trip, but that has not stopped his constituents from tweeting pictures of their frozen homes and empty supermarkets at him.
Mr Cruz arrived back in Houston on Thursday after jetting to Mexico with his family the day before as his home state was paralysed by a historic winter storm.
Millions were at one point left without power, heat and water, and Texans have been sure to let their senator know about it.
Mr Cruz admitted that his trip "was obviously a mistake" when he returned to his Texas home, as protestors stood outside and chanted for him to resign.
But it may be hard for the politician to get any credit for his defence from those struggling in the frigid conditions.
"My house....but I'm glad Ted Cruz is warm and toasty in Cancun," tweeted @alleaharris.
"I'm standing in our Central Austin kitchen - our olive oil and liquid dish soap have frozen. Froze inside my house. No power since early Sunday am, no water since yesterday. Ted Cruz is in Mexico," wrote @tbondartist.
"Hey Ted Cruz I've been without power for 4 days and I can't afford food because you don't make money taking care of my grandfather full time. Not that there is any food at HEB (the only disaster response Texans can actually count on)," said @trulybliss.
"Hey Ted Cruz, can I stay at your place while your traveling to Cancun? Because like millions of your constituents, I'm melting snow TO BE ABLE TO USE A TOILET IN MY HOUSE DURING THE WORST WINTER STORM IN TEXAS HISTORY." tweeted @bubble_gurl.
"Hope you are enjoying Cancun while I melt snow to flush my toilets. One more day without water and ill be melting it for drinking," tweeted @BioFITZ123
"How I flushed my toilet for the past 36 hrs. And Ted Cruz went to Cancun... BERNIE WOULD NEVER" said @briscoeny
Register for free to continue reading
Registration is a free and easy way to support our truly independent journalism
By registering, you will also enjoy limited access to Premium articles, exclusive newsletters, commenting, and virtual events with our leading journalists
Already have an account? sign in
Register for free to continue reading
Registration is a free and easy way to support our truly independent journalism
By registering, you will also enjoy limited access to Premium articles, exclusive newsletters, commenting, and virtual events with our leading journalists
Already have an account? sign in
Join our new commenting forum
Join thought-provoking conversations, follow other Independent readers and see their replies