New York Primary: Cynthia Nixon says her fight does not end with vote - 'I'm not going anywhere'
The progressive candidate tells us she isn't giving up if she loses Thursday's primaries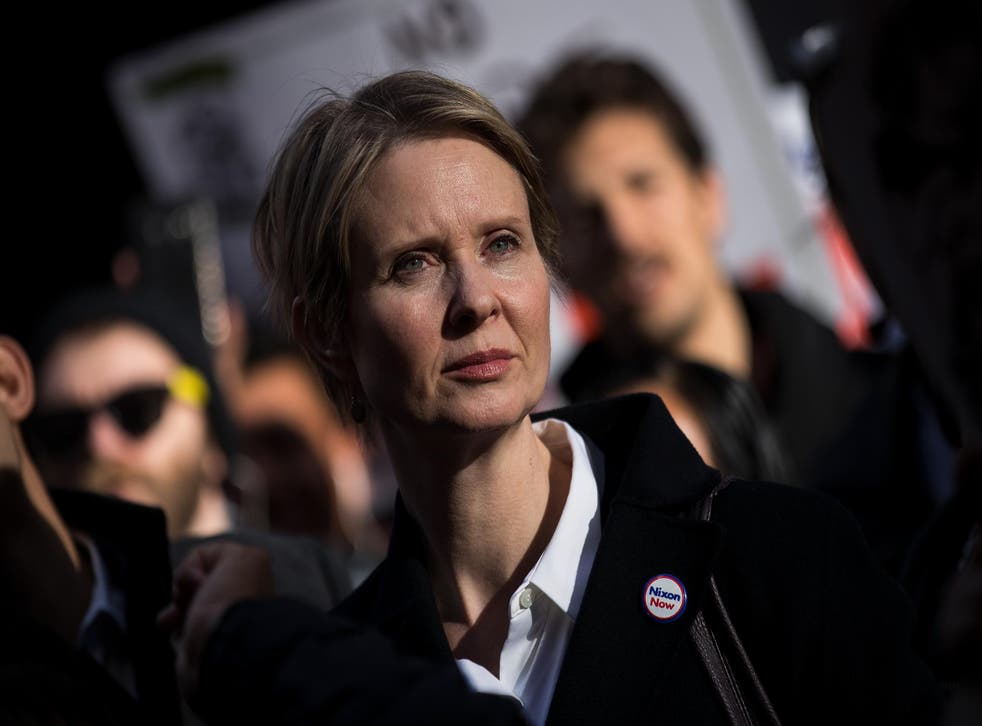 It's two nights before one of the most consequential days of her life, and Cynthia Nixon is making her way up the stairs at a Brooklyn nightclub called Elsewhere.
The rooftop venue, which features an unobstructed view of the New York City skyline, is filled with 20-something hipsters and a crowd of leftovers from happy hour. Most people at the bar don't seem to have any idea they'll be spending the night with one of the city's most popular Democratic Socialists.
Still, Ms Nixon immediately draws a crowd of onlookers, who whisper from the top of the staircase as she shakes hands and poses for photographs. "It's Miranda!" one woman quips, before a friend quickly corrects her: "No. That's our next governor."
The confusion is understandable: for many, the 52-year-old actress is most known for her starring role in Sex and the City, a franchise eponymous with Manhattan socialites and sky-high stilettos. However, her celebrity-factor has helped the first-time candidate attract national media attention, as she attempts to make the notorious transition from the silver screen to elected office.
"I want to make it clear that I have been fighting for a lot of these issues much longer than from the start of this campaign," she tells The Independent. "I have been fighting for women's rights, LGBT rights, equality and education in New York for years and years."
The club is far from a typical campaign stop for a New York gubernatorial candidate, but that doesn't seem to bother Ms Nixon. She arrives unannounced as part of a "progressive bar wave," a campaign initiative to encourage voter turnout among her newfound progressive constituency.
Despite lacking any political experience, Ms Nixon has managed to build an impressively-sized liberal base during her campaign against Democratic incumbent Andrew Cuomo. And even though she's trailing the governor by 41 points in the latest polls, she's hoping for a surprise upset victory in Thursday's primary election — similar to the ones other firebrand candidates have seen across the country this year.
If all else fails, Ms Nixon tells me she'll remain a prominent voice in New York politics. When asked if she'd consider running again, or if she'd bow out after a potential loss in the upcoming elections, her answer was simple: "I'm not going anywhere."
New York's primaries are proving fruitful for female candidates like Ms Nixon in 2018: 10-term Democratic incumbent Congressman Joe Crowley was unseated by 28-year-old Alexandria Ocasio-Cortez earlier this summer, in a victory virtually no one saw coming, while first-time candidate Julia Salazar stands to unseat another longtime incumbent in the State Senate. Meanwhile, Zephyr Teachout, who was just endorsed by Bernie Sanders, is competing in a "toss-up" race to become the state's next attorney general.
All four women have swapped endorsements, attempting to break through the "Boys Club" in New York politics while using their robust social media followings to spotlight each other's campaigns.
Alexandria Ocasio-Cortez defeats fellow Democrat Joe Crowley in New York primary elections
Ms Nixon has smartly embedded herself among the progressive sisterhood, though her long-shot candidacy appears to be the most unlikely of all, according to polling data.
But a primary loss doesn't mean Ms Nixon is throwing in the towel.
"I don't feel that any of our leaders in New York are fighting as strongly for these causes as I have been. This is just a step up," she says, standing on the staircase at Elsewhere while motioning her hand upwards, as if climbing a ladder.
World news in pictures

Show all 50
Ms Nixon's campaign has hatched a backup plan in the event of her election loss. The Working Families Party has agreed to provide her their space on the November ballot, allowing her to appear as a contender against Mr Cuomo even if he secures the Democratic Party's nomination in Thursday's primaries.
The governor appears to be fully aware of that threat. His campaign has reportedly began scheduling fundraising events to arrive immediately after the primaries, including one as soon as next week.
Register for free to continue reading
Registration is a free and easy way to support our truly independent journalism
By registering, you will also enjoy limited access to Premium articles, exclusive newsletters, commenting, and virtual events with our leading journalists
Already have an account? sign in
Register for free to continue reading
Registration is a free and easy way to support our truly independent journalism
By registering, you will also enjoy limited access to Premium articles, exclusive newsletters, commenting, and virtual events with our leading journalists
Already have an account? sign in
Join our new commenting forum
Join thought-provoking conversations, follow other Independent readers and see their replies