DACA: Second judge rules against Trump administration over plan to end immigration programme
Trump administration must allow current DACA beneficiaries to apply for renewals
Emily Shugerman
New York
Wednesday 14 February 2018 00:41 Comments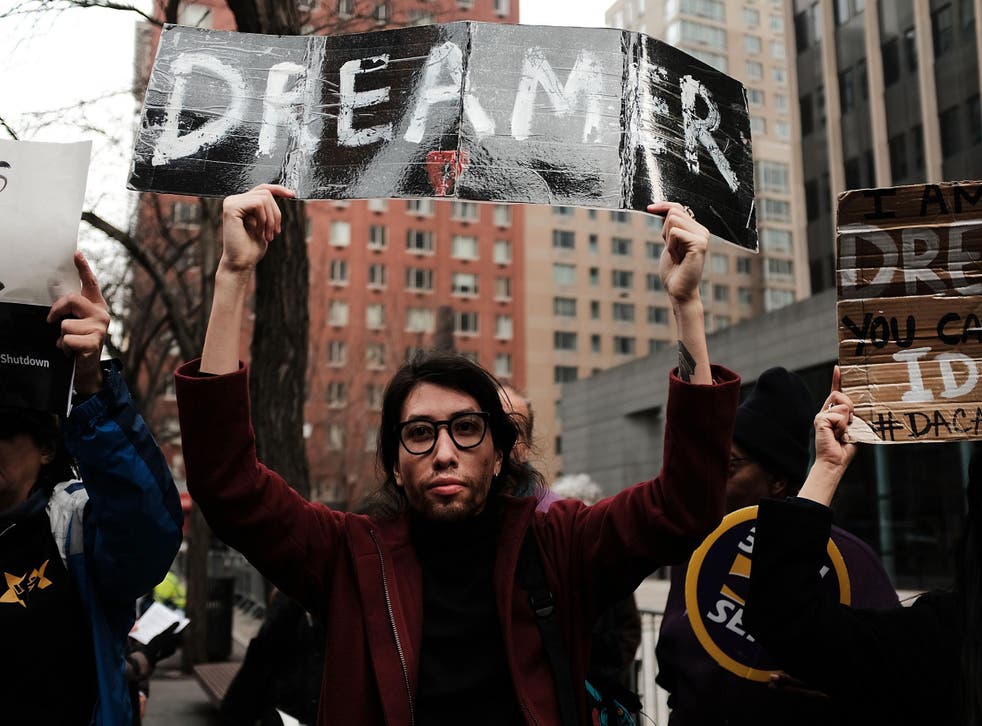 A second federal judge has ruled that the Trump administration must allow beneficiaries of a programme for childhood immigrants to the United States to continue applying for protected status.
In a nationwide injunction, US District Judge Nicholas Garaufis ordered the administration to continue accepting renewal applications for Deferred Action for Childhood Arrivals (DACA), partially thwarting President Donald Trump's plan to sunset the programme.
Mr Trump announced his intent to roll back DACA, which protects nearly 800,000 young people from deportation, in early September. At the time, the administration said it would briefly accept renewal requests from immigrants whose status expired within the next six months. It stopped accepting renewal applications altogether in December.
But Mr Garaufis ruled that the administration had failed to provide "legally adequate" reasons for ending the programme. The administration's reasoning, he wrote, was based on the idea that the DACA programme – instituted by former President Barack Obama in 2012 – was unconstitutional. This argument, Mr Garaufis said, was "erroneous".
The judge also called the administration's arguments "internally contradictory," and said they were based, in part, on a "plainly incorrect factual premise".
"Defendants must thus continue processing DACA renewal requests under the same terms and conditions that applied before September 5, 2017," Mr Garaufis wrote.
People strike across America for A Day Without Immigrants

Show all 16
The administration will not have to accept new applications for the programme, but will have to continue accepting renewals.
The ruling echoes that of US District Judge William Alsup in San Francisco, who ordered the administration to resume accepting renewal applications in January. Tuesday's decision does not expand on this ruling, but adds weight to DACA advocates' position in what will likely be a Supreme Court battle over the programme.
After Mr Alsup's decision last month, Justice Department spokesman Devin O'Malley said the administration had "acted within its lawful authority in deciding to wind down DACA in an orderly manner".
He added: "Promoting and enforcing the rule of law is vital to protecting a nation, its borders, and its citizens. The Justice Department will continue to vigorously defend this position, and looks forward to vindicating its position in further litigation."
Register for free to continue reading
Registration is a free and easy way to support our truly independent journalism
By registering, you will also enjoy limited access to Premium articles, exclusive newsletters, commenting, and virtual events with our leading journalists
Already have an account? sign in
Join our new commenting forum
Join thought-provoking conversations, follow other Independent readers and see their replies