Democratic National Committee elects Tom Perez as new Party Chairman
The Party's preferred left wing candidate, Keith Ellison, has been appointed deputy, in a show of reconciliation 
Will Worley
Saturday 25 February 2017 23:51 Comments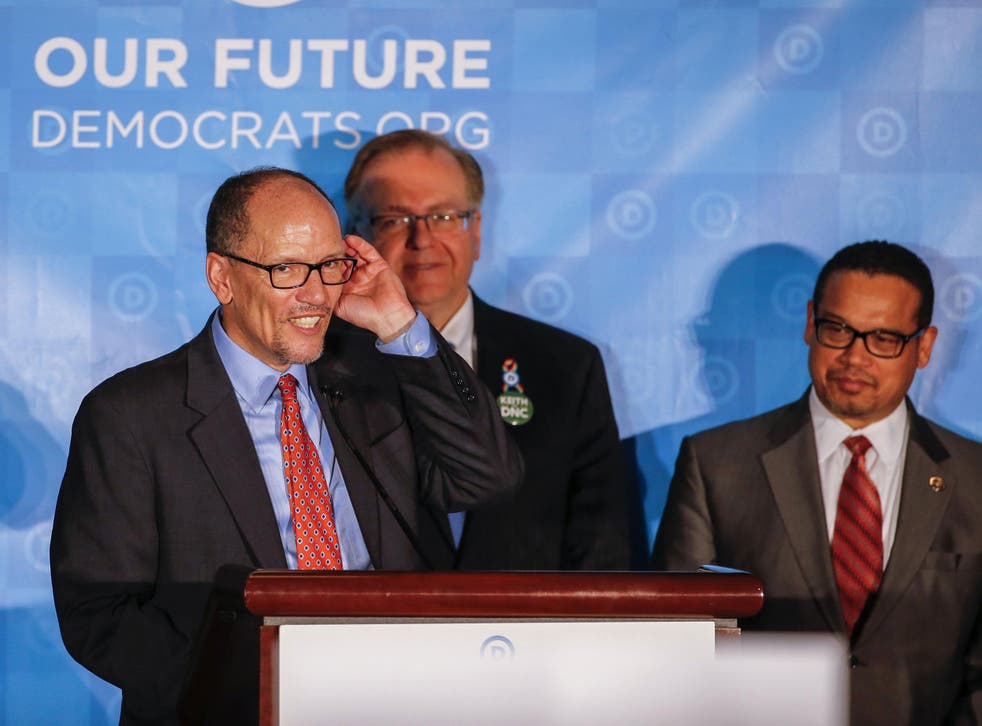 The Democratic Party has elected former Labour Secretary Tom Perez as its new national chairman – the first Latino to win the position.
He gained 235 votes out of 447 from the Democratic National Committee (DNC), after a bitter campaign during which the party struggled to reconcile itself to the victory of Donald Trump.
His deputy will be Minnesota Congressman Keith Ellison, who won 200 votes.
Some critics said Mr Perez was too much of a party establishment figure to be a suitable chairman in the current anti-establishment climate, which has gripped the US across the political spectrum.
Mr Ellison, the first Muslim elected to Congress, was backed by Bernie Sanders and much of the left of the Party.
Both now face an uphill battle to rebuild the Democratic Party after last year's devastating electoral defeat and made a show of their reconciliation.
"We are suffering from a crisis of confidence, a crisis of relevance," said Mr Perez.
However, he called on Democrats to fight "the worst President in the history of the United States," adding: "We are all in this together."
World news in pictures

Show all 50
Mr Perez promised to change the DNC's culture to make it a more grassroots operation.
"I am confident when we lead with our values and we lead with our actions, we succeed," he said.
However, Republicans control the White House, Congress and about two-thirds of US statehouses.
On social media, President Donald Trump congratulated Mr Perez.
And former Presidential candidate Hillary Clinton also voiced her support for the new chairmen.
The election offered the DNC a fresh start after last year's forced resignation of chairwoman Debbie Wasserman Schultz, who stepped aside when the release of hacked emails appeared to show DNC officials trying to help Ms Clinton defeat Mr Sanders in the primaries.
Both Mr Perez and Mr Ellison have pledged to focus on a bottom-up reconstruction of the party, which lost hundreds of statehouse seats under Barack Obama and faces a great struggle in trying to reclaim majorities in Congress in next year's midterm elections.
Mr Perez said he would redefine the role of the DNC to make it work not just to elect Democrats to the White House but in races ranging from local school boards to the US Senate, pledging to "organize, organize, organize".
"I recognize I have a lot of work to do," he said. "I will be out there listening and learning in the weeks ahead."
Additional reporting by agencies
Register for free to continue reading
Registration is a free and easy way to support our truly independent journalism
By registering, you will also enjoy limited access to Premium articles, exclusive newsletters, commenting, and virtual events with our leading journalists
Already have an account? sign in
Join our new commenting forum
Join thought-provoking conversations, follow other Independent readers and see their replies