No Dreamer deal in sight as Democrats back away from hardline approach with federal funding deadline approaching
Democrats have forced a government shutdown over the issue before 
Alexandra Wilts
Washington DC
Monday 19 March 2018 23:39 Comments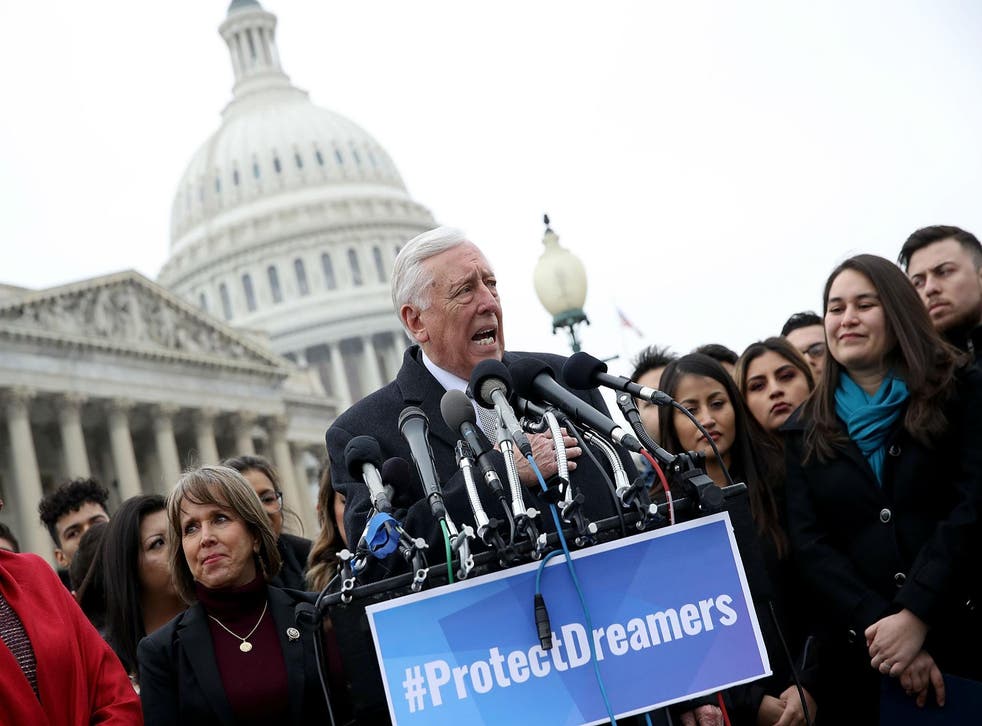 Democratic leaders have backed away from their demands that young illegal immigrants be protected from deportation as the deadline approaches to fund the federal government.
Top Democrats had tied their support for previous budget bills to their receiving of commitments from Republicans to consider legislation that would salvage the Deferred Action for Childhood Arrivals (DACA) programme. But with less than five days to go until the government runs out of money, and little appetite for another government shutdown, Democratic leaders have indicated that they will not again hold a hard line over the issue.
Instead, they want negotiators in both parties to drop all contentious provisions unrelated to the budget to make it easier to pass the spending bill and keep the government open.
"I think that's probably the best policy for us to do," said Representative Steny Hoyer, the Democratic whip, according to The Hill.
There have already been two government shutdowns this year. The first, which lasted three days, was the result of a standoff in the Senate over the future of DACA. In exchange for Democratic votes to reopen the government, Senate Majority Leader Mitch McConnell promised to hold an immigration debate to discuss the issue. While such a debate was held, no immigration bill received enough support to pass.
Mr Trump essentially forced Congress to address US immigration policy, a big talking point during his presidential campaign, by trying to axe DACA last year. But his attempt to do so was complicated by the Supreme Court.
Established through an executive order issued by former President Barack Obama, the policy lets young immigrants who were brought to the US illegally as minors, so-called dreamers, live and work in the US without fear of deportation.
Mr Trump had given Congress until March 5 to come up with a permanent legislative fix for DACA.
However, the Supreme Court declined to immediately review a federal judge's order saying that the Trump administration must continue DACA. This means that the programme will stay in place until, or if, the Supreme Court takes it up, all but nullifying the March 5 expiration date.
"There's not a whole lot of reason to negotiate – to do anything that is not already covered by the court decision," House Minority Leader Nancy Pelosi said last week.
World news in pictures

Show all 50
"It is necessary for us to pass [the spending bill] to defend our country, to invest in our children's future, to keep America number one in every respect, to do so in a way that creates jobs," she added.
But many Democrats are still calling for a DACA fix to be included in the budget measure.
Last week, a group of 84 House Democrats wrote a letter to leaders of both parties requesting that Dreamer protections be added to the mammoth 2018 spending bill.
"Congress is long overdue in acting on this issue, and the failure to pass the Dream Act has resulted in countless lives put in peril," the letter reads.
President Donald Trump has blamed Democrats for the lack of a DACA deal, even though he was the one who rescinded the programme.
Mr Trump submitted a framework to Congress earlier this year that laid out what he wanted to see in any immigration bill: a bolstering of border security, restrictions on family-based immigration and the end of a visa lottery. He also wanted $25bn to be allocated for the construction of his long-promised border wall and a chance of citizenship for up to 1.8m dreamers. There are currently about 700,000 DACA recipients.
The President had threatened to veto any legislation that did not meet his demands. But his warning appeared to do little to motivate Democrats, or even Republicans, to support his plan to dramatically reshape the US's immigration system.
Only 39 senators in the 100-member Senate voted in favour of Mr Trump's proposal. But senators also turned away two other bipartisan proposals, ultimately leaving Congress with no clear path to protect dreamers.
Register for free to continue reading
Registration is a free and easy way to support our truly independent journalism
By registering, you will also enjoy limited access to Premium articles, exclusive newsletters, commenting, and virtual events with our leading journalists
Already have an account? sign in
Join our new commenting forum
Join thought-provoking conversations, follow other Independent readers and see their replies