Jewish and Muslim leaders arrested at deportation protest outside Paul Ryan's office
Nearly 800,000 Dreamers remain in legal limbo as Congress continues to negotiate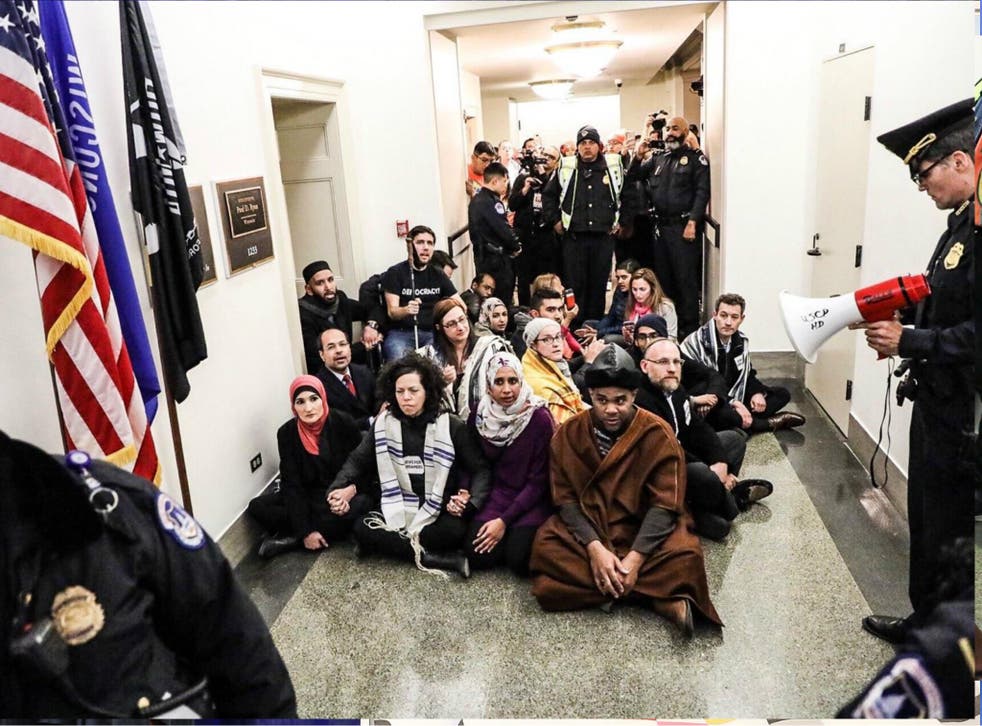 Jewish and Muslim faith leaders were arrested outside of House Speaker Paul Ryan's office while calling for an end to deportations.
Among them was 2017 Women's March co-organiser and activist Linda Sarsour, rabbis, and imams all staging a sit-in who were taken away on charges of civil disobedience.
The group was protesting in support of the Deferred Action of Childhood Arrivals (Daca) programme, which would allow nearly 800,000 people brought to the US illegally as children stay as legal residents.
President Donald Trump decision to end the Obama-era programme threw Dreamers into a legal limbo of sorts as no date has been announced as negotiations between Republicans and Democrats continue.
The programme's future has also been tied to the fate of Mr Trump's proposed nearly 2,000-mile border wall with Mexico, where the majority of Dreamers originally came from.
However, the group also includes people from South Korea, India, Argentina, Brazil, and the Philippines among many others.
Mr Trump had given Democrats until 5 March to come up with a replacement for the current programme, a deadline they were unable to meet.
However, a Supreme Court ruling pushed that deadline back by nearly a year, buying some more time.
In addition to those arrested sitting outside Mr Ryan's office, his opponent in the 2018 election was also arrested at a Daca protest the pair's home state of Wisconsin.
World news in pictures

Show all 50
Randy Bryce, a Democrat, had joined 200 high school students who had organised a walk-out in Racine, Wisconsin near Mr Ryan's district office.
Negotiations on Dreamers legislation continues in Congress, while the President tweeted that he is "waiting on the Dems".
Mr Trump was referring to Judge Roger Titus' ruling in a Maryland federal court.
Mr Titus wrote: "This Court does not like the outcome of this case, but is constrained by its constitutionally limited role to the result that it has reached".
An overwhelming percentage of Americans support protections for 'Dreamers,' yet it is not the province of the judiciary to provide legislative or executive actions when those entrusted with those responsibilities fail to act," he added.
In the meantime, Dreamers remain anxious as to their status as the 5 March deadline passed and still no deal has been made.
Register for free to continue reading
Registration is a free and easy way to support our truly independent journalism
By registering, you will also enjoy limited access to Premium articles, exclusive newsletters, commenting, and virtual events with our leading journalists
Already have an account? sign in
Register for free to continue reading
Registration is a free and easy way to support our truly independent journalism
By registering, you will also enjoy limited access to Premium articles, exclusive newsletters, commenting, and virtual events with our leading journalists
Already have an account? sign in
Join our new commenting forum
Join thought-provoking conversations, follow other Independent readers and see their replies