Secret tapes reveal Devin Nunes telling Republicans what must be done to protect Trump from Russia investigation, reports say
Mr Nunes has suggested pushing through nomination of Supreme Court nominee Brett Kavanaugh is of high priority for Senate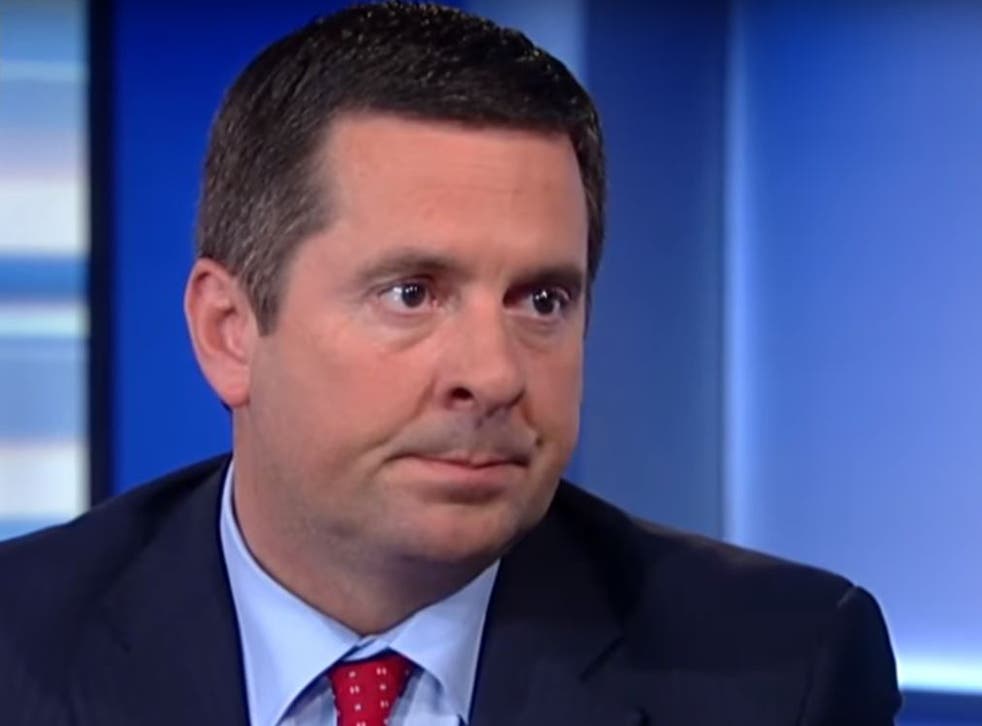 The top ranking member on the House Intelligence Committee has been recorded saying that the best way to protect President Donald Trump is to make sure that Republicans keep control of Congress during the upcoming 2018 midterm elections.
Speaking at a private, closed-door fundraiser for a Republican colleague, Representative Devin Nunes — a prominent supporter of Mr Trump — suggested that he and his fellow Republican colleagues could stave off the investigation into Russian meddling in the 2016 election by holding the House in 2018.
Republican control of Congress, he suggests in the clip that aired on MSNBC's Rachel Maddow Show, is the last line of defence against any fallout from special counsel Robert Mueller's investigation.
"If Sessions won't unrecuse and Mueller won't clear the president, we're the only ones, which is really the danger," Mr Nunes can be heard in the tape, referring to Mr Mueller and Attorney General Jeff Sessions, who recused himself from matters involving the special counsel since he was a member of Mr Trump's campaign.
"I mean, we have to keep all these seats," Mr Nunes says. "We have to keep the majority. If we do not keep the majority, all of this goes away".
Mr Nunes has created waves in the past by calling for the impeachment of Deputy Attorney General Rod Rosenstein, who appointed Mr Mueller, and who has direct authority over that investigation since Mr Sessions has recused himself from the investigation.
Trump in Helsinki: Putin meeting and protests

Show all 16
During the fundraiser, Mr Nunes reportedly said that efforts to impeach Mr Rosenstein were a matter of timing — and reaffirmed his belief that he should be impeached — and that pushing the nomination of Supreme Court nominee Brett Kavanaugh is a higher priority at the moment.
In response, Democrats have suggested that the nomination of Mr Kavanaugh is itself protection for Mr Trump, should Mr Mueller's team issue a subpoena for Mr Trump that the president then decides to fight.
"It tells me that Republican leadership is putting priority on confirmation of Brett Kavanaugh," Senator RIchard Blumenthal said when asked about the recording. "He's the critical swing vote if the special counsel issues a subpoena and it goes to the US Supreme Court".
Republican control of the House of Representatives is considered imperilled in the coming midterm, with Democrats across the country targeting potentially vulnerable GOP districts — and even targeting some districts that Republicans have traditionally held.
Polls suggest that Democrats are poised to take quite a few seats, and generic Congressional ballots — in which Americans are asked, in general, which party they support — indicate that Democrats are supported by an average of six per cent in the US, according to estimates compiled by FiveThirtyEight.
Join our new commenting forum
Join thought-provoking conversations, follow other Independent readers and see their replies