Donald Trump warns of another 9/11-style attack by refugees using ISIS-funded phones
The presumptive Republican nominee appeared on a US Border Patrol radio show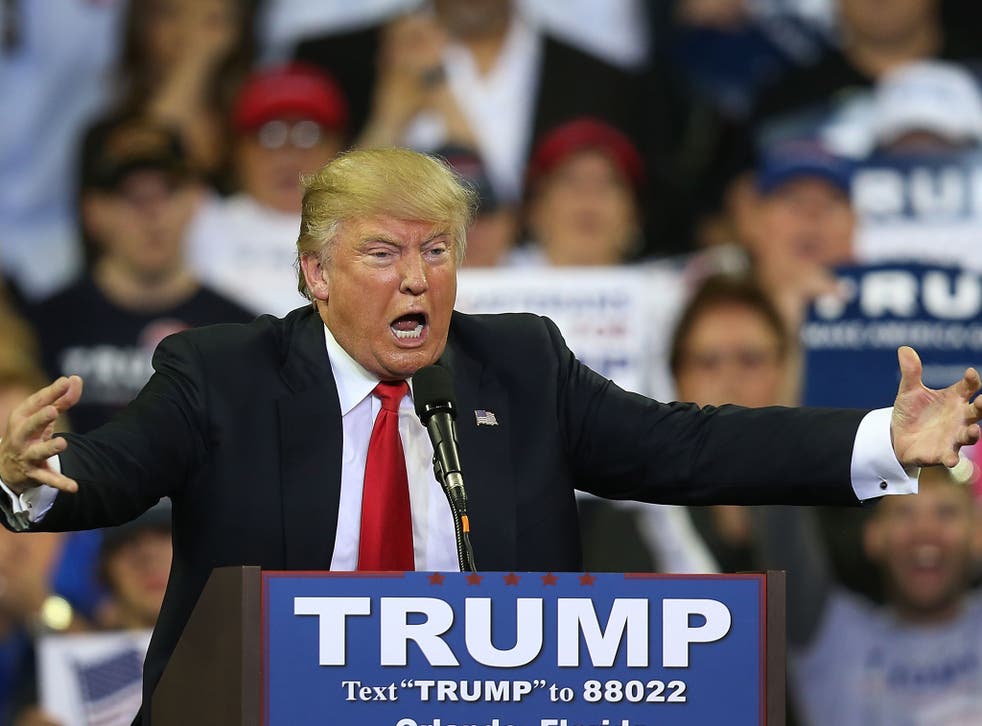 Presumptive Republican nominee Donald Trumped warned of an 11 September-level attack led by refugees who enter the US with mobile phones funded by the so-called Islamic State.
In an interview with the National Border Patrol Council's Green Line radio programme, Mr Trump answered whether or not he believed it would take a large-scale attack on US soil for Americans to "wake up" about border security.
"I do, I actually do," he said. ""Bad things will happen - a lot of bad things will happen. There will be attacks that you wouldn't believe. There will be attacks by the people that are right now that are coming into our country, because, I have no doubt in my mind."
Refugee crisis - in pictures

Show all 27
Mr Trump added that refugees are entering the US with mobile phones that brandish the ISIS flag, adding that the militant Islamist organisation is funding their phone bills.
"I mean you look at it, they have cell phones," he added. "So they don't have money, they don't have anything. They have cell phones. Who pays their monthly charges, right? They have cell phones with the flags, the ISIS flags on them. And then we're supposed to say, 'Isn't this wonderful that we're taking them in?'"
Mr Trump suggested that immigration policies of his Democratic front-runner Hillary Clinton would lead to such dangers.
"[Clinton] wants the Syrians to pour into the country - we don't know if they're Syrians, by the way," he said. "We have no idea who they are because much of it is undocumented. A lot of these people don't have any documents. Wait until you see the problems we'll have with that."
Mr Trump did not cite any specific intelligence he had received that would suggest such an attack is imminent.
Once the New York real estate tycoon is formally nominated to be the Republican candidate, then he will receive an intelligence briefing from the Director of National Intelligence - a tradition undergone with candidates in both parties. But his numerous assertions about US national security without formal intelligence briefing indicate the candidate plays by a different set of rules - even in matters of trade.
With regards to the EU referendum, Mr Trump told Piers Morgan in an ITV interview to be aired Monday, that the UK would not fall to the back of a queue when trading with the US, the Guardian reports.

"I mean, I'm going to treat everybody fairly but it wouldn't make any difference to me whether they were in the EU or not," he said. "You'd certainly not be at the back of the queue, that I can tell you."
President Barack Obama recently warned that the first priority of the US would to be to negotiate trade deals with the EU - and it could take up to a decade to work out a new arrangement with the UK. 

"It could be five years from now, 10 years from now before we're actually able to get something done," he said.
 
Join our new commenting forum
Join thought-provoking conversations, follow other Independent readers and see their replies