Donald Trump set to punish entire state of Alaska because its senators voted against his health care motion
Interior Secretary reportedly makes 'troubling' calls to senators after vote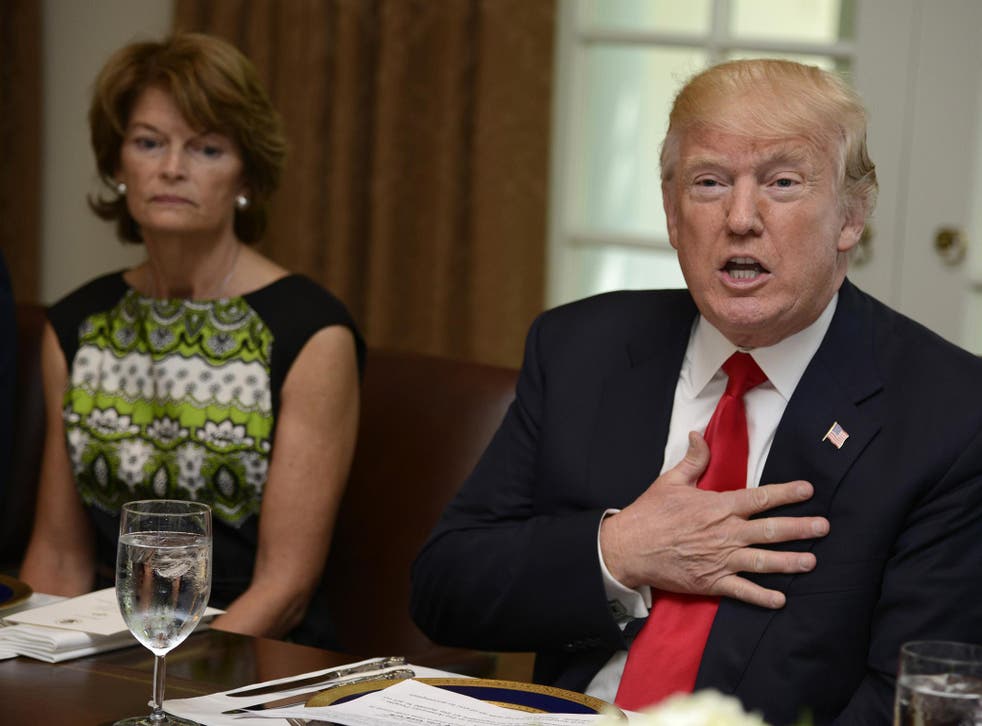 Donald Trump's administration has reportedly threatened to isolate Alaska after a senator from the state voted against the President's health care motion.
Senator Lisa Murkowski was one of seven Republicans who rejected the measure to repeal parts of the Affordable Care Act, one of Mr Trump's key policy pledges, during a vote on Tuesday.
The President reacted angrily to the news, writing on Twitter: "Senator Lisa Murkowski of the Great State of Alaska really let the Republicans, and our country, down yesterday. Too bad!"
Trump spokesman compares attempt to repeal Obamacare to abolition of slavery
Later in the day Ms Murkowski and Dan Sullivan, the other Republican senator for Alaska, allegedly received calls from the Department of the Interior warning them that the state's future was now under consideration.
The messages, which came directly from the Interior Secretary Ryan Zinke, were "troubling", Mr Sullivan told Alaska Dispatch News.
"I'm not going to go into the details, but I fear that the strong economic growth, pro-energy, pro-mining, pro-jobs and personnel from Alaska who are part of those policies are going to stop," he said.
"I tried to push back on behalf of all Alaskans. We're facing some difficult times, but the message was pretty clear."
Alaskan regulatory issues which require support from the federal government, including permission to expand oil drilling in the National Petroleum Reserve, may now not be approved, it is feared.
Iran's 'Trumpism' contest

Show all 10
Ms Murkowski did not comment on the call, but said she rejected the motion as she believed it had been rushed and did not adhere to a "transparent legislative process".
"I base my votes on what I believe is in Alaska's best interest," she said. "So I know that there are those who wish that I would be more in line with following the party platform, but I don't think it should come as any surprise that there have been occasions that I have not followed the lead of the party."
Republican senators voted 51-50 to begin the debate on legislation to dismantle Obamacare, with Vice President Mike Pence casting the deciding vote.
Mr Trump, who seemingly threatened senators to support the bill, praised the result as a major victory.
Join our new commenting forum
Join thought-provoking conversations, follow other Independent readers and see their replies