Donald Trump 'word for word' repeating claims of conspiracy theorist who thinks Hillary Clinton is a demon
Alex Jones, who once said the Sandy Hook massacre of 20 children was faked, has said the Republican candidate has taken talking points directly from him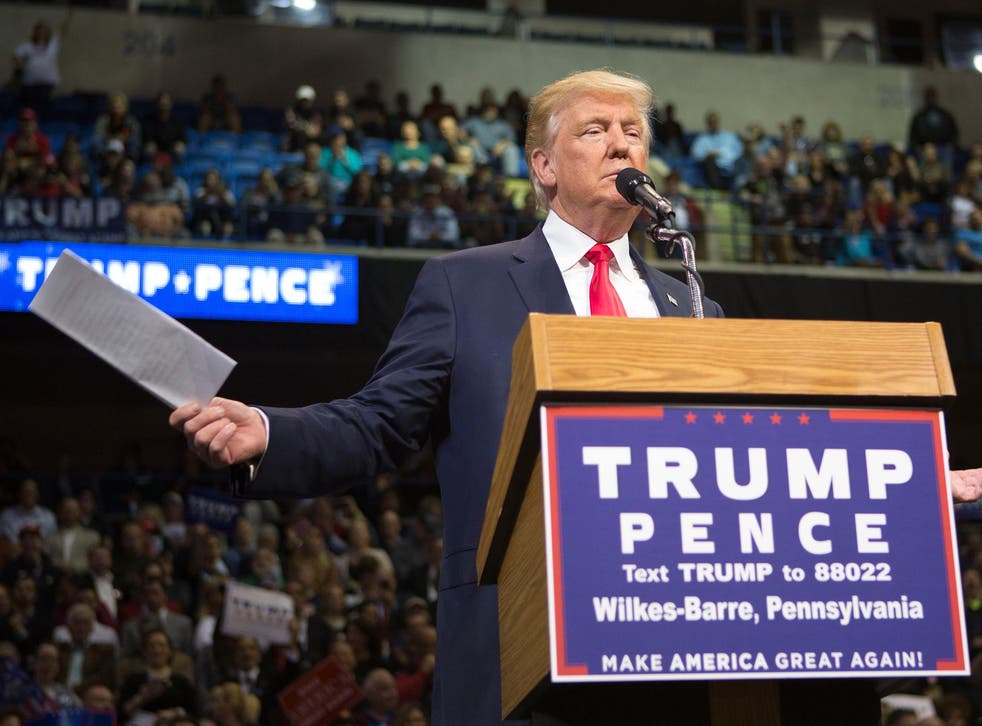 Donald Trump is reportedly taking his ideas "word for word" from a conspiracy theorist who thinks Hillary Clinton is an actual demon, and that the Sandy Hook massacre of 20 young children was "faked".
With his ranting style and outlandish claims, the right-wing radio host Alex Jones has always been on the extreme fringes of the US media. But in a recent interview he has revealed that his views are being taken very seriously by Trump, who could soon be the most powerful man in the world.
Many of Trump's most controversial campaign moments can be linked to Jones. The Republican insisted in May that there was no drought in California, and that the government was "taking the water and shoving it out to sea" to "protect a three-inch fish". Thirteen months earlier, Jones claimed in a video that the government was "literally draining water into the sea all for the sake of a three-inch fish".
In a video called "An Emergency Message To Donald Trump" Jones asks Trump to "seriously think about making the issue of Hillary's election fraud in the primaries one of the central issues to defeating her in November." Two days later it was, with Trump declaring "I'm afraid the election is going to be rigged, I have to be honest." In his speech he also called Clinton "the devil" for the first time in public, repeating another of Jones' beliefs.
Donald Trump 'word for word' repeating claims of conspiracy theorist who thinks Hillary Clinton is a demon
In his interview with the journalist Jon Ronson, which forms part of a Kindle Single on the Republican campaign, Jones also suggests he gave Trump the cue to invite Russia to hack Clinton's emails. "I'd said, 'If the Russians got the emails Hillary deleted, please release them.' And then…" he says.
Trump has been linked to Jones before. The presidential candidate has called him a "nice guy" and appeared on his Infowars show last December. "Your reputation is amazing," Trump said. "I will not let you down. You will be very, very impressed, I hope. And I think we'll be speaking a lot."
Jones says he has talked to the Republican candidate on the phone and used YouTube videos to send the Republican candidate ideas. "I put a video out, a message to Trump," he tells Ronson. "And then two days later he lays out the case. It's like sending up the Bat Signal." He has also previously said that "to talk about issues here on air and then word for word hear Trump say it two days later… it is amazing." The Trump campaign did not reply when asked to comment on this aspect of their relationship.
What did Donald Trump say during the second presidential debate?

Show all 8
Jones has taken a number of eccentric, often offensive stances throughout his career. He has been a vocal supporter of the 9/11 "truthers" movement, which believes the 2001 attacks were orchestrated by the US government. He also believes the government is trying to turn people gay by adding oestrogen to juice cartons, and that the state has a "weather weapon" that can steer tornadoes towards human targets.
One of Jones' most controversial moments was in 2014, when he claimed that the Sandy Hook massacre, where 20 children aged 6-7 were shot dead by Adam Lanza, was staged. "Sandy Hook is a synthetic completely fake with actors, in my view, manufactured," he said. "I couldn't believe it at first. I knew they had actors there, clearly, but I thought they killed some real kids. And it just shows how bold they are – that they clearly used actors."
Jones made headlines last week when he claimed Hillary Clinton and Barack Obama were actual demons. "[Hillary Clinton] is an abject, psychopathic, demon from Hell that as soon as she gets into power is going to try and destroy the planet," he said. "I'm not kidding, people say, they say – folks I've been told this by high up folks. They say listen, Obama and Hillary both smell like sulfur."
Hillary Clinton has responded with an advert linking Trump to Jones, while President Obama mocked the radio host at a rally last week. "I was reading the other day, there's a guy on the radio who – apparently Trump is on his show frequently – he said me and Hillary are demons, said we 'smell like sulfur'," he said, before smelling his hand.
Jones came to prominence in 1999 after he broke into a Bilderberg conference in Bohemian Grove, California, and filmed a mock sacrificial ceremony that gained him notoriety among conspiracy theorists. One of the people who accompanied him was Ronson, who wrote about the experience in his 2001 bestseller Them: Adventures with Extremists.
Join our new commenting forum
Join thought-provoking conversations, follow other Independent readers and see their replies