Donald Trump says he and Angela Merkel 'have something in common' over wiretap claims
US President denies claiming that British intelligence services were behind wiretapping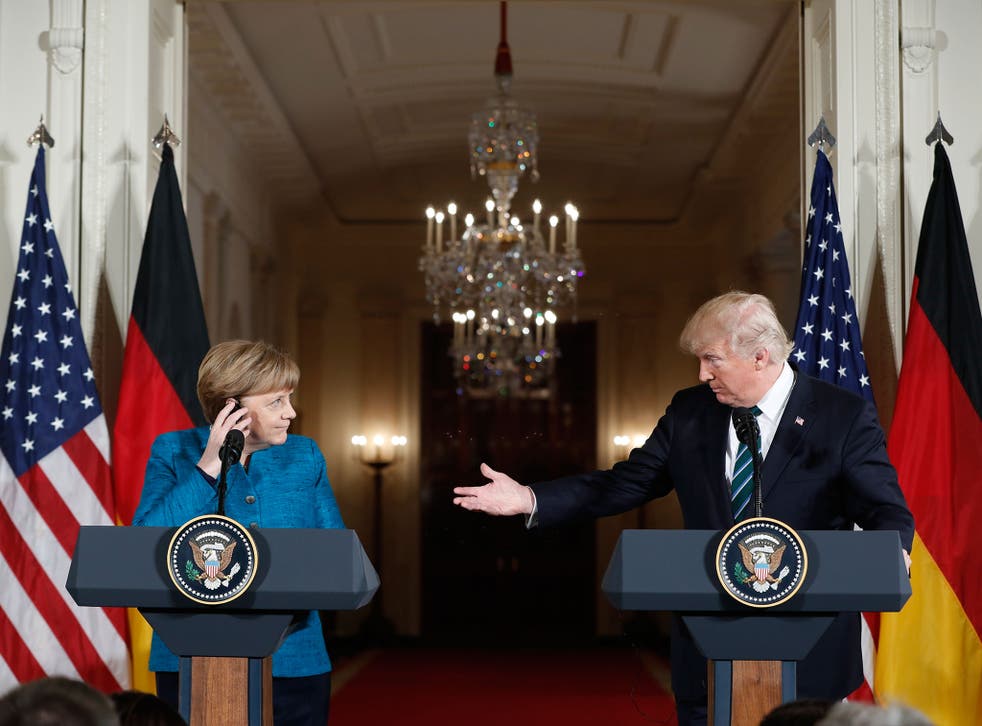 Donald Trump has told German Chancellor Angela Merkel "at least we have something in common" over claims his phones were wiretapped by his predecessor Barack Obama during last year's presidential campaign.
Mr Trump, speaking at a press conference with Ms Merkel apparently referring to reports in 2013 during Mr Obama's presidency that the United States bugged her phone. Congressional leaders from both political parties say they do not believe Mr Trump was wiretapped.
Ms Merkel remained stony-faced despite laughs among the gathered press.
Mr Trump said his White House shouldn't be blamed for quoting a Fox News analyst who accused British intelligence of helping former Mr Obama spy on him. There is no evidence such spying took place and GCHQ, the British electronic intelligence agency, has called the allegation "utterly ridiculous."
Mr Trump - defending himself and the White House Press Secretary, Sean Spicer - said: "we said nothing. All we did was quote a certain very talented legal mind who was the one responsible for saying that on television."
He added: "you shouldn't be talking to me, you should be talking to [the television network] Fox."
The US president said he "very seldom" regrets anything he tweets, brushing off questions about his claims without evidence that Mr Obama, wiretapped him.
Mr Trump and Ms Merkel were meeting face-to-face for the first time, with the talks between the leader of Europe's largest economy and the US president was billed as one that could help determine the future of the transatlantic alliance and shape their working relationship.
Mr Trump reiterated his strong support for Nato and pressed Ms Merkel to meet Nato's military spending target, in the first face-to-face meeting between the two leaders.
"I reiterated to Chancellor Merkel my strong support for Nato as well as the need for our Nato allies to pay their fair share for the cost of defence," Mr Trump said.
World news in pictures

Show all 50
Ms Merkel said she told Mr Trump that Germany needs to meet Nato spending goals. The two also discussed Ukraine and Afghanistan.
Mr Trump said he expected the United States to do "fantastically well" in trade with Germany, while Ms Merkel said she hoped the United States and the European Union could resume discussions on a trade agreement.
"We held a conversation where we were trying to address also those areas where we disagree, but we tried to bring people together ... (and) tried to find a compromise that is good for both sides," Ms Merkel said.
As a presidential candidate, Mr Trump criticised Ms Merkel for allowing hundreds of thousands of refugees into Germany. At the news conference, Ms Merkel hinted at differences, saying: "This is obviously something we had an exchange of views about."
Relationship building is a less overt but important agenda item. Ms Merkel had close relations with Trump's Democratic and Republican predecessors, Barack Obama and George W Bush, and she is likely to seek a strong working relationship with Trump despite major policy differences and wariness in Germany about the former New York businessman.
Reuters contributed to this report
Register for free to continue reading
Registration is a free and easy way to support our truly independent journalism
By registering, you will also enjoy limited access to Premium articles, exclusive newsletters, commenting, and virtual events with our leading journalists
Already have an account? sign in
Register for free to continue reading
Registration is a free and easy way to support our truly independent journalism
By registering, you will also enjoy limited access to Premium articles, exclusive newsletters, commenting, and virtual events with our leading journalists
Already have an account? sign in
Join our new commenting forum
Join thought-provoking conversations, follow other Independent readers and see their replies