Donald Trump should be arrested over Michael Flynn's talks with Russia, Michael Moore says
US President under pressure after national security adviser resigns amid Russian links scandal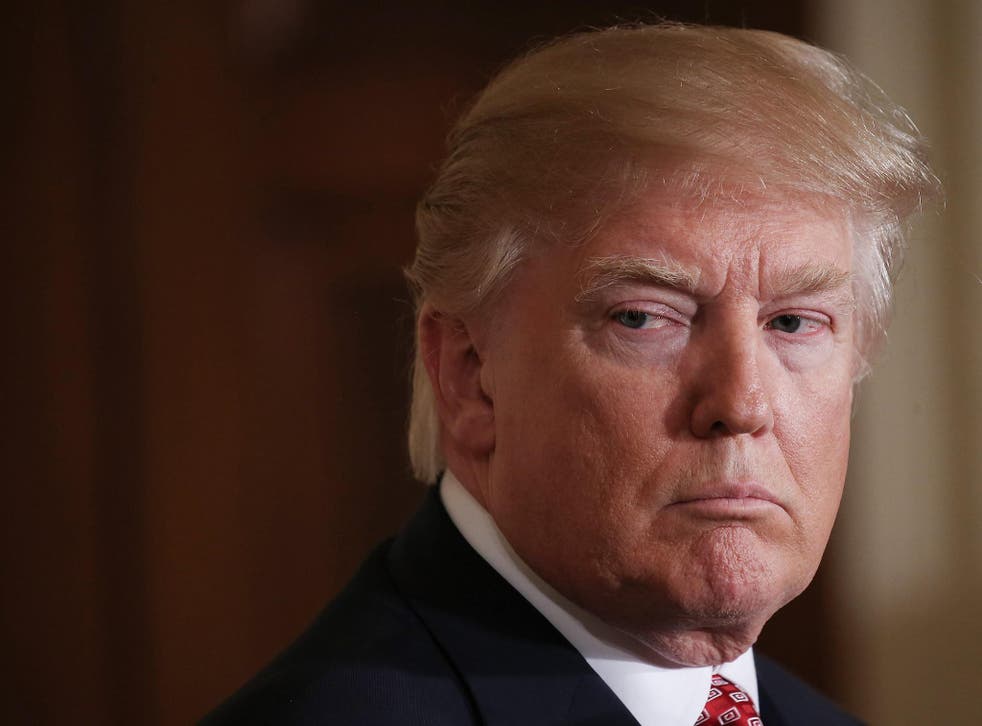 Donald Trump should be arrested over his former national security adviser's potentially illegal discussions with Russia, Michael Moore has said.
General Mike Flynn resigned late on Monday night after it was revealed he had held conversations with senior Russian diplomats before he was appointed to the administration and before Mr Trump took office. It is illegal for private citizens to conduct diplomatic conversations on behalf of the US.
The retired general had reportedly discussed the possibility of dropping sanctions against Russia with Sergei Kislyak, the Kremlin's ambassador to the US. Mr Flynn, who had initially told Vice President Mike Pence that the topic had not been discussed, admitted in his resignation letter that he "inadvertently briefed the Vice-President-elect and others with incomplete information regarding my phone calls with the Russian ambassador".
However, Mr Moore claimed it was unthinkable Mr Flynn had acted alone or that Mr Trump had not had knowledge of the conversation.
Writing on Twitter, the filmmaker said: "Let's be VERY clear: Flynn DID NOT make that Russian call on his own. He was INSTRUCTED to do so. He was TOLD to reassure them. Arrest Trump.
"TRUMP KNEW EVERYTHING. It will all come out. Along with the rest of Trump's collusion and obedience to Putin.
"This is who Trump named "National Security Advisor." A lapdog to the lapdog of Putin. Feeling secure America? He's gonna get us all killed."
Moore then tweeted directly at Mr Trump, saying: "1 hour after Obama put sanctions on Russia YOU told Flynn to call them and promise em it'll be OK. Traitor! Resign by morning!"
The director, whose films include 'Bowling for Columbine' and 'Fahrenheit 9/11', has been a vocal critic of Mr Trump, having suggested the Republican is "not a legitimate president" and could be "the last president of the United States".
Mr Flynn resigned after days of mounting pressure over the content of his conversations with Russian representatives. A series of intelligence leaks had brought into question the repeated claims by Mr Flynn, Mr Pence and other White House officials that the conversation with Mr Kislyak had consisted only of Christmas greetings and planning for a phone call between Mr Trump and Vladimir Putin.
The leaks revealed that, in fact, Mr Flynn and Mr Kislyak had discussed the sanctions imposed on Russia by Barack Obama after allegations the Kremlin had interfered in the US presidential election. The retired army general is said to have suggested Mr Trump might lift the sanctions when he took office.
The controversial orders Donald Trump has already issued

Show all 9
It also emerged that the US Justice Department warned Mr Trump weeks ago that his national security adviser had acted unlawfully in discussing sanctions with Russia before he held any official post, and might be vulnerable to Russian blackmail.
Michael Moore suggests Trump still might not become President
In his resignation letter, Mr Flynn wrote: "In the course of my duties as the incoming national security advisor, I held numerous phone calls with foreign counterparts, ministers, and ambassadors.
"These calls were to facilitate a smooth transition and begin to build the necessary relationships between the president, his advisors and foreign leaders. Such calls are standard practice in any transition of this magnitude."
"Unfortunately, because of the fast pace of events, I inadvertently briefed the vice president elect and others with incomplete information regarding my phone calls with the Russian ambassador. I have sincerely apologized to the president and the vice president, and they have accepted my apology."
Register for free to continue reading
Registration is a free and easy way to support our truly independent journalism
By registering, you will also enjoy limited access to Premium articles, exclusive newsletters, commenting, and virtual events with our leading journalists
Already have an account? sign in
Register for free to continue reading
Registration is a free and easy way to support our truly independent journalism
By registering, you will also enjoy limited access to Premium articles, exclusive newsletters, commenting, and virtual events with our leading journalists
Already have an account? sign in
Join our new commenting forum
Join thought-provoking conversations, follow other Independent readers and see their replies