Donald Trump bans transgender people from serving in US military due to 'disruption' they would cause
The move drew swift condemnation from rights groups as "raw prejudice" with purely political motives
Clark Mindock
New York
Wednesday 26 July 2017 15:10 Comments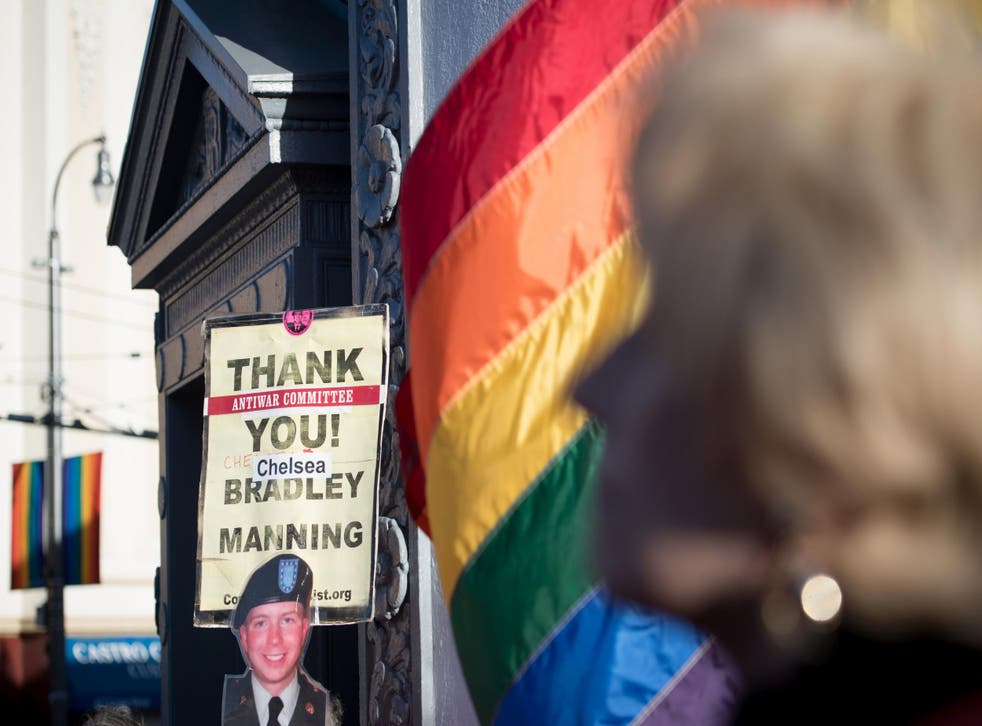 Thousands of transgender people serving in the US military face an uncertain future after Donald Trump said he would ban them from serving.
The President made the announcement in a series of tweets, but offered no details on how they would be implemented. The move reverses President Barack Obama's policy that loosened restrictions on transgender people to serve in the US armed forces.
Mr Trump's move drew swift condemnation from rights groups as "raw prejudice" with purely political motives, but it was praised by conservative activists and some Republicans.
"After consultation with my Generals and military experts, please be advised that the United States Government will not accept or allow transgender individuals to serve in any capacity in the US Military," Mr Trump said.
"Our military must be focused on decisive and overwhelming victory and cannot be burdened with the tremendous medical costs and disruption that transgender in the military would entail. Thank you," he added.
The new policy comes just weeks after Defence Secretary Jim Mattis said the government was reviewing the issue. He said last month that the Pentagon was giving the military another six months to conduct a review to determine if allowing transgender individuals to enlist would impact its "readiness and lethality".
Flying the flag: Why Pride is still relevant

Show all 3
The Pentagon indicated that it would "work closely" with the White House on the policies in the "near future".
Read more
Transgender people have been allowed to serve openly in the US military, receive medical care, and start formally changing their gender identity in the Pentagon's personnel system since October. But, former Defence Secretary Ash Carter had given the military until July to develop policies around allowing people who had already identified as transgender to join the military if they met physical, medical, and other standards.
Military chiefs had argued that they needed more time to assess policy, and requested an extension of six months past July.
Civil rights activists responded to Mr Trump's transgender announcement saying that it ignored the facts surrounding transgender military service, and called it a cruel policy.
"Today's announcement violates human rights of all transgender Americans," Tarah Demant, the director of Amnesty International USA's Gender, Sexuality, and Identity programme, said in a statement.
"It lays bare the President's prejudice and underlines the fact that creating policy based on bigotry is becoming a dangerous and a cruel pattern for President Trump. The administration continues to target minority communities without pause and without facts."
Vicky Hartzler, a conservative Republican congresswoman, praised Mr Trump for changing President Obama's "costly and damaging policy".
There is not an official tally of transgender people serving in the military, but Mr Carter quoted an estimate from the think tank Rand last year when making his decision, saying that there are around 2,450 transgender personnel in some active position in the US military.
Other groups like the Transgender American Veterans Association, American Military Partner Association, and OutServe-SLDN have said that the figure is higher at 15,500 transgender personnel in the military. According to Rand there were also 1,510 transgender people in the selected reserve.
There are approximately 1.3 million active service members in the US military.
Following the loosening of restrictions on transgender people last year, there were as many as 250 service members who had announced they were in the process of changing their gender identity, or who had been approved for a formal gender change in the Pentagon's personnel system.
The announcement last year followed years of pressure from transgender rights activists to change the policy, an effort that increased following the repeal of the Pentagon's Don't Ask, Don't Tell policies in 2011. Don't Ask, Don't Tell allowed gay people to serve in the military so long as they did not openly identify as gay.
Transgender rights activists have long argued that a ban on service from the community does nothing but alienate and dehumanise transgender people. Research institutions such as the Palm Center, a think tank that supports open dialogue, have argued that allowing transgender people to serve in the military would be beneficial.
"The outdated regulations serve no purpose and only dehumanise and prevent qualified and capable individuals from enlisting and serving. The ban perpetuates trauma to all those involved, both the service member and their family," a report from the Transgender American Veterans Association and the American Military Partner Association on the issue said.
The Pentagon itself has noted that increasing the eligibility for serving in the military could be beneficial. A video posted online by the Department of Defense following last year's announcement says that 75 per cent of young adults in the US are ineligible to join the military for reasons related to health, educational background, or physical appearance. The video also noted that the decision to open up eligibility to serve to transgender people included input from: the leadership of the armed forces, medical and personnel experts across the Pentagon, transgender service members, outside medical experts, advocacy groups, and the RAND corporation.
One of the highest profile examples of a transgender person in the military was Chelsea Manning, who announced her gender identity in a statement the day after being convicted on charges for violations of the Espionage Act and other offences related to the release of nearly 750,000 military and diplomatic cables. Ms Manning was later released from prison after having her sentence commuted by former President Barack Obama. Ms Manning and her attorneys fought for her right to begin gender transition therapies, including hormone treatment, during her time in prison. Those procedures are provided in American civilian prisons when medically necessary, but were not provided at the time in military prisons.
The US military later approved hormone therapy for Ms Manning – a first – and then later approved gender transition surgery – another first. Ms Manning revealed in January this year, months before her release, that she had not seen a surgeon, however. She also said that her medications and therapies up until that point had been severely discounted for the US military, and had cost just $600.
Register for free to continue reading
Registration is a free and easy way to support our truly independent journalism
By registering, you will also enjoy limited access to Premium articles, exclusive newsletters, commenting, and virtual events with our leading journalists
Already have an account? sign in
Join our new commenting forum
Join thought-provoking conversations, follow other Independent readers and see their replies